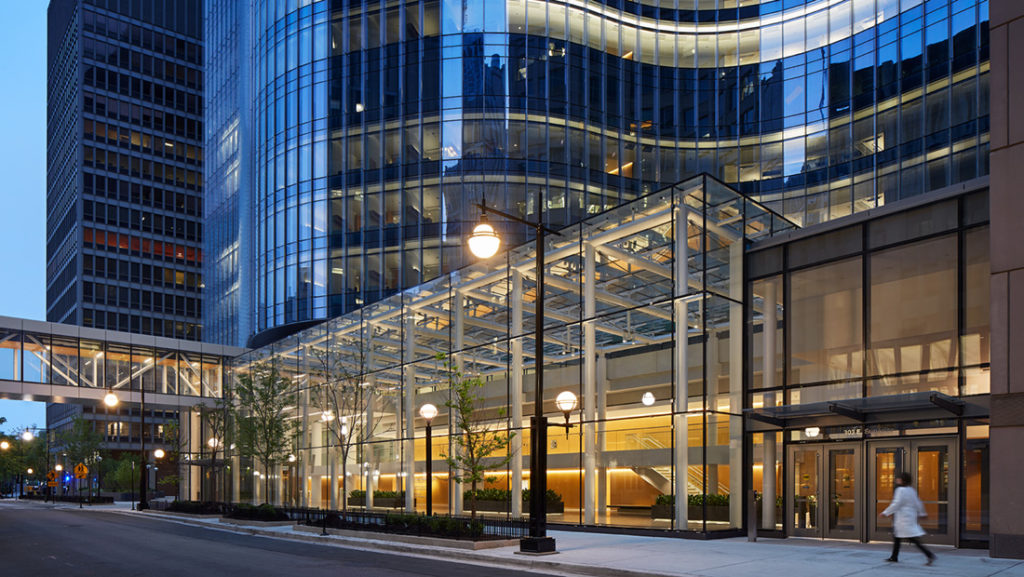 Over the past year, Northwestern University Feinberg School of Medicine has made exceptional strides in education, research and clinical care. Northwestern Medicine scientists have made significant contributions to the fundamental understanding of diseases and have developed innovative treatments that have improved the lives of countless patients. In addition to these achievements, Feinberg has also reached new heights in educating the next generation of physicians, providing innovative, top-quality training to the next generation of healthcare professionals.
From a year of record-breaking research funding, totaling $650 million in research funding and awards, to scientific breakthroughs that have pushed the boundaries of cancer treatment, immunology, and in treating patients with COVID-19, this last year's achievements have solidified Feinberg's place as a leader in the advancing human health, and demonstrated the medical school's commitment to advancing the field of medicine.
Scientific Breakthroughs

The first biologic drug to treat moderate-to-severe eczema in infants and children was highly effective in reducing symptoms, according to a recent study.

---

A Northwestern University-led team has developed a small, pain-relieving implant that could provide a much-needed alternative to opioids and other highly addictive medications.

---

A new, smart pacemaker is integrated into a coordinated network of four soft, flexible, wireless, wearable sensors and control units placed around the upper body.

---

A new study has identified a drug that inhibits growth of aggressive meningiomas and how to most accurately identify which tumors will respond to the drug.

---

Exposure to even moderate ambient lighting during nighttime sleep, harms cardiovascular function during sleep and increases your insulin resistance, according to a new study.

---

Glucocorticoid steroids improved muscle performance through distinct, sex-specific mechanisms, according to a Northwestern Medicine study.

---

Patients with COVID-19-associated lung disease who received lung transplants had similar outcomes compared to patients without COVID-19, according to a Northwestern Medicine study.

---

Neural stem cells engineered by Northwestern Medicine investigators used in combination with the HER2 inhibitor drug tucatinib improved survival in mice with HER2 positive breast cancer brain metastases.

---

Northwestern Medicine scientists have discovered the pathways through which autoantibodies leak out of blood vessels, causing primary graft dysfunction in some lung transplant recipients.

---

A Northwestern Medicine study has demonstrated a causal link between environmental phthalates and the increased growth of uterine fibroids.

---

Patients with acute myeloid leukemia show large-scale genomic mutations and altered DNA folding patterns that could help identify potential therapeutic targets, according to a recent study.

---

A new study has shown that energy release may be the molecular mechanism through which our internal clocks control energy balance, findings with implications from dieting to sleep loss.

---

An inflammatory signaling protein called interleukin-6 has been linked to the progression of acute myeloid leukemia, representing a potential target for future treatments of the disease.

---

Investigators identified a molecular "brake" that can reduce the activation of damaging cells known to cause primary graft dysfunction — a leading culprit in lung transplant failure.

---

An epigenetic inhibitor increased immune system activity in patients with ovarian cancer.

---

Northwestern Medicine scientists have discovered a master gene that programs ear hair cells' development, overcoming a major hurdle towards restoring hearing.

---

Obese mice that were fed a high-fat diet and that received prednisone one time per week had improved exercise endurance, got stronger, increased their lean body mass and lost weight.

---

A new Northwestern study has discovered a technique to help make immunomodulation more effective, potentially improving treatment for type 1 diabetes.

---

Northwestern Medicine investigators have developed a novel approach for designing and testing new protein folds, which could be used to develop new therapeutics.

---

Northwestern Medicine investigators have discovered novel mechanisms underlying transcription elongation, the process of synthesizing RNA from DNA.

---

A Northwestern Medicine study has discovered that mitochondria control the activation of a specific protein complex linked to inflammation and the progression of chronic diseases.

---

Northwestern Medicine scientists identified critical regulatory processes that govern differentiation in embryonic stem cells.

---

Northwestern Medicine investigators have discovered a novel mechanism that connects circadian rhythm-controlled cellular metabolism and regeneration with muscle repair after injury.

---

Northwestern University scientists have discovered families of proteins in the body that could potentially predict which patients may reject a new organ transplant, helping inform decisions about care.

Academics

Faculty, staff and students shared presentations, workshops and discussions on the future of medical education at Feinberg's 12th annual Medical Education Day.

---

Students in the MD, Physician Assistant and Physical Therapy programs worked together during a recent interprofessional education session.

---

Feinberg's Education-Centered Medical Home program allows medical students to provide continuous, primary care to underserved and diverse patient populations, and to help them better understand chronic conditions in a variety of clinical settings.

---

First-year medical students donned their white coats for the first time at Founders' Day, an annual event that celebrates incoming medical students and marks the official start of the academic year.

---

Daniel Latyshev, a rising second-year medical student, has organized several aid efforts for Ukraine.

---

PA students Nicole Pinakidis and Kristin Brennan recently put their emergency care skills to use to help save a person's life during this year's Chicago Half Marathon.

---

The 36 graduates of Feinberg's Physician Assistant Program were honored during their commencement ceremony on May 6, receiving their Master of Medical Science degrees.

---

Feinberg honored the MD Class of 2022 during the medical school's 163rd commencement ceremony in the Aon Grand Ballroom at Navy Pier, held in person for the first time since 2019.

---

Feinberg's arts and humanities seminars allow medical students to approach the world of medicine and healthcare from different perspectives and with new skills.

---

More than 200 prospective medical students visited Feinberg for a two-day "Second Look" at the medical school, allowing admitted students to get a feel for life at Feinberg by attending seminars, touring campus and meeting with current students and faculty.

---

Feinberg students were trained in a two-week emergency preparedness course on how to manage natural disasters, mass shootings or pandemics.

---

On Match Day, fourth-year medical students celebrated their success as they learned where they will spend the next three to seven years as residents.

---

A new anatomy curriculum for the MD and PA programs integrates the HoloAnatomy software, which allows students to visualize every part of the body through a virtual, three-dimensional perspective.

---

The Physician Assistant Program's Class of 2024 was celebrated by the program community and their family and friends at a special occasion known as the White Coat Ceremony.

---

Dozens of faculty members and fourth-year medical students were recognized for their scholarly and clinical excellence at Feinberg's Honors Day, held May 20.

---

The Feinberg chapter of the Alpha Omega Alpha medical honor society welcomed 43 new student, faculty, alumni and housestaff members.

Honors and Campus News

Rinad S. Beidas, PhD, professor of Medical Ethics and Health Policy and of Psychiatry at the University of Pennsylvania's Perelman School of Medicine, has been named chair of Medical Social Sciences.

---

The Department of Medicine's Division of General Internal Medicine and Geriatrics officially become two divisions: the Division of Geriatrics and the Division of General Internal Medicine, with Lee Lindquist, MD, MPH, MBA, being named Chief of Geriatrics.

---

After 14 years of distinguished leadership in faculty affairs, William Lowe, Jr., MD, announced that he was stepping down as vice dean for Academic Affairs; Farzaneh Sorond, MD, PhD, was named his successor.

---

Sara Becker, PhD, of the Brown University School of Public Health and the Warren Alpert Medical School, has been named the Alice Hamilton Professor of Psychiatry and inaugural director of the newly formed Center for Dissemination and Implementation Science.

---

In the newly formed Center for Human Immunobiology, teams of interdisciplinary scientists and clinicians will work together to understand the immune system at the molecular level and translate new discoveries into cures for immune-regulated diseases.

---

Northwestern University has been awarded a seven-year grant to study a "pill-in-pocket" strategy to prevent stroke in patients with atrial fibrillation, the most common heart rhythm disorder in adults.

---

Northwestern Medicine and Google are collaborating on a project to bring fetal ultrasound to developing countries by combining AI, low-cost hand-held ultrasound devices and a smartphone.

---

More than 480 investigators, students, trainees and faculty presented scientific posters and abstracts at Feinberg's 16th Annual Lewis Landsberg Research Day.

---

Twelve faculty with appointments at Feinberg were named to the 2022 "Highly Cited Researchers" list, published by Clarivate Analytics.

---

Originally founded in 1972 as a small team of fewer than 10 people, the department has grown to include seven divisions with 285 faculty and staff.

---

Susan Quaggin, MD, has been presented one of The American Heart Association's 2022 Distinguished Scientist awards, which honor members who have significantly advanced the understanding of cardiovascular, stroke or brain health.

---

Feinberg principal investigators secured $650 million in research funding and awards during the 2021-22 fiscal year, which is a 6.5 percent increase over the previous year, and the largest amount in the school's history.

---

Northwestern University Trustee Kimberly K. Querrey and the Louis Simpson Trust have made a new $100 million gift to the Feinberg School of Medicine to significantly expand the university's biomedical research enterprise.

---

Northwestern University has announced the endowment of the Ryan Family Center for Global Primary Care, focused on improving the quality of primary care throughout the world.

---

Jeremy Nathans, MD, PhD, the recipient of the 2022 Mechthild Esser Nemmers Prize in Medical Science, delivered a keynote lecture on the molecular mechanisms of visual systems.

---

A new grant will fund the hiring of 15 new tenure-track faculty, along with tactics to ensure the success of faculty members from underrepresented populations.

---

CRISPR pioneer and Nobel Laureate Jennifer Doudna, PhD is the recipient of the inaugural $250,000 Kimberly Prize in Biochemistry and Molecular Genetics.

---

Four Northwestern Medicine hospitals have been recognized by U.S. News & World Report in its 2022-23 Best Hospitals rankings, with Northwestern Memorial Hospital named among the top 10 hospitals in the U.S.

---

Robert Kushner, MD, received the prestigious Herbert Pardes Clinical Research Excellence Award from the Clinical Research Forum for a study published in NEJM.

---

Jeremy Nathans, MD, PhD, an investigator of the Howard Hughes Medical Institute, known for his landmark discoveries into the molecular mechanisms of visual system development, function and disease, is the recipient of the 2022 Mechthild Esser Nemmers Prize in Medical Science.

---

Feinberg faculty members have been elected to two prominent medical societies: the American Society for Clinical Investigation (ASCI) and the Association of American Physicians (AAP).

---

Northwestern University Feinberg School of Medicine has been recognized as one of the best medical schools in the nation, ranking 17th among research-oriented institutions, according to the latest U.S. News & World Report rankings.

---

Northwestern University Feinberg School of Medicine has established the Potocsnak Longevity Institute, an ambitious multi-center institute, with the goal of rapidly advancing the science of aging.