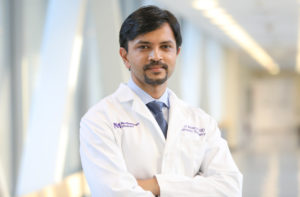 Patients with COVID-19-associated acute respiratory distress syndrome who received lung transplants had similar outcomes, compared to transplant patients without COVID-19, according to a Northwestern Medicine study published in JAMA.
The findings demonstrate the viability of lung transplants in patients with COVID-19-associated acute respiratory distress syndrome (ARDS), according to Ankit Bharat, MBBS, the Harold L. and Margaret N. Method Research Professor of Surgery, chief of Thoracic Surgery in the Department of Surgery and senior author of the study.
"Even for the most critically-ill COVID patients, their long-term survival is similar," said Bharat, who is also a professor of Medicine in the Division of Pulmonary and Critical Care. "You can take these sick patients off of the ventilator, transplant them and still achieve good outcomes."
The retrospective study included 102 patients who underwent a lung transplant at Northwestern Memorial Hospital between January 2020 and September 2021, including 30 patients who had who had COVID-19–associated ARDS. While rates of transplant complications and lengths of intensive care unit stays were both higher in the group with COVID-19, patient survival in both groups was not significantly different.
This finding is encouraging for treating patients with COVIID-19 and reassures that other lung transplant candidates are not crowded out by an influx of candidates with COVID-19. This is partly due to programs at Northwestern to ensure availability of donor lungs, such as ex vivo lung perfusion and using lungs from hepatitis C patients, according to Bharat.
"These programs help expand our donor pool, and as a result the non-COVID patients are not disadvantaged, as measured by outcomes," Bharat said.
Prior to transplant, many patients were using extracorporeal membrane oxygenation (ECMO). In a secondary analysis, investigators found that for these patients, the chances of recovering enough to come off ECMO drops dramatically after 30 days. Treating a patient with ECMO is time-consuming and costly, and lung transplants could be considered after that 30-day threshold, Bharat said.
"In those patients, it's reasonable to start thinking about transplant — but each center has to decide their own threshold," Bharat said.
While advancements in transplant surgery are important, preventive measures such as COVID-19 vaccination can help avoid these situations altogether: Out of the 30 patients with COVID-19 who required a lung transplant, zero were vaccinated.
"This is a reminder that vaccination will substantially reduce your likelihood of getting to the point where you would require a transplant," Bharat said.
Co-authors of the study include Scott Budinger, MD, the Ernest S. Bazley Professor of Airway Diseases and chief of Pulmonary and Critical Care in the Department of Medicine; Lorenzo Pesce, PhD, research assistant professor of Pharmacology; Samuel Kim, MD, FACS, associate professor of Surgery in the Division of Thoracic Surgery and of Medicine in the Division of Pulmonary and Critical Care; and Rafael Garza-Castillon, Jr., MD, MSc, instructor of Surgery in the Division of Thoracic Surgery.
Bharat and Budinger are also members of the Robert H. Lurie Comprehensive Cancer Center of Northwestern University.
This study was supported by the National Institutes of Health grants NIH HL145478, HL147290 and HL147575.