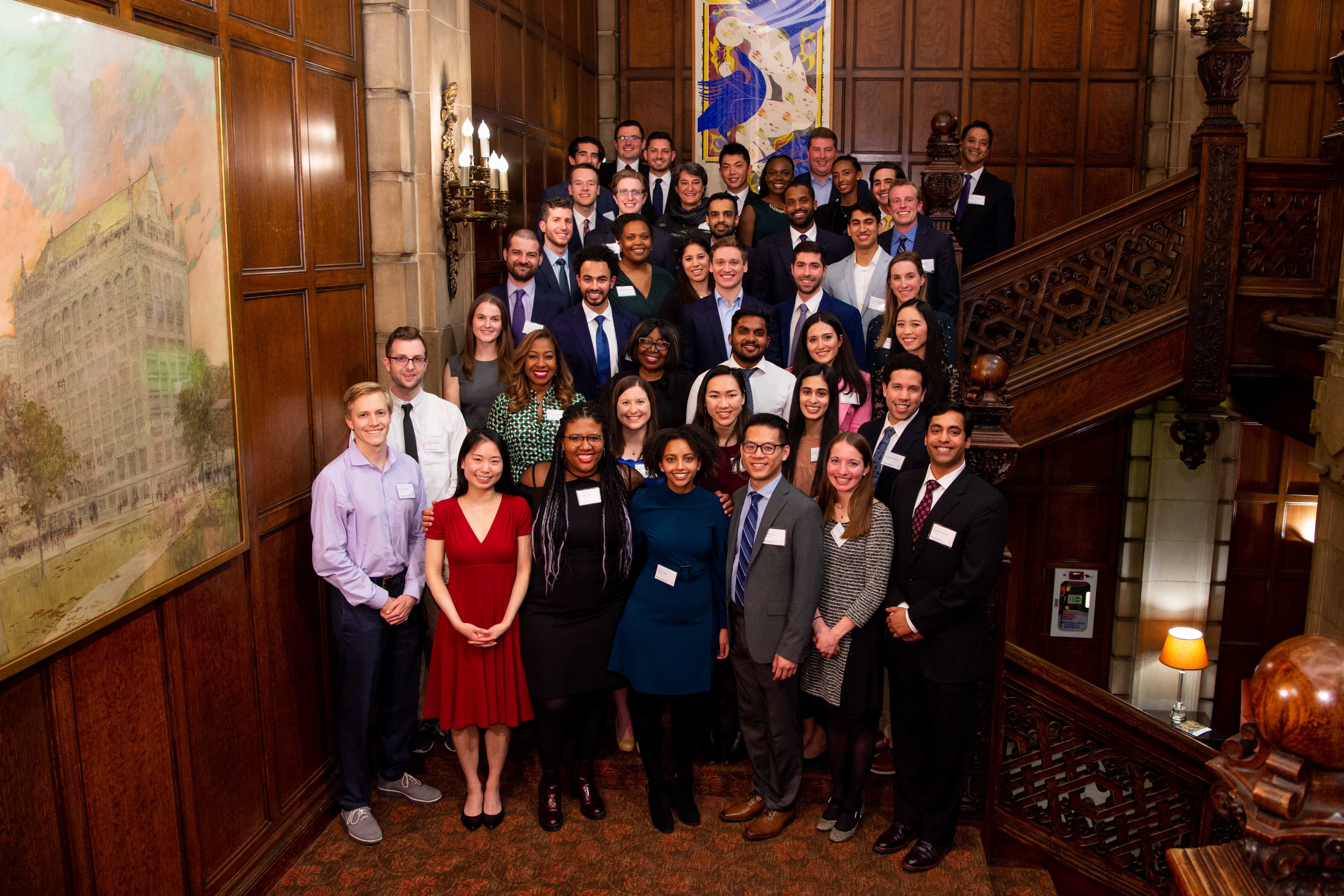 In a ceremony on March 15, the Alpha Omega Alpha (AOA) medical honor society welcomed 43 new members into the Feinberg chapter on the basis of outstanding scholastic achievement and significant contributions to medicine.
Prior to the induction ceremony, Elizabeth McNally, MD, PhD, the Elizabeth J. Ward Professor of Genetic Medicine, delivered the Walter G. Barr, MD, Lecture, speaking about the promising future of cardiac risk prediction using genetic variation. An explosion of genetic and electronic medical record data has guided development of polygenic risk scores, McNally said, and summarizing the effects of hundreds of single-nucleotide polymorphisms can better predict an individual's risk for conditions such as atrial fibrillation or heart failure.
"Genetic information can be learned early in life, so we can step in with risk management to try and slow this path to heart failure, for example," said McNally, who is also director of the Center for Genetic Medicine and a professor of Medicine in the Division of Cardiology and of Biochemistry and Molecular Genetics.
However, many genetic databases overrepresent individuals of European ancestry, reducing the usefulness of these scores for individuals of other ancestries.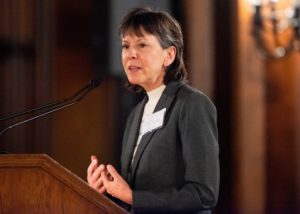 "That's one thing we're trying to address with our eMERGE study — we want to make sure we have at least some information that these polygenic risk scores can apply to people of non-European ancestry," McNally said.
Following the lecture, guests attended the induction ceremony, where Shilajit Kundu, MD, '07 GME, chief of Urologic Oncology in the Department of Urology, welcomed inductees.
"We recognize our students, house staff and faculty, who not only provide superb care to patients, but have gone above and beyond to distinguish themselves to be worthy of AOA induction," said Kundu, who serves as AOA councilor for Feinberg.
Susan Goldsmith, MD, '08 GME, associate dean for student affairs and associate professor of Obstetrics and Gynecology in the Division of General Obstetrics and Gynecology, welcomed the 33 new medical student members into AOA.
"My time at Feinberg has been defined by continuously striving for improvement," said Matias Pollevick, a fourth-year student pursuing a residency in internal medicine who was inducted into AOA. "I hope to take this spirit and apply it to my learning as a resident and to serving my patients during practice."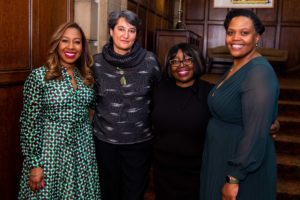 New housestaff inductees were announced by Linda Suleiman, MD, '17 GME, assistant dean of Medical Education, director of diversity and inclusion for the McGaw Medical Center of Northwestern University and an assistant professor of Orthopaedic Surgery.
"It is an immense honor to be inducted into AOA," said Katherine McGee, chief resident in medicine and AOA inductee. "I owe so much to my mentors, education and training at Northwestern, which has prepared me for this continued work, and joining the AOA community at Northwestern is an exciting new chapter."
Marianne Green, MD, the Raymond H. Curry, MD, Professor of Medical Education and vice dean for Education, welcomed alumni and faculty inductees into the medical honor society.
"I would like to thank my family for their unrelenting support of my endeavors, and everyone at Feinberg who have encouraged, supported and challenged me to better myself, both professionally and personally," said Khalilah Gates, MD, assistant dean of Medical Education, associate professor of Medicine in the Division of Pulmonary and Critical Care and an AOA inductee.
Meron Teklu and Michael Wang, fourth-year medical students and AOA inductees, received the Alpha Omega Alpha Scholarship, an award funded by donors to Northwestern University.
AOA 2022 Inductees
Students: Salem T. Argaw; Sam Bowers; Omar Bushara; Samuel Carbunaru; Brian Cheng; Kasen Culler; Steven Dayton; Patrick Donahue; Maxwell Edmonds; Anthony Gacita; Shahzeb Hassan; Alexander Hou; Ketan Jain-Poster; Gabriel Knight; Lauren Kwa; Annemarie K. Leonard; Liliana Ma; Ashwin Shaan Madhan; Emily Marogi; Taha Osman Mohammed; Patrick Murday; Ramael Ohiomoba; Matias E. Pollevick; Shayla Nicole Reid; Ana Marie Reyes; David Riopelle; Arjun Sarkar; Sripadh Sharma; Anjani Sheth; Meron Teklu; Michael Wang; Ellen Wu; and Karen Young.
House staff: Megan Marie Attridge, MD; Timothy Milton Janetos, MD, MBA; Katherine McGee, MD; Konrad Teodor Sawicki, MD, PhD; and Peter Serina, MD, MPH.
Alumni and faculty: Edward Sanghyun Kim '92, '96 MD, MBA, FACP, FASCO, vice physician-in-chief, City of Hope National Medical Center; Crystal Clark, MD, MSc, associate professor of Psychiatry and Behavioral Sciences and of Obstetrics and Gynecology; Khalilah Gates, MD; Daniela Ladner, MD, MPH, professor of Surgery in the Division of Organ Transplantation and of Medical Social Sciences; and June McKoy, MD, JD, MBA, MPH, LLM, '01 GME, professor of Medicine in the Division of General Internal Medicine and Geriatrics.