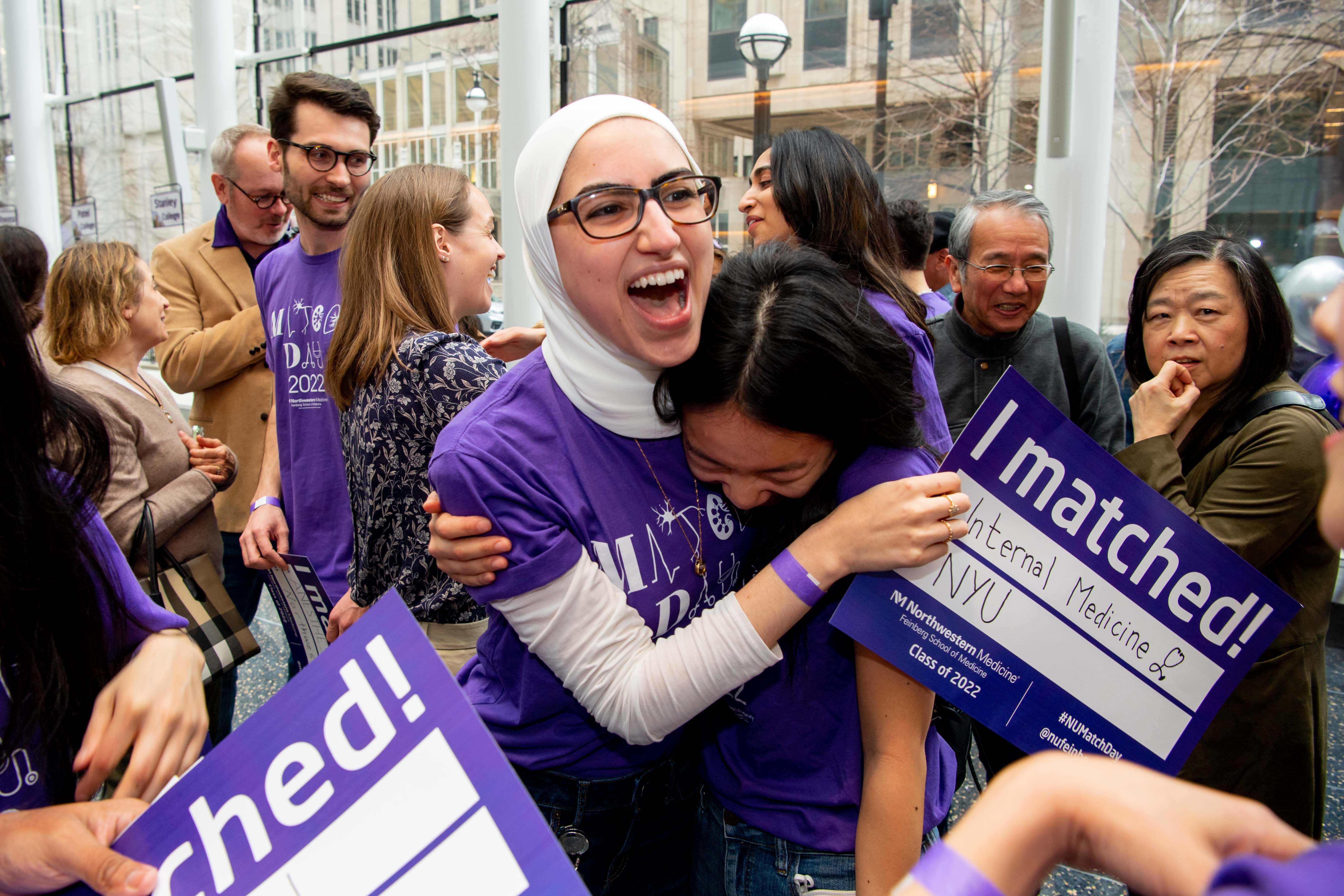 Torn envelopes littered the floor once again, as fourth-year students resumed the decades-long tradition of celebrating their residency matches in person.
"We've had this pent-up excitement over the last few years, and the fact we get to be together in one space to share this moment is magical," said Ketan Jain-Poster, who matched otolaryngology (head and neck surgery) at Kaiser Permanente Oakland Medical Center.
On Match Day, an annual tradition held on the third Friday of March, all fourth-year medical students across the country learn — at the exact same time — where they will train as residents for the next three to seven years.
This year, Feinberg students and their families attended the Match Day celebration at the Louis A. Simpson and Kimberly K. Querrey Biomedical Research Center on Northwestern's Chicago campus.
Residency matches are made by the National Resident Matching Program (NRMP), which uses an algorithm to pair graduating medical students with available training positions at U.S. teaching hospitals. The model takes into account the top choices of both the students and the residency programs.
This year's graduating class faced enormous adversity due to the COVID-19 pandemic according to Marianne Green, MD, the Raymond H. Curry, MD, Professor of Medical Education and vice dean for Education, who spoke to students and their families before the envelope opening.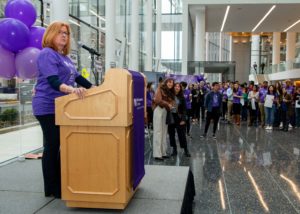 "You've had a unique medical school experience, and the challenges you've faced and solutions you've provided have made you an inspiration," Green said. "You are an exceptional class."
Match Day is the beginning of the end of medical school for students at Feinberg, many of whom will leave Chicago for training across the country. Zenaida Enchill, a fourth-year student who matched in orthpaedic surgery at the Harvard Combined Orthopaedic Residency Program, said the events conjured up memories of Founders' Day four years ago, where first-year students were welcomed to campus.
"I remember the white coat ceremony, just down the street, and now we're here," Enchill said. "I am very grateful for my mentors and support system, and I'm incredibly excited."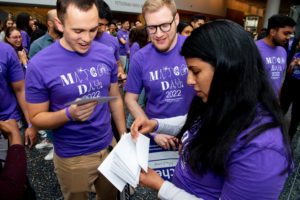 Other students will stay at Northwestern, including Christopher Yang, a fourth-year student who matched into dermatology at the McGaw Medical Center of Northwestern University. Yang said the backing he received from the Northwestern community was influential in his decision to remain in Chicago.
"Northwestern has been fantastic, the mentors here are incredible and I could not have done it without them," Yang said.
Maxwell Edmonds, PhD, who matched into an obstetrics and gynecology residency at Duke University, is currently wrapping up his ninth year at Northwestern as part of the Medical Scientist Training Program (MSTP). Even with his extended stay, he says he may return one day — a testament to the vibrant community on campus.
"I suspect I'll be back at Northwestern someday, maybe for a fellowship or as an attending physician," Edmonds said. "They've trained me to be a compassionate, skilled and curious clinician-scientist, and that's something I want to take with me."