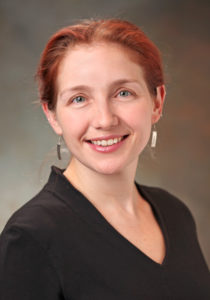 Northwestern has established the Center for Human Immunobiology (CHI), with the goal of bringing together interdisciplinary scientists and clinicians to uncover the molecular mechanisms of the immune system and translating new discoveries into innovative cures for immune-regulated diseases.
The center will be directed by Stephanie Eisenbarth, MD, PhD, the incoming chief of the Division of Allergy and Immunology in the Department of Medicine.
"Understanding how the immune system fights new viruses, controls the growth of cancer, inappropriately responds to allergens, and targets the body's own tissues is critical to human health, and the interdisciplinary teams we plan to build will help us examine these questions through multiple lenses," said Eisenbarth, who previously served as the associate chair of research in the Department of Laboratory Medicine and co-director of the Program in Translational Biomedicine at Yale University.
The new center — which has been allocated 9,000 square feet of newly renovated lab space on the Chicago campus in the Tarry Building — will unite trainees, clinicians and immunologists spanning 28 departments at Feinberg, on Northwestern's Chicago campus to stimulate innovative new approaches to treat diseases caused or amplified by the immune system. The medical school has also allocated funds to recruit new scientists at the forefront of research in immunology to the faculty.
"While we have learned a tremendous amount about the cells and molecules of the immune system in the past three decades, we are only recently learning how to apply this knowledge to treatments that effectively re-direct the immune response," said Eisenbarth, who is also a professor of Allergy and Immunology and of Pathology. "By bringing together a community of researchers focused on immunology, we can help each other's science grow."
CHI aims to attract students and investigators through fellowship programs and will provide funds for early-stage research. Another major focus will be expanding the number of clinical trials underway at Northwestern in a wide range of areas, including allergies, emerging infectious diseases, autoimmune diseases and neuroimmune diseases. The center will also become a hub for community engagement with leading-edge clinical interventions of immune-mediated diseases.
Eisenbarth's own work focuses on allergies, which she described as "one of the biggest mysteries in immunology." In her laboratory, her team is studying the role of dendritic cells, T-cells and B-cells in allergy, as well as exploring a possible link between allergies and leaky gut, which could translate into a treatment that would prevent anaphylactic food reactions in children.
Eisenbarth has already recruited M. Cecilia Berin, PhD, formerly the Endowed Chair and Hugh A. Sampson Professor of Food Allergy Research at Mount Sinai in New York. Berin joined Northwestern in August as the inaugural Bunning Professor for Food Allergy Research.
"With its incredible research enterprise and spirit of collaboration, Northwestern is the ideal home for a center that intends to unlock the mysteries of the immune system — ultimately transforming the way we manage the immune-regulated diseases and improving the lives of our patients," Eisenbarth said.
Eisenbarth is also a member of the Robert H. Lurie Comprehensive Cancer Center of Northwestern University
More information about the new center can be found here and both Northwestern faculty and trainees can apply to become a CHI member here.