Northwestern University Feinberg School of Medicine's Department of Preventive Medicine is celebrating its 50th anniversary this year. The department commemorated the occasion earlier this fall by hosting a reception in the Potocsnak Family Atrium of the Louis A. Simpson and Kimberly K. Querrey Biomedical Research Center. More than 150 people, including current and former leaders of the department, faculty and staff, attended the event.
Originally founded in 1972 as the Department of Community Health and Preventive Medicine, the team was led by Jeremiah Stamler, MD. What started as a small group of fewer than 10 individuals has grown to include seven divisions with 285 faculty and staff.
The studies that Stamler and his team completed in the early years created the fields of cardiovascular epidemiology and prevention, and defined the key causal risk factors for cardiovascular disease, including smoking, physical inactivity, unhealthy diet, being overweight, as well as elevated cholesterol, blood pressure and blood glucose, said Donald Lloyd-Jones, MD, ScM, chair and the Eileen M. Foell Professor of Preventive Medicine in the Division of Epidemiology, of Medicine in the Division of Cardiology and of Pediatrics.
Since its inception, the department has made broad and deep contributions to health promotion and disease prevention across the life course in nutrition, biomedical informatics, public health, behavioral medicine, biostatistics, epidemiology and cancer prevention. For the last several years, the department has been the #1 such department nationally in funding from the National Institutes of Health.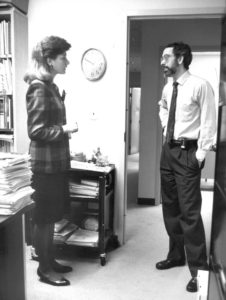 It was Stamler himself who reminded his colleagues that the milestone was coming. Sadly, he passed away at the age of 102 before the anniversary event took place. While he was unable to attend, his memory was honored by those who worked closely with him as well as the generations of scholars and employees he continues to inspire.
Three videos were shown at the event. They can be watched here:
Origins of Prevention: Looking back at the early years of the Department of Preventive Medicine and the legacy of its founder.
Growth and Evolution: Reflecting on the growth and evolution of the Department of Preventive Medicine over the past 50 years.
Embracing the Future: Exploring how the Department of Preventive Medicine will continue to impact the betterment of human health through the research contributions of its faculty and staff.
The department also produced a book called "50 Years of Impact on Public Health, Prevention and Training," which is available as a PDF.