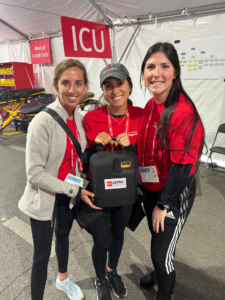 Two weeks before she'd even started her first year in Feinberg's Physician Assistant (PA) program, Nicole Pinakidis was already called into action to put her emergency care skills to use when she helped save a runner's life during this year's Chicago Half Marathon on June 5.
Pinakidis volunteered to be part of the half marathon's pre-finish line surveillance team, where she and other classmates who volunteered were stationed at different intervals throughout the final 600 meters of the racecourse to assist any runners that needed immediate medical attention.
Second-year PA student Kristin Brennan was also part of the team, volunteering alongside Pinakidis.
"As a runner myself, I know that the last stretch of a race can be the toughest both mentally and physically, and runners are often inclined to push themselves to their limits to make it to the finish line," Brennan said.
During the race, a runner experienced cardiac arrest just 300 meters from the finish line and that's when Pinakidis and Brennan sprang into action. While Pinakidis administered an automated external defibrillator (AED) machine to the runner which delivered electric shocks to the runner's heart, Brennan delivered CPR.
"When I arrived to the scene, the runner was on the ground and a woman, who was his wife and happened to be a physician, was beginning to perform chest compressions. I immediately let her know that I was present and willing to tap-in for her because she was a family member," Brennan said.
After two rounds of CPR, a subsequent shock was not advised and by that time, the paramedics had arrived to the scene.
"Though the entire resuscitation had only taken place over a few minutes, it felt like so much happened," Pinakidis said. "I have been trained for years on how to use an AED during CPR, but this was the first time I had done it in real time."
"Medical volunteers are imperative in keeping runners safe during events like the half-marathon," said Marissa Liveris, MMS, PA-C, an instructor in the Department of Medical Education for the PA program, who supervised the PA student volunteers at the half-marathon. "This was reinforced when first- and second-year PA student volunteers brought life-saving treatment to a runner in the field. Their astute thinking and quick action made the difference."
George Chiampas, DO, assistant professor of Emergency Medicine and Orthopaedic Surgery, also helped supervise student volunteers and is chief medical officer of the Bank of America races, including the Chicago Half Marathon.
Pinakidis said she's thankful for her training that allowed her to stay calm and take action in such a critical moment.
"It was especially gratifying to know that the runner responded well to the emergency care they received," Pinakidis said.
"I am just so thankful for the best possible outcome that day and wish the best for the runner and his family. I am also so thankful to the amazing team of medical volunteers set up by and supported by Dr. Chiampas at the marathon. It was truly a team effort to provide help, ranging from the incident command volunteers to the Superior dispatchers who all worked together to provide rapid care," Brennan said.