Medical and physician assistant (PA) students at Northwestern University Feinberg School of Medicine are learning about structures of the human body in an entirely new and high-tech way.
For the last few years, the medical school has worked to develop a new approach to anatomy education. One key component has been partnering with Case Western Reserve University School of Medicine to integrate their HoloAnatomy software. The software utilizes Microsoft's HoloLens 2 mixed reality headsets that allow students to visualize every part of the body as a virtual, three-dimensional hologram.
Feinberg's new anatomy curriculum is currently being introduced to first-year and second-year medical students in their Phase 1 Module and to first-year PA students by newly arrived faculty members Andrew Deweyert, PhD, and Angelique Dueñas, PhD, both assistant professors of Medical Education.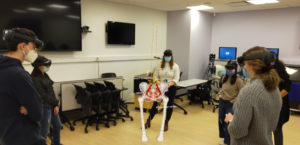 For medical students in particular, the new curriculum represents a change from traditional anatomy training and dissection-based learning to a more immersive and multimodal experience that integrates prosected specimens with medical imaging, hands-on ultrasound and augmented reality.
"We use this technology not as a replacement for dissection but to augment and enhance the learning of anatomy in a more efficient and effective way," said Patricia Garcia, MD, MPH, associate dean for Curriculum and a professor of Obstetrics and Gynecology in the Division of Maternal Fetal Medicine and of Medical Education.
According to Dueñas, the curriculum's shift to a prosection-based learning model follows a national trend among other highly-accredited medical schools.
"With this big shift in educational practice, we wanted to think critically: if we're not dissecting, then how can we make the most of the students' time in the lab with less contact hours and determine what the real purpose of anatomy is? What purpose it serves in a medical curriculum and how the curriculum can be highly integrative?" Dueñas said.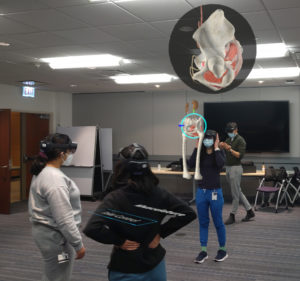 The new curriculum is composed of virtual lectures and anatomy lab learning stations, in which students are divided into teams and rotate through to review different clinical cases with integrated medical imaging and histopathology content, in addition to examining anatomy on prosected specimens.
In supplemental sessions, HoloAnatomy software is used to visualize the same structures students saw in the anatomy lab but now as three-dimensional holograms which can be examined from multiple perspectives both "inside" and "outside" of the body. So far, students have used the software to learn more about the anatomy of the reproductive system, shoulder joint, as well as the head and neck.
"In a traditional dissection, some structures are very hard to see, even if you spend time meticulously preparing and dissecting them. So, one of our goals is to use these ed-tech tools to supplement these areas that are traditionally difficult to learn and have students actually visualize these areas in a hologram, ultimately filling those learning gaps with this technology," Deweyert said.
Students who express interest can also sign up for optional dissection sessions offered with each organ learning module.
"We recognize that with these changes, dissection is a formative experience, particularly for students who show inclination towards certain specialties," Dueñas said.
In their fourth year, medical students will be given the opportunity to re-enter the anatomy lab to re-engage with dissection as they prepare to enter their chosen surgical or procedural career specialty.
"Once a student has chosen to go into urology or obstetrics and gynecology, spending time in the anatomy lab dissecting the pelvis will become much more relevant, captivating and meaningful", Garcia said.
Feinberg was recently featured at Microsoft's North American HoloLens Industry Summit, where Dueñas spoke about the integration of the HoloAnatomy software into the medical school's anatomy curriculum.
The new curriculum was also made possible by the expertise and creative input from Feinberg's education technology group who co-developed HoloAnatomy sessions and assisted with the integration of imaging technology in the anatomy lab: instructional designer Laura Seul, instructional technologist, Damian Williams, learning space manager, Chris Puente, James Brucker, MS, instructor in the Department of Medical Education, and Joe Horne, PhD, director of educational technology at Feinberg.