From an early age, Sam Bowers, '22 MD, '22 PhD, says he knew he wanted to become a physician and in college he fell in love with basic benchside research. Now a graduate of Feinberg's Medical Scientist Training Program (MSTP), Bowers said he is looking forward to combining his passions for patient care and research as he embarks on the next stage of his career as a physician-scientist.
"I realized the best way to apply this incredibly interesting science and physiology that I was learning about was to use it to help people," Bowers said.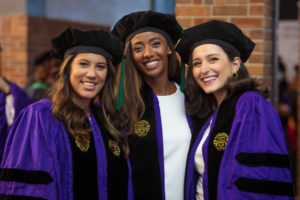 Bowers, who will begin his residency this fall in anesthesiology at the University of Michigan, said he is grateful for how Feinberg has prepared him and his classmates to be well-rounded physicians.
"They didn't just prepare us to do well on the board exams and do well on all our written tests and clinical rotations. They prepared us to be complete physicians by having us go out in the community as early as our first year and look at what the healthcare needs were in the different communities in Chicago. Having ties outside the normal science of medicine I think really helps us take care of the entire patient and their families," Bowers said.
Feinberg honored the MD Class of 2022 during the medical school's 163rd commencement ceremony in the Aon Grand Ballroom at Navy Pier on May 23.
This year's commencement was introduced by Eric G. Neilson, MD, vice president for Medical Affairs and Lewis Landsberg Dean, who welcomed graduating medical students, faculty, family and friends to the first in-person ceremony the medical school has held in three years.
"You're entering a brave new world of managing priorities, a world where keeping people from all walks of life as healthy as we can becomes a collective responsibility of science and the medical profession," Neilson said.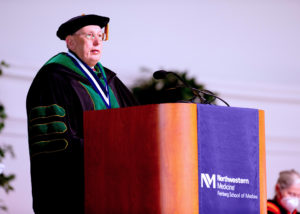 Neilson then introduced Kathleen M. Hagerty, PhD, provost of Northwestern University, who encouraged students to apply the lessons they've learned throughout their medical school career to their future careers as physicians.
"During this era, against the backdrop of a global pandemic, we have witnessed the critical importance of both scientific discovery and compassionate care around the world, and especially here in Chicago, home to Feinberg and Northwestern Medicine. You chose the very best place to learn health and the most critical aspects of medicine, and I hope you carry them forward through a lifetime of service and to your patients," Hagerty said.
Mary E. Klotman, MD, the R.J. Reynolds Distinguished Professor of Medicine and dean of the Duke University School of Medicine, delivered this year's commencement address.
"The challenges, losses and disruptions in all our lives have been daunting. This experience will be part of each of our narratives going forward, and this is uniquely true for you, medical school graduates, having experienced this enormous disruption in healthcare in the middle of your dream," Klotman said.  "But history tells us that this type of massive disruption can be a catalyst for positive change, so I encourage to ask yourselves how your experience during this pandemic helped define who you are."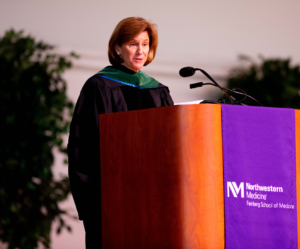 Sandy Sanguino, MD, MPH, senior associate dean for Medical Education, presented the members of the class of 2022, who crossed the stage to receive their diplomas and doctoral hoods, either from a faculty mentor or physician family member.
Ramael Ohiomoba, '22 MD, addressed her classmates about how learning to listen and speak up as medical students has prepared them to be capable and confident physicians. Ohiomoba will begin her internal medicine residency at Brigham and Women's Hospital in Boston this fall.
"As physicians, it will always be our duty to speak up, especially when it feels the most uncomfortable. What does this mean? It means admitting that you don't know the answer while maintaining confidence in your abilities as a capable clinician. It means learning to overcome our inner self doubts and speak up in the best interests of our patients no matter the consequences, and, most importantly, envisioning yourself as part of a team," Ohiomoba said.
At the conclusion of the ceremony, Neilson led the graduates in reciting the Declaration of Geneva, the modern declaration of the physician's oath, and the same they took as first-year medical students at Founders' Day.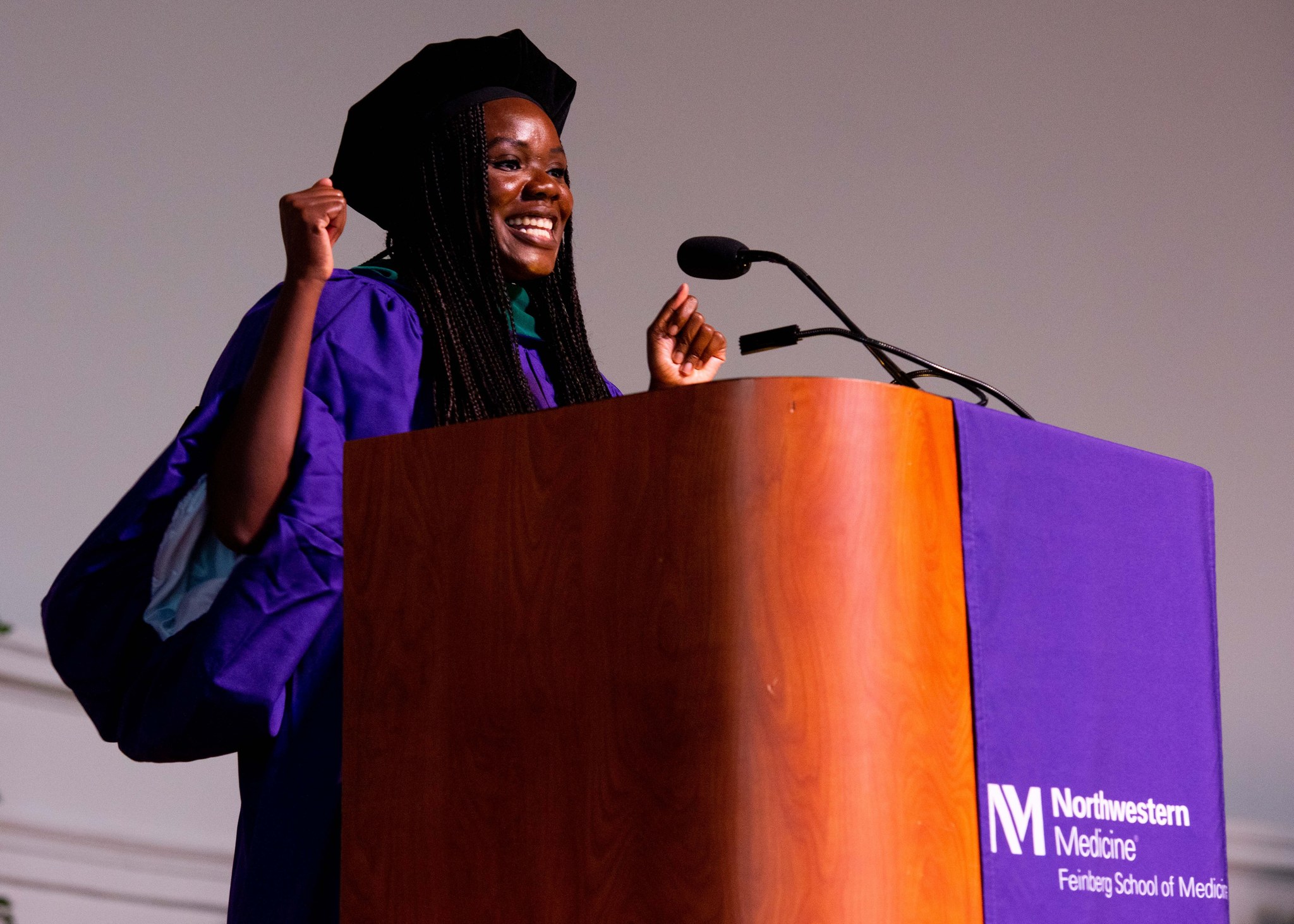 Thirty-five graduating students were inducted into the Alpha Omega Alpha medical honor society. Seven students received Magna Cum Laude in Scientia Experimentali, and six received Cum Laude in Scientia Experimentali. Eight students graduated Summa Cum Laude, eight graduated Magna Cum Laude, and eight graduated Cum Laude.
Many also took advantage of Feinberg's dual-degree programs; 11 graduates received a Master's Degree in Business Administration, one earned a Master's Degree in Medical Humanities & Bioethics, seven received a Master's Degree in Public Health and 12 completed a PhD in the Medical Scientist Training Program. Following the ceremony, graduates, family and friends attended a reception at Navy Pier.
"I think Feinberg did an amazing job preparing me in all different aspects, such as the interpersonal skills that come with being a physician but also the clinical and academic side of my education was very strong. Also, having the network of friends and mentors have been very important in helping get me where I am," said Salem Argaw, '22 MD, '22 MPH.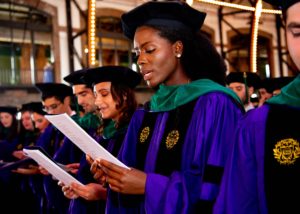 Argaw, who will begin her residency in integrated thoracic surgery at New York-Presbyterian Hospital in the fall, said her goal as a physician is to help empower healthcare systems and workforces on a global scale.
"I'm originally from Ethiopia, and I want to work in an academic institution where I can work with and collaborate with surgeons who are in Ethiopia and other countries to be able to do research or education and training and help build up the workforce of physicians around the world," Argaw said.