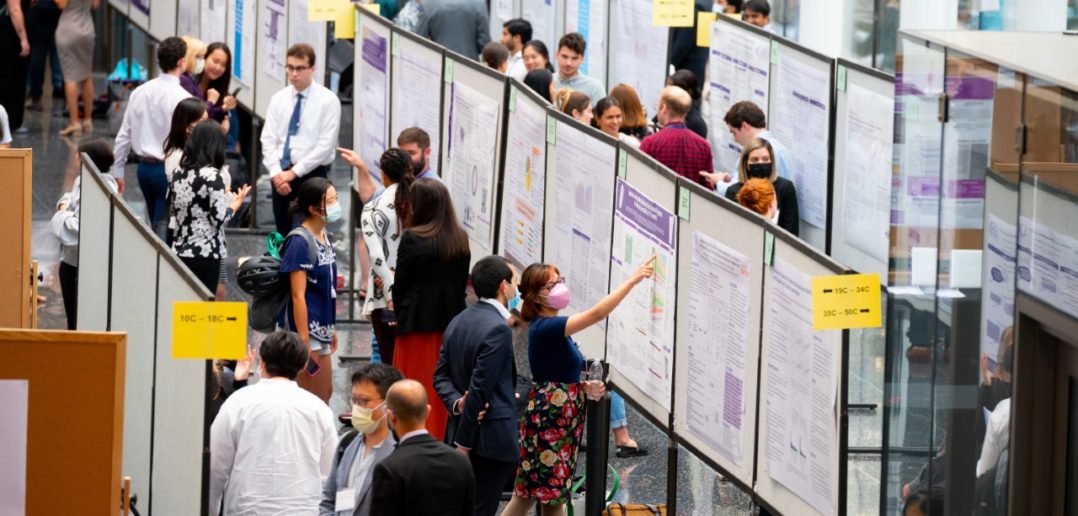 On Thursday, more than 480 investigators, students, trainees and faculty presented scientific posters and abstracts at Feinberg's 16th Annual Lewis Landsberg Research Day.
This year's event saw a record-breaking number of participants and presentations, which returned after a two-year hiatus due to the COVID pandemic.
The importance of "bench-to-bedside" research was highlighted by Rex Chisholm, PhD, vice dean for Scientific Affairs and Graduate Education, who welcomed this year's attendees and presented the Medical Faculty Council Mentors of the Year and Tripartite Legacy Faculty Prize in Translational Science and Education awards.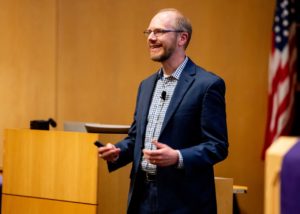 "Research Day 2022 is the largest and most energetic research event ever. This is a great start for the research enterprise for the new academic year," said Chisholm, who is also the Adam and Richard T. Lind Professor of Medical Genetics and a professor of Cell and Molecular Biology and of Surgery.
Following Chisholm's introduction, Joshua Denny, MD, MS, chief executive officer of the National Institutes of Health's All of Us Research Program, delivered the keynote address.
"As we thought about the All of Us Research Program, we really wanted to think about the different ways we could capture different streams of information, bringing them together, creating new kinds of datasets and tools and, importantly, increasing participant population to really help us learn about ways we could intervene on healthcare and make things better," Denny said.
Attendees explored poster presentations held across campus at the Robert H. Lurie Medical Research Center, the Louis A. Simpson and Kimberly K. Querrey Biomedical Research Center and at Northwestern Memorial Hospital.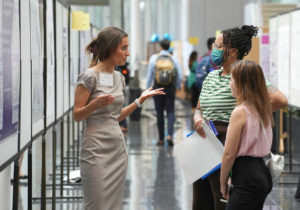 Throughout the event, attendees browsed hundreds of scientific posters and spoke with investigators, including second-year medical student Thomasz Gruchala, who presented his research about the correlation between bed mobility and mortality in patients with glioma after inpatient rehabilitation, and how bed mobility can be used to determine patient survival.
"If determining whether a patient survives relies on something like genotyping or an advanced test, it's not always feasible to collect. The benefit of bed mobility is that anyone is able to measure it; there's no advanced clinical training that's needed," Gruchala said.
Amr Alwakeal, MD, clinical research associate in the Departments of Neurological Surgery and Radiology, presented his research that explored endovascular treatment of ophthalmic aneurysms, which account for up to 10 percent of intracranial aneurysms, finding that the procedure was less invasive and more safe than surgical interventions.
"We found that endovascular treatment of ophthalmic aneurysms is safe. A small amount of residual aneurysm filling was common at follow-up, but allowed filling of the ophthalmic artery," Alwakeal said.
Another research project, led by Anna Marie Pacheco Young, MD, MPH, a second-year resident in obstetrics and gynecology, found that a majority of pregnant women with substance use disorders who were admitted to a healthcare center were eligible for the HIV prevention medication pre-exposure prophylaxis, commonly known as PrEP, based on the American College of Obstetricians and Gynecologists' 2014 and 2022 criteria.
"There's very much a missed opportunity to offer PrEP to women specifically. We think that not only is this a call to providers to offer PrEP to women with substance use disorders during pregnancy, but also to be on high alert for women with a comorbid psychiatric illness," Young said.
Poster Competition Winners
Basic Science
First place: David Hou, medical student
"Targeting B cell Suppression to Improve the Efficacy of Immunotherapies in Brain Cancer"
Second place: Yaqi Zhang, McC '17, PhD candidate
"FOXK2 promotes stemness in ovarian cancer by regulating unfolded protein response signaling"
Third place: Jeanne Quinn, medical student
"Alpha-catenin phosphorylation is mechanosensitive, driving apical junction organization and mammalian barrier function"
Clinical Research
First place: Ted Ling Hu, PhD candidate
"Molecular Epidemiology of the COVID-19 Pandemic in Chicago"
Second place: Richard Duan, medical student
"Viability of blood-based multi-cancer screening in the general population: a systematic review and metaanalysis"
Third place: Sophie Xiao, senior research technologist at Ann and Robert H. Lurie Children's Hospital of Chicago
"Targeting GBM invasion by inhibiting KCNA1 with 4-aminopyridine: an FDA approved drug that easily pass through the BBB"
Public Health and Social Sciences Research
First place: Alexander Huang, medical student
"Black Patients Living in Low-Income Neighborhoods have Lower Rates of Screening for Gastroesophageal Varices"
Second place: John-Christopher Finley, PhD candidate
"Perceived Cognitive Complaints and the Discrepancy Between Perceived and Actual Cognitive Impairment is Most Related to Internalizing Psychopathology: A Cross-Sectional Analysis"
Third place: Kyeezu Kim, postdoctoral scholar
"Long-term Exposure to Urban Greenness, Social Determinants of Health, and Epigenetic Aging in Four Cities in the United States, 1985-2006"
Award for Excellence in Women's Health Research, Basic Science
Yaqi Zhang, McC '17, PhD candidate
"FOXK2 promotes stemness in ovarian cancer by regulating unfolded protein response signaling"
Award for Excellence in Women's Health Research, Clinical Research, Education or Public Health
Qiang Zhang, research professor of medicine in the division of Hematology and Oncology
"Pilot study to identify live circulating tumor cells (CTCs) in metastatic breast cancer (MBC) by application of a novel microfluidic workflow system and flow cytometry"
Alliance for Research in Chicagoland Communities' (ARCC) Annual Award: Given to Partnership for a Better Roseland Choose Life Project and Building Bridges to Connect Faith to Community Health. This year's award honors these partnerships and the legacy of the late Dr. Virginia Bishop, who passed away in February 2020. Bishop co-founded ARCC and served as ARCC's co-director from 2007 – 2010. The Partnership for a Better Roseland consisted of 9 local community organizations engaged in a community-based participatory research study to examine and address school-related violence as a health priority among Greater Roseland youth ages 14-18, gather community specific youth violence data through qualitative analysis. Building Bridges to Connect Faith to Community Health was a partnership with the Apostolic Faith Church located in Chicago's Bronzeville neighborhood.
Tripartite Legacy Faculty Prize: Amy Paller, MD, chair of and Walter J. Hamlin Professor of Dermatology, and director of the Skin Biology and Diseases Resource-Based Center.
Medical Faculty Council Mentors of the Year: Katherine Wisner, MD, the Norman and Helen Asher Professor of Psychiatry and Behavioral Sciences and director of the Asher Center for the Study and Treatment of Depressive Disorders, and Harris R. Perlman, PhD, chief of Rheumatology and the Mabel Greene Myers Professor of Medicine.