Daniel Latyshev, a rising second-year medical student, has deep ties to Ukraine. Born in England, Latyshev's parents are Ukrainian and much of his extended family still lives there. Latyshev said Russia's invasion feels deeply personal to him and he's been involved in several aid efforts for the besieged nation.
Read a Q&A with Latyshev below.
Why did you choose Feinberg?
Listen to Latyshey below: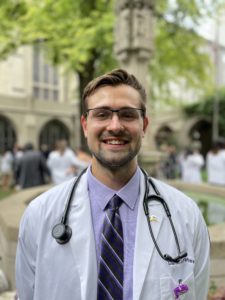 The community. It really is the Feinberg family. It's mentioned a lot, but you come here and you really do feel that. Between the peers, between the faculty, mentorship opportunities that you have — that was something else that was really important to me. I think with the ECMH that we have here, our AOSC research projects, our colleges — everything feels very tight-knit and you have a very good support circle no matter where you turn.
What are your medical interests?
I came into medical school with an emergency medical technician background and I really like that acute or critical care setting. I've volunteered in emergency departments since I was in high school, and I like the diagnostic aspect of the specialty, balanced with the urgent procedures and treatments clinicians perform. I think emergency medicine is at the top of my list right now.
Tell me about your Ukrainian heritage and what that means to you.
It was very important to come to Chicago because this is the second-largest Ukrainian diaspora in the country. I've spoken Russian at home with my family my entire life. Coming here and having the opportunity to work in a clinic that's in Ukrainian Village was a cool opportunity that I don't think was present anywhere else.
On the flip side, it means that the Russian invasion basically sent me into shock — for the next week or so I was glued to the news, trying to absorb as much information as I could. I saw other medical schools had released statements to their student bodies — bringing awareness to the situation — so I drafted a letter that addressed the issue, emphasized its importance to the student body, and began the process of finding different avenues through which I could help.
Can you describe these efforts?
I connected with the Ukrainian Medical Association of North America (UMANA), and they along with my college mentor Dr. Rebecca Garcia-Sosa put me in touch with Dr. Sophia Korovaichuk, who put together a GoFundMe that's raised more than $26,000 for medical supplies, clothing and food to be distributed to local humanitarian relief organizations in Ukraine.
We also organized a fundraiser with FeinBakers, a bake sale organization here at Feinberg, and raised another $1,000 for UMANA. I also helped organize a donation drive, with 400 items of clothing and non-perishable foods donated through the Ukrainian Congress Committee of America. These items will go to refugee centers on the Polish-Ukrainian border. In the future, I want to make sure we don't get complacent — this issue will fade from the news and people will forget, but focusing on volunteerism, attending protests and petitioning our elected leaders are all things we can do right now. I also think there's opportunities to welcome Ukrainian refugees, especially here in Chicago, so I'm exploring how that might work as well.