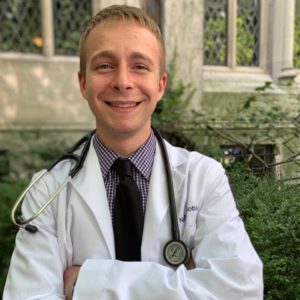 Nathan Shlobin, a second-year medical student, is as dedicated to his medical education career as he is to his research. Shlobin graduated from Northwestern University, double majoring in biology with a concentration in developmental and molecular neurobiology, in psychology, and minoring in global health. Currently, Shlobin has his mind set on becoming a neurosurgeon and is most interested in specializing in pediatric neurosurgery, with a specific focus on vascular and functional disorders.
Shlobin is also the first author of a systematic review recently published in the journal Neurosurgical Focus, which found potential risk factors for spinal cord ischemia, or inadequate blood flow within the spinal cord, related to anterior thoracolumbar spine surgery. According to Shlobin, the risk factors, which include hyperkyphosis — an excessive curvature of the spine – and left-sided surgical approaches, are essential for surgeons to know beforehand and recognize during surgery in order to minimize risk of ischemia and, furthermore, to improve patient care and outcomes.
Read a Q&A with Shlobin below.
Why did you choose Feinberg?
I was accepted into Northwestern's Honors Program in Medical Education program out of high school. As a result, I was ported over from the undergraduate side to the medical school side. It was a great opportunity. The clinical environment was really what piqued my interest and what I continue to find most beneficial. The clinical instruction that I have had here is excellent. The research opportunities are also robust.
Are you involved in any extracurriculars at Feinberg?
I am the co-president of the Neurological Surgery Interest Group. A fellow student and I founded that together last year. I'm also a co-president of Feinberg's Global Surgery Student Alliance chapter, as well as the treasurer of the Jewish Medical Student Organization.
What motivated you to do this study?
I have worked with Dr. Matthew Potts, who is the senior author, and Dr. Nader Dahdaleh, one of the co-authors, for many years. So, it was a good opportunity to do something that incorporated the both of them, and also to learn about a topic that is interesting to me. At this point, everything in neurosurgery is interesting and conducting studies allows me to learn.
Essentially, the thoracolumbar region is the region in the spine that starts at the base of the neck and goes down the back. We looked at the anatomy of the arteries and blood vessels in that particular region of the spine, with specific reference to surgical approaches from the front to determine the rates and risk factors for spinal cord injury resulting from injury to the vasculature.
Why neurosurgery? And why, maybe, pediatric neurosurgery?
I was interested in neurology when I was very young due to experiences with family members who had neurologic diseases. At that point, I was interested in the brain as a general concept. Essentially, I stumbled upon neurosurgery as an accident because I wanted to get involved in research as a freshman undergraduate. Dr. Dahdaleh and Dr. Potts were the first two neurosurgeons that I met. I ended up working on research with them and had the opportunity to join them in the operating room, clinic, and rounds during the weekend. As a result of those experiences, my interest grew because I realized that I wanted to operate on patients and gained insight into the day-to-day life of trainees and attending neurosurgeons as well as advances in the field.
As for pediatric neurosurgery, pediatric neurosurgeons have the potential to help patients for a long duration of their lives moving forward. Children with epilepsy, for example, who experience improvement in seizure frequency after epilepsy surgery often experience a markedly improved quality of life. I also enjoy interacting with kids and their families. Both improving quality of life and the intricacies of caring for pediatric patients are pushing me towards a career in pediatric neurosurgery.
What advice would you give to your peers and prospective medical students?
I would encourage them pursue what they are most interested in. There are opportunities at Feinberg to get involved clinically and in research. If there is something that they think might interest them but are not sure about, then they should explore that area. They might stumble across something they like on accident like I did.