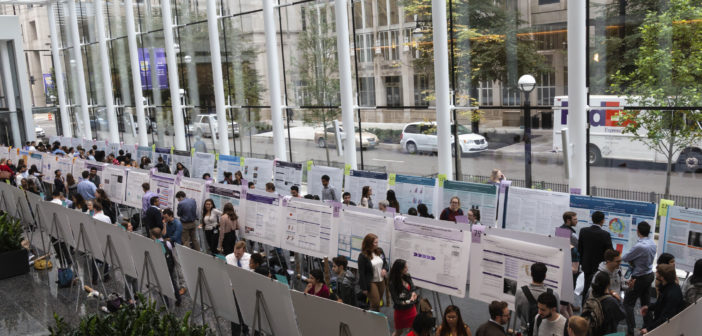 This summer, second-year medical student Kamya Bijawat spent a month in South Africa pursuing her Area of Scholarly Concentration (AOSC) research project: in partnership with the Red Cross War Memorial Children's Hospital in Cape Town and Ann & Robert H. Lurie Children's Hospital, Bijawat found that wireless sensors known as Always-on Imperceptible Infant Monitoring (AIIM) have the potential to improve parent-infant bonding in low resource settings.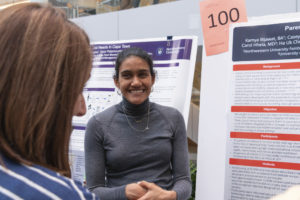 "What we wanted to see was how parents in South Africa, in a low resource setting, viewed their current relationship with their child, how comfortable they were touching and holding them, as well as what their thoughts were on how this would change if they used wireless versus wired technology," Bijawat said. "Our data showed that parents in South Africa are significantly less comfortable touching their child in the hospital."
Her ultimate goal is to use her research and AIIM to improve the bonding between parents and their newborns to reduce infant mortality in low resource settings.
Bijawat's project was overseen by Debra Weese-Mayer, MD, the Beatrice Cummings Mayer Professor of Pediatric Autonomic Medicine, and supported by the Bill and Melinda Gates Foundation and the Institute for Global Health. AIIM was developed by John Rogers, PhD, the Louis Simpson and Kimberly Querrey Professor of Materials Science and Engineering,  Biomedical Engineering and Neurological Surgery.
This year's AOSC poster session, held Oct. 11 in Lurie Ryan Family Atrium, showcased longitudinal research findings from 141 second-year medical students.
The AOSC is a four-year investigative project that requires students to conduct a research project regarding a chosen area of interest within biomedical research or a medically related field before graduation. The hands-on project allows students to not only develop critical thinking skills but also relationships with mentors and faculty.
"We have more posters this year than ever before, which speaks to the investment that our second-year students gave to performing research and to the many mentors who supervised them in doing so," said Craig Langman, MD, chief of Kidney Diseases in the Department of Pediatrics and director of Feinberg's AOSC program.
"I think that as a medical student, presenting original work to faculty is the most rewarding aspect of their projects, allowing them to be proud of what they accomplished in a relatively short time and setting the stage for career long interest in performing original research," Langman added.
Some AOSC posters presented a methodical approach in examining the effectiveness of clinical practice guidelines for sports-related head injuries.
Steve Dayton, a second-year medical student, conducted a systematic review and appraisal of the creation and quality of available clinical practice guidelines for sports-related concussions.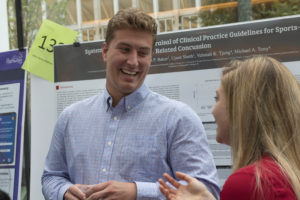 "It's hard because with concussions, you can't do a randomized control trial, so the quality automatically is going to be a little bit lower because your information is coming from expert consensus," Dayton said.
Using Google Scholar, PubMed and other academic search engine tools, Dayton and his team overseen by Michael Terry, MD, the Dr. Charles and Leslie Snorf Professor of Orthopedic Surgery, found seven guidelines related to concussions during a sporting event for adults. Using the AGREE II assessment tool for practice guidelines, Dayton was able to determine that the seven guidelines were sufficient.
"It was encouraging to see that the scores were pretty similar and it seems like the guidelines are doing a good job at increasing awareness of sports-related concussions," Dayton said.
Other AOSC research focused on clinical research, such as Nari Lee's examination of the correlation between the risk of stroke or heart attack in patients with moderate to severe psoriasis who were being treated with one of two biological drug therapies: an IL-12/23 inhibitor or a TNF alpha inhibitor.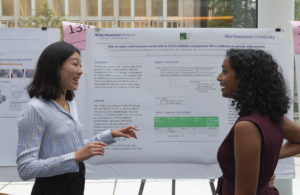 "What we found was that in these two groups, there wasn't a big difference in the incidence rate of these major cardiovascular events, so we didn't find that one treatment was better than the other," Lee said.
A big motivation for Lee's research was the opportunity to work with data from Northwestern Medicine's Enterprise Data Warehouse and under the mentorship of Beatrice Nardone, MD, PhD, research assistant professor of Dermatology.
For her next steps, Lee said she plans to examine how demographic impact the risk of major cardiovascular events in this patient population.
"I eventually want to look at demographic factors and how that factors into incidence rates and conduct statistical analysis to see what kind of comorbidities these patients have," Lee said.