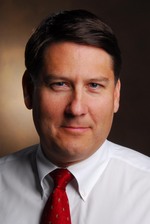 Northwestern has been awarded a $12 million, five-year grant from the National Institutes of Health (NIH) to establish an interdisciplinary research center dedicated to advancing the genetic understanding of epilepsy.
The Channelopathy-Associated Epilepsy Research Center, led by Alfred George, Jr., MD, chair and Magerstadt Professor of Pharmacology, will focus on investigating sodium and potassium channel genes, the dominant class of genes responsible for early childhood-onset epilepsy.
"Results from this work will contribute to improving the accuracy of genetic diagnosis of epilepsy and foster a better understanding of disease mechanisms at molecular and cellular levels," George explained. "We will also strive to determine the optimal drug therapy for specific mutations — a step in the direction of precision medicine."
Epilepsy, which affects 1 in 100 people worldwide, is a neurological disorder characterized by recurrent seizures. The disorder often has a genetic basis, especially through ion channel gene mutations, known as channelopathies. In particular, variants in the genes that code for sodium and potassium channels account for the majority of genetic variants associated with epilepsy and related neurodevelopmental disorders.
However, differentiating pathogenic versus benign variants, and characterization of the clinical relevance of specific mutations, has remained challenging.
Within the new center, a multi-institutional team of investigators aim to advance the understanding of genetic variants in channelopathy-associated epilepsy, and to enable a shift to a variant-based classification of epilepsy, while guiding the implementation of precision medicine.
In order to meet these aims, the center will consist of three integrated research projects and two scientific cores.
The first project will focus on high-throughput functional evaluation of ion channel variants in epilepsy; the second on investigation of human neuron models of channelopathy-associated epilepsy; and the third on development and investigation of murine models of channelopathy-associated epilepsy.
The projects will be aided by a Variant Prioritization and Curation Core and a Mutagenesis and Cell Expression Core.
The center will be made up of a collaborative group of investigators at five academic medical centers, including Northwestern University, three free-standing research hospitals and two industry partners.
Northwestern Medicine scientists in the center will include Jennifer Kearney, PhD, associate professor of Pharmacology; Evangelos Kiskinis, PhD, assistant professor of Neurology in the Division of Neuromuscular Disease and of Physiology; Anne Berg, PhD, research professor of Pediatrics in the Division of Neurology and Epilepsy; and John Millichap, MD, and Linda Laux, MD, both associate professors of Pediatrics in the Division of Neurology and Epilepsy, among others.
Pediatric research at Ann & Robert H. Lurie Children's Hospital of Chicago is conducted through the Stanley Manne Children's Research Institute.
"Since 2014, several strategic collaborations between investigators and clinicians at Northwestern and Lurie Children's Hospital formed an exceptional foundation for this new research center," George said. "The scientific reviewers recognized the unique strengths of the epilepsy and ion channel research communities here at Northwestern and Lurie Children's Hospital."
George is also a member of the Robert H. Lurie Comprehensive Cancer Center of Northwestern University and the Center for Genetic Medicine.