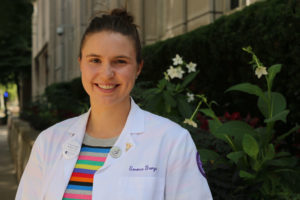 Emma Gargus is a busy student in the Medical Scientist Training Program (MSTP), but her life at Feinberg is by no means restricted to her MD/PhD studies.
Gargus, who earned her bachelor's degree in materials science and engineering from the Massachusetts Institute of Technology, is also active in promoting diversity and inclusion in medicine and science, and advocating for women's health through various channels at Northwestern.
Beyond her leadership in Queers and Allies, Feinberg's LGBT+ student group, Gargus is also past president of MSTP's student council and has served as chair/co-chair for two seminar series: the Women's Forum, which addresses the unique experiences of women in science and medicine, and Diverse Perspectives of Physician Scientists, which highlights the careers of physician-scientists who identify as belonging to a population underrepresented in medicine (URM) or serve a primarily URM patient population.
Outside of Feinberg, Gargus also enjoys playing volleyball — indoor, grass or beach depending on the weather — and taking advantage of activities in Chicago's parks during the warmer months.
Now in her fifth year of the MSTP, Gargus is currently focused on her doctoral work in the laboratory of Teresa Woodruff, '89 PhD, dean of the Graduate School and director of the Women's Health Research Institute, where she studies engineering novel biomaterials for use in ovarian health.
"Women's health has been historically overlooked and underfunded, so I am very excited to be doing work in this area," Gargus said.
Read a Q&A with Emma Gargus:
Why did you choose Feinberg?
When I was looking at physician-scientist programs, I wanted to find a school that would provide excellent clinical training, a collaborative research environment with expertise in biomaterials engineering, and an institutional climate where I'd feel at home for the next seven to eight years. Feinberg fit the bill on all counts. ​
When I met current students in the program and my future classmates during interview week and Second Look, I was impressed with their enthusiasm, talent and drive — plus, you can't beat Feinberg's location! As an added bonus, I was impressed with the emphasis that Feinberg put on diversity and inclusion, being one of the first institutions to consider sexual orientation and gender identity as URM.
What is your research focus?
I've always been interested in the ways that cells interact with their microenvironments and how these interactions can result in normal tissue function or lead to disease. The overarching goal of my thesis work is to design and fabricate biomaterials for ovarian cell culture.
One project is to understand the structure, mechanical properties and biochemical constituents of the healthy, physiologic ovary and mimic those properties in an engineered material, in order to improve ovarian follicle and oocyte maturation in vitro. By developing these new methods to generate healthy, fertilizable eggs in a dish, we'll expand the fertility options for young girls who have survived cancer but have diminished ovarian function as a side effect of their chemotherapy and radiation treatments.
My other project is to mimic the properties of an aged and polycystic ovary syndrome ovary to model and understand the mechanisms driving reproductive dysfunction in those conditions and ultimately to develop new treatments to expand the fertility options available to these women.
In all these projects, I work on collaborative interdisciplinary teams with engineers, biologists and clinicians, who each contribute their own expertise and perspective towards answering these important questions about the mechanisms of ovarian health and disease.
What projects for diversity and inclusion at Feinberg are you most proud of?
When I arrived at Feinberg as an M1, there was at the time no one in charge of the Safe Space program, a workshop that teaches the basics of terminology and the LGBT experience. My classmate Anthony Gacita and I had recently taken on leadership roles in Queers and Allies and decided to restart the Safe Space program using the curriculum materials from the original training program.
After leading a few sessions, we noticed some drawbacks to the existing program. First, the trainings were multi-hour, in-person workshops, which made it challenging for many faculty members to attend. Second, the participants at the trainings varied greatly in their prior knowledge about LGBT topics, so we struggled to set the right pace between teaching foundational vocabulary to novices and exploring more nuanced topics with experts. To address both these issues, we worked with the Department of Medical Education and our faculty mentor Diane B. Wayne, MD, to develop an online module that would enable rapid, wide-spread dissemination of the content, while allowing learners to move at their own pace. We combined the online module with an in-person workshop. The online module brings all learners up to a more even playing field (as far as understanding the relevant terminology) so everyone is able to focus on practicing skills in the workshop.
We are very proud of this project. So far, over 350 people have completed the online module and our curriculum, which was published in the peer-reviewed journal MedEdPORTAL, has 84 downloads — indicating distribution of our module beyond Feinberg.
We also started an OUTList and AllyList, voluntary public listings of faculty, staff and students who identify as members of the LGBT+ community or allies, which fosters a sense of community across campus. LGBT individuals are considered an "invisible minority" so having the OUTList provides a valuable resource for students seeking mentorship regarding how to navigate being LGBT+ in their professional lives.
What has been your most rewarding experience at Feinberg?
My most rewarding experiences at Feinberg have been the opportunities I've had to connect to the prouder Chicago community and share my love of science and medicine with young people.
In particular, I have loved being involved with the Oncofertility Science Academy and Women's Health Science Program, science-based educational programs for high school girls. It's very inspiring to get to interact with and teach this new generation of learners and potential scientists, clinicians and leaders — my "sisters in science." Science is so vital to our world and relies so heavily on public support, through government funding agencies like the National Institutes of Health and National Science Foundation, so it's critical that we as scientists learn to communicate with the public, demystify what's happening in labs, and get everyone excited about all the incredible things happening in science and medicine.