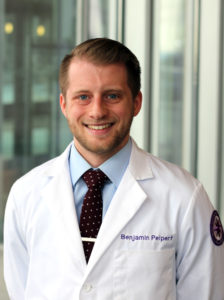 Prior to medical school, Ben Peipert spent two years in Boston as a biotechnology and pharmaceutical consultant. As he entered Feinberg and turned his focus to medicine, Peipert realized he didn't want his consulting skills to go to waste.
So he put them to use helping underserved patients: Together with two other medical students, Peipert co-founded Second Opinions, a student group that provides pro-bono consulting for local, non-profit healthcare organizations.
Since 2015, Second Opinions has completed 13 projects helping healthcare nonprofits better serve their patients and is now in the process of becoming a 501(c)(3) nonprofit.
Today, Peipert continues to help Second Opinions grow, all while managing the typical schedule of a third-year medical student and conducting research with Cord Sturgeon, MD, associate professor of Surgery in the Division of Surgical Oncology, with whom he has published two first-author papers in the journal Surgery.
In 2016, Peipert received a Student Senate Service Award for his leadership in Second Opinions, as well as support in helping his peers study.
Read a Q&A with Peipert:
Why did you decide to start Second Opinions?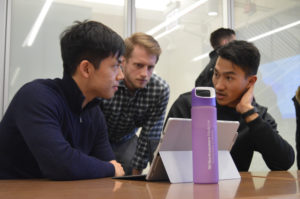 During my first year at Feinberg, I happened to meet two other first-year medical students, Cecil Qiu and Liz Nguyen, who also had worked as consultants for two years at Bain and McKinsey, respectively. We realized we had similar interests in wanting to put our unique skill sets to use as medical students and help improve healthcare services for underserved populations. All three of us are passionate about solving problems in healthcare that need to be fixed, and we wanted to go beyond typical patient-by-patient initiatives and do something a little more macroscopic.
Our mission as an organization is twofold. First, to improve healthcare outcomes for underserved populations and, second, to train medical students to solve problems and become the next group of leaders in healthcare. Healthcare in the United States is a complex, ever-changing entity; It's important that as we become doctors we have an understanding of the complexities of the business and operations side of healthcare. We see Second Opinions as being an important option for students who are interested in learning the problem-solving strategies and skill sets they need to manage and improve the future of the American healthcare system.
How did you launch Second Opinions and build it into an impactful organization?
It really comes down to the people and the Feinberg community. Cecil and Liz are incredibly smart, hardworking and talented — they're role models for me and together, we all push one another. When we realized we all had this shared vision, it gave us a lot of energy, and we really had a start-up mentality.
We also leveraged the connections of Northwestern and the expertise among faculty members who could help us get off the ground. Karin Ulstrup, MD, '04 GME, our faculty advisor, is a primary care physician and a former consultant — she was great in helping us organize ourselves and focus our energy as a group. We also have had great support out of the Institute for Public Health and Medicine (IPHAM), especially Abel Kho, MD, director of the Center for Health Information Partnerships and an associate professor of Medicine in the Division of General Internal Medicine and Geriatrics, as well as Mark Schumacher, Senior Vice President of Performance and Analytics at Northwestern Medicine.
Northwestern already had a pre-existing relationship with CommunityHealth, one of the nation's largest free clinics, so it was a natural fit for our first partner. We completed our first project with them and the results were incorporated into their annual report, after which they promoted our work with others in the community. That led in part to our next project with Erie Family Health Centers, and others like it. Since then, we've been able to continue working for the same clients, while also expanding to new organizations around Chicago and the state of Illinois.
We've also been very lucky to rise at the time that we did — because we're not alone in our excitement about solving these problems in healthcare. In fact, we find that we regularly attract a third of the class to our info sessions at the beginning of the year. The majority of our success is due to the enthusiastic Feinberg students we recruit to our group each year.
When we started Second Opinions, we had never heard of an organization like ours at any other school. Now we're being contacted by students from other schools who are interested in starting similar groups. We don't see a reason why this can't be expanded nationally to other schools using the same model — except for having students on the ground who are passionate and willing to put in the time to make an organization like this work.
How did you choose your research project, and what did you discover?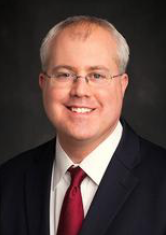 I knew I wanted to be involved in health systems improvement and outcomes research. Dr. Sturgeon and I started a project in a rare disease called multiple endocrine neoplasia type 1 (MEN-1), looking at health-related quality of life.
The project was a great fit in part because of my consulting experience and prior background in research leveraging survey design. I was also excited about using PROMIS, a patient reported outcomes tool that was developed by the NIH in collaboration with some investigators here at Northwestern.
One of the problems with this sort of research is that MEN-1 is so rare. Luckily, we had a partnership with an MEN-1 support group and through their Facebook page, we were able to recruit over 200 participants, the largest cohort of MEN-1 patients ever published in the literature at that point in time.
In our studies, we compared quality of life in MEN-1 to a number of more prevalent chronic conditions, looking at disease- and treatment-related factors, as well as financial factors. We found that health-related quality of life in MEN-1 is significantly worse compared with many other chronic conditions. For example, patients experience levels of anxiety and depression similar to major depressive disorder. Further, a high degree of financial burden — such as borrowing money from friends and family or spending more money out of pocket on prescriptions — was associated with worse quality of life among this patient population. It really shows how lack of insurance and under-insurance in this population can make a big impact in terms of health-related quality of life.
Now, we're working on figuring out how best to implement the health-related quality of life system throughout the endocrine clinic, as well as at home for all endocrine surgery patients. It should provide us with some interesting data to track outcomes over time for these patients, as well as flag patients who have particularly poor quality of life whose clinical needs are not being met.
How else do you spend your time outside of medical school?
I think it's really important to remain balanced, and I've been involved in a number of different organizations, with various degrees of responsibility. For example, I was the past president of Business in Medicine, I completed a Global Health Initiative-funded program in Argentina learning medical Spanish, I was the treasurer for Medical Students for Choice, and I've worked with the engineering school as a medical consultant.
Like anyone, I also make time to shut down my brain — whether it's by running along the lakefront, practicing yoga, playing violin or cooking. For me, Second Opinions is a break from studying and an opportunity to think differently. It also lends itself to a sense of productivity, ownership and accomplishment that isn't always easy to come by — all while working with great colleagues in a supportive environment.
Second Opinions is something that gets me excited to get up in the morning and work on. We're doing something that other people really aren't doing on a large scale and that people are excited to hear about and join — and that sort of energy is really fun to tap into. It's been a great side-venture while I'm getting my medical degree, and I wouldn't trade it for anything.