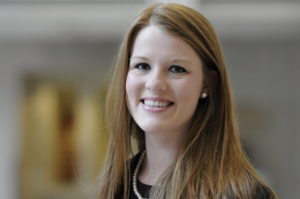 Kelsey Bowman, a medical student, opted to extend her medical school program from four years to five years, to spend a year focusing on research, developing a test to map regions of the brain, which could eventually be used in the operating room during tumor surgeries.
"I am mapping some of the higher-order cognitive functions, such as memory and attention, that haven't really been mapped," Bowman said, who is working under the mentorship of Matthew Tate, MD, PhD, assistant professor of Neurological Surgery and Neurology. "These are functions patients tend to have trouble with after surgery, and by developing a test that can map out memory during these awake procedures, we could improve memory function."
Through awake brain surgeries where patients can respond to requests from surgical staff, Tate and his team have been able to map out different regions of the brain, including those responsible for motor function, sensation and language. This procedure allows the surgeons to remove as much tumor as possible while minimizing damage to tissues and their associated functions.
Last spring, Bowman started designing the experiment, creating the computer code and shadowing Tate in clinic. She recently began to test her experiment three to four days a week in patients in clinic. When she isn't in clinic, Bowman continues to refine the experiment, which she said can sometimes be frustrating.
"We are verifying that it is testing what we want it to test, and then ultimately, we are going to take it to the operating room," Bowman said. "I've had to revise the experiment a couple of times, and I lose the patients I had before and have to start from scratch with new patients. So getting used to doing research has been a change of pace from medical school."
With a bachelor's degree in neuroscience, Bowman has always been fascinated by the intricacy and complexity of the brain.
"I'll see patients in clinic who have brain tumors that are a couple of inches wide, and then after surgery to see them fully functional — it's really cool to know you can make an impact on the patients," Bowman said.
Bowman's project started as part of her Area of Scholarly Concentration, a four-year longitudinal project that culminates with a thesis, under the guidance of Priya Kumthekar, MD, '11, '12 GME, assistant professor of Neurology. It was while working with Kumthekar that Bowman discovered her passion for clinical research and, through this mentorship, she realized she wanted to assume more ownership over her research.
"I decided to spend a year really devoted to research so I could develop a project from start to finish, which is something I've never had the opportunity to do before," Bowman said. "This experience will give me something to talk about in residency interviews, and will give me the opportunity to continue to be involved in clinical research throughout my residency training."
Bowman chose Tate as her mentor after meeting him and realizing how closely his research aligned with the type of neurosurgery that she was thinking of pursuing.
"He has been a great mentor, is very responsive and interested in teaching. Getting involved in research at Northwestern was really easy," she said.
Hoping to get her research published, Bowman also spends time writing and revising papers. After returning to clinical rotations next year, Bowman also plans to continue her research in her fourth year.
"This year has really given me exposure to the field, more than what I would have with a typical four-week rotation in a specialty," Bowman said. "I have a whole year where I am shadowing doctors and involved in research — that level of exposure is confirming that is what I love and want to do."