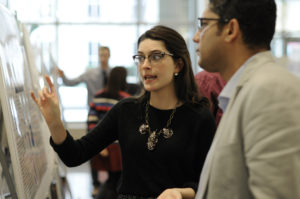 Andrea Henricks, a second-year medical student, is searching for the location where neurogenesis — the generation of new nerve cells — occurs in the adult brain, as part of her four-year longitudinal research project, the Area of Scholarly Concentration. Henricks and her peers presented their work at a poster session on December 2.
"It's exciting to get results that we haven't seen before and find new areas of neurogenesis. I'm looking forward to continuing to work on this project," Henricks said, whose work searching for a protein useful as a universal marker for adult neurogenesis is under the mentorship of Jaime Garcia-Anoveros, PhD, associate professor of Anesthesiology, Neurology and Physiology.
Medical students conduct their research projects in areas of investigation ranging from clinical research and translational medicine to community and family health and medical social sciences.
"I chose a cancer research project because of the complexity of the topic — there are a lot of proteins that are dysregulated," said Lucy Xu, a second-year medical student, working under the mentorship of Barbara Kroczynska, PhD, research associate professor of Radiation Oncology, and Leonidas Platanias, MD, PhD, director of the Robert H. Lurie Comprehensive Cancer Center.
Xu presented on the role of mTOR proteins, key promoters of cell proliferation and tumor growth, and their use as future therapeutic targets.
Connor Lynch, a second-year medical student, decided to take his previous background in big data and apply it to genomics research. His project is to genotype data from type II diabetes patients to study how the quantity of mitochondria in cells may be linked to metabolic diseases.
"This research project fits well with our unit on endocrinology," said Lynch, who is working with Geoffrey Hayes, PhD, associate professor of Medicine in the Division of Endocrinology. "I like this project because I have a lot of ownership over it and the research in this area is a little bit uncharted."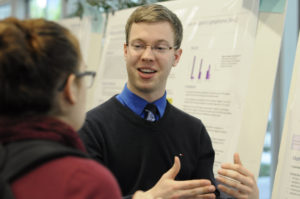 Other medical students are conducting global health projects. Hayley Sparks spent six weeks measuring infant outcomes associated with the use of donor-expressed breast milk at Mowbray Maternity Hospital in Cape Town, South Africa. The hospital cares for a patient population with limited resources and a high burden of HIV. Sparks worked with Lucy Linley, MD, a neonatologist at Mowbray Maternity Hospital and Daniel Robinson, MD, assistant professor of Pediatrics in the Division of Neonatology.
"I am passionate about neonates and interested in HIV," Sparks said. "After shadowing physicians at Northwestern's neonatal intensive care unit, I found improving the health of infants rewarding. This project allows me to see a different patient population, and I want to see the infants in South Africa do as well as the ones in Chicago."
Alison Szabo, a second-year medical student, likes how conducting research alongside her classroom education teaches students how to think like a scientist.
"Doing research is invaluable in medical school. Everything in medicine is based on science and really the best way to understand how to read a paper and interpret findings is by doing it," Szabo said.
She conducted her research under the mentorship of Amani Fawzi, MD, associate professor of Ophthalmology, to explore how protein homeostasis affects the eye tissue of patients with age-related macular degeneration.
"I like this project because it's the first time I'm working with human tissues and it's directly applicable to the pathogenesis of disease," Szabo said.
Second-year students will continue to work on their projects throughout the year and will submit a written thesis at the end of their fourth year.