Now in its second year, Feinberg's Research Intensive Scholarly Emphasis (RISE) program supports medical students engaging in an additional year of research during their medical school career.
"We started RISE to give students the opportunity to spend a year during medical school engaging full-time in research," said Matt Feinstein, '11 MD, '17 MS, associate professor of Medicine in the Division of Cardiology, director of Student Research and a co-director of RISE, along with Jacob Sznajder, MD, the Ernest S. Bazley Professor of Asthma and Related Disorders and co-director of RISE, and Liza Rivnay, associate director of Student Research.
"This Northwestern-funded program represents a unique offering for aspiring physician-scientists given the current funding landscape, which otherwise offers limited opportunities for medical students to spend a funded year doing research during their training. The response from students and faculty alike has been extraordinary and is reflected in their incredible productivity just one year into the program," Feinstein said.
During this extra, fully funded year, RISE scholars design and implement a research project of their choice while being closely mentored by a Feinberg faculty member.
Tyler Smith, a third-year medical student and a current RISE scholar, is exploring how machine learning models can help better determine the physiology of patients diagnosed with cardiovascular disease. Smith is completing his project under the guidance of his RISE mentor, James D. Thomas, MD, professor of Medicine in the Division of Cardiology.
"In medical school, everything is moving so fast, and we don't often get the chance to sit down and do the things we need to do in research to have a deeper understanding, so I've loved having that opportunity over the last couple months," Smith said.
Smith said once he completes his project, he's looking forward to applying what he's learned to future research that aims to improve patient care and outcomes, and to teaching his peers about the integration of AI and medicine.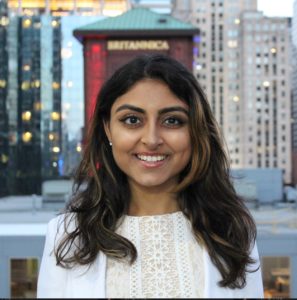 "I think the really cool thing about having so many people interested in AI right now is that learning the methodology so deeply this year gives me the opportunity to really teach my peers and bring this work back into the wards and back into the world," Smith said.
Former RISE scholar and fourth-year medical student Tazim Merchant credits her RISE year to validating her interest in becoming a physician-scientist as well as learning first-hand how to design, implement and publish a successful research project.
With her RISE mentor Lynn Yee, '08 MD, '08 MPH, the Thomas J. Watkins Memorial Professor of Obstetrics and Gynecology, Merchant decided to tackle two research projects during her RISE year, one exploring disparities in postpartum pain assessment and management and the other investigating healthcare-based interventions to address food insecurity, as well as the scope of food insecurity among low-income, pregnant individuals.
For her first project, under the guidance of Nevert Badreldin, MD, MS, assistant professor of Obstetrics and Gynecology in the Division of Maternal Fetal Medicine, Merchant used an implementation science approach — examining evidence-based systems level interventions to impact the community — to learn about healthcare providers' perspectives on postpartum pain management. She conducted interviews probing about potential biases in pain assessment, healthcare providers' views on ways to reduce biases, and views on interventions to optimize opioid use during the postpartum period.
"Reproductive age women are the largest growing demographic that are affected by the opioid epidemic, and given that and the inequities that are already seen and documented in the literature, we wanted to understand from many different provider's perspectives which of these interventions might make the most sense in being able to reduce opioid use and reduce disparities in care," Merchant said.
Findings from Merchant's preliminary work in her second project, examining the scope of healthcare-based interventions to address food insecurity, was recently published in the American Journal of Obstetrics & Gynecology – Maternal-Fetal Medicine.
For Merchant, she said that completing her research was not the only gratifying aspect of her RISE year, but also developing a one-on-one relationship with her mentor and participating in different career-building opportunities.
"I wanted a year of intensive research focus to be able to develop this toolkit where I could design, execute, and publish these implementation science studies. I think working under Dr. Yee has been such a gratifying experience because she gives you the tools and the autonomy and the leadership to be able to do exactly that," Merchant said.
The first cohort of RISE scholars published a total of 43 total research publications during the 2022-2023 academic year, 15 of which are first-author publications. The program has since grown from 10 RISE scholars in its first year to 18 in its second year.