J.P. Leshock, '23 MD, was first inspired to become a doctor after reading through his grandfather's medical journals from his time serving as a doctor in the military. Now a graduate of Feinberg, Leshock said he's excited to take his passion for empathetic patient care on to the next phase of his career.
"Graduating medical school today just proves that the impossible is possible. It's always been a dream of mine to become a doctor and it's always been something that's way out there in the distance," said Leshock, who will soon begin his residency in anesthesiology at Northwestern. "That moment is finally here."
Feinberg honored the MD Class of 2023 during the medical school's 164th commencement ceremony held in the Aon Grand Ballroom at Navy Pier on May 15.
This year's commencement opened with remarks from Eric G. Neilson, MD, vice president for Medical Affairs and Lewis Landsberg Dean, who welcomed graduating medical students, faculty, family and friends to the ceremony.
"This afternoon, we take a moment to reflect and celebrate our graduates and their last four years of inspired effort as they ready themselves for professional life," Neilson said. "As you begin the process of training in your chosen specialty, it is also a time for pride and acknowledgment."
Michael H. Schill, JD, president of Northwestern University, encouraged students to take the lessons they learned at Feinberg on to their professional lives.
"You are now called upon to treat the sick, to bring comfort to those in pain," said Schill. "Your career will be challenging. But like all noble pursuits — and I can't think of any more noble than being a doctor — It will also be rewarding. I look forward to seeing all that you will do to transform the field of medicine and to shape and improve the health and life of our communities near and far."
George Q. Daley, MD, PhD, dean of Harvard Medical School and the Caroline Shields Walker Professor of Medicine, delivered this year's commencement address and emphasized the importance of incorporating health equity into every patient interaction.
"Let's take the inspiration from our medical heroes, but recognize that achieving health equity will require all of your efforts," Daley said. "For us to mitigate health disparities, we must consider health equity at every stage of biomedical innovation, from the initial setting of scientific priorities to the delivery of cures to the global community. We all, and you all especially in your careers, will have a role to play."
Sandra Sanguino, MD, MPH, senior associate dean for medical education, then presented the members of the class of 2023, who crossed the stage to receive their diplomas and doctoral hoods from either a faculty mentor or physician family member.
Daniel Mathew, '23 MD, addressed his classmates and spoke on the importance of prioritizing joy in everyday life.
"Each one of us started this journey with nothing more than a single humble spark of excitement," Mathew said, and highlighted the experiences both inside and outside of medical school that shaped him and his classmates. "All of these things together are what make us exceptional physicians who will be relatable and resilient. And so, I urge you, as we enter the next phase of our training to keep that joy as your central focus."
To end the ceremony, Neilson led the new graduates in reciting the Declaration of Geneva, the modern declaration of the physician's oath, and the same they took as first-year medical students at Founders' Day.
Thirty-three graduating students were inducted into the Alpha Omega Alpha medical honor society. Six students received Magna Cum Laude in Scientia Experimentali, and ten received Cum Laude in Scientia Experimentali. Eight students graduated Summa Cum Laude, eight graduated Magna Cum Laude, and eight graduated Cum Laude.
Many also took advantage of Feinberg's dual-degree programs: Four graduates received a Master's Degree in Business Administration, three earned a Master's Degree in Medical Humanities & Bioethics, three received a Master's Degree in Public Health and 13 completed a PhD through the Medical Scientist Training Program.
"Feinberg has given me so many opportunities to prepare me for becoming a doctor," said Anu Venkatesh, '23 MD, who will begin her residency in child psychiatry at the University of Colorado in the fall. "I love education, I love taking care of people, and I love learning and science. Medicine was the field that really fit everything, and I've experienced all that at Northwestern."
Nonye Ogbuefi, '23 MD, said the day was also a celebration of family.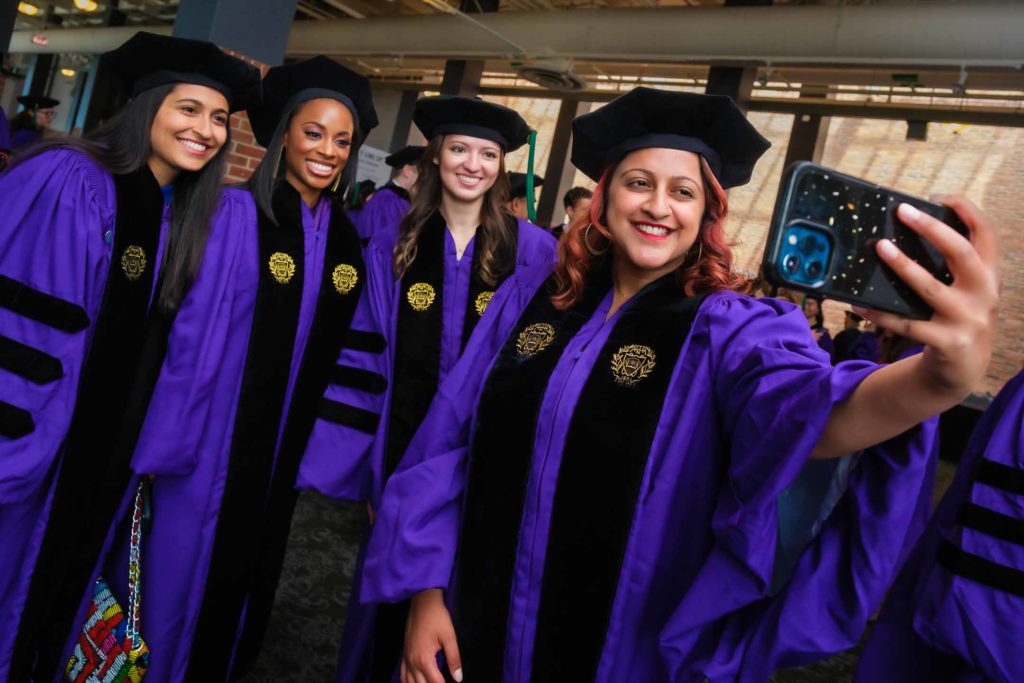 "This moment is a culmination of a lot of hard work," said Ogbuefi, who will return to Northwestern in the fall for her residency in dermatology. "My mom is a physician herself and watching her help her patients has inspired me to become a doctor. I'm so excited to be able to help my patients and be that person for my patients in the community."