In partnership with the Illinois and Wisconsin Associations of Free and Charitable Clinics, third-year medical students Raj Dalal, Melissa Bak and their peers have created a data tool that estimates the value free and charitable clinics provide to patients and the healthcare sector.
The Illinois and Wisconsin Associations of Free and Charitable Clinics are part of the National Association of Free and Charitable Clinics (NAFC), which includes 1,400 free clinics and pharmacies across the U.S. that provide affordable and quality healthcare to underserved and underinsured patients.
Over the last three years, Dalal and Bak's team, which is part of the student-led pro-bono consulting group Second Opinions along with third-year medical students Alan Soetikno, Natalia Wojnowski and Alex Richards, have been working on creating a tool that generates estimates of monetary value for over 75 free and charitable clinics and pharmacies across Illinois and Wisconsin.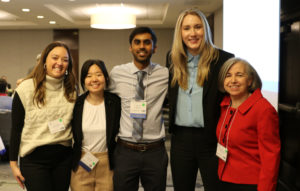 The tool generates estimates by incorporating the value of each clinic's services compared to federally qualified health centers, the quality of improved patient health status, and the cost savings associated with appropriately diverting patients from the emergency department for issues that are treatable through primary care.
"There is so much more to patient care than just simply talking with a patient, diagnosing the patient and treating the patient," Bak said. "This project gave me an in-depth perspective of how a clinic functions and what clinics really have to go through to provide care for their patients. These clinics care about underserved and uninsured populations, but the reality is that they don't often get the funding that they need. I think this project really showed that the care they provide is substantial and it's very impactful, but they need the funding."
Last year, Dalal and Bak's team presented their dataset and tool to NAFC members as well as executive directors of free and charitable clinic associations across the nation at the NAFC 2022 Charitable Healthcare Symposium in Indianapolis. The team also organized and led a workshop for clinic directors at the Illinois Free and Charitable Clinic conference in Chicago which focused on best practices for data collection. Their project was also made possible with support from the VNA foundation, which has a long-standing relationship with IAFCC.
"One of my main takeaways from this project is how important it is to make a financial argument for the work you're doing," Dalal said. "If you're able to tell a legislator or a donor that you are providing humanitarian service, that is morally great, but also saving money for a healthcare system, the amount of support that you'll get is going to be exponentially higher. I've been privileged to have an opportunity to do work like this and learn about the impact that making financial arguments can have in health equity efforts."
Their findings were also part of a recent statewide campaign to demonstrate the importance of free and charitable clinics, which resulted in Illinois Governor J.B. Pritzker allocating $9 million to support the Illinois Association of Free and Charitable Clinics (IAFCC) member clinics, which are part of the Illinois Safety Net Health Hospital System and serve over 100,00 patients across the state of Illinois every year.
"The IAFCC has benefitted from our long-standing collaboration with Second Opinions. The most recent project that demonstrates the value of care of our clinics has been instrumental in providing clinics with data to use for their own quality improvement," said Melissa Maguire, LSW, executive director of the IAFCC.
"I've had the distinct pleasure of working with the team from Second Opinions in developing a valuation methodology for free and charitable clinics (FCCs). The tool they delivered has been exceptionally useful for us in working with FCCs throughout Wisconsin. Its use in demonstrating the value of the services FCCs provide has been instrumental in our regular discussions with both state legislators and funding sources," said Dennis Skrajewski PA, MBA, executive director of the Wisconsin Association of Free and Charitable Clinics.