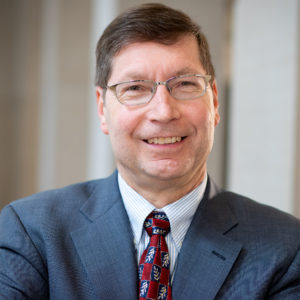 Alan Hauser, MD, PhD, vice chair of Microbiology-Immunology, has been named the new director of Feinberg's Medical Scientist Training Program (MSTP), effective April 15.
The MSTP, Feinberg's dual-degree MD-PhD program, trains students as physician-scientists, providing them the opportunity to gain expertise as both biomedical scientists and physicians. Many of Feinberg's MSTP graduates have gone on to become medical school faculty, as well as leaders in pharmaceutical and biotech industries, and in public health research institutions.
"Alan is a strong leader and mentor with a track record of success in scientific discovery, clinical expertise and education," said Eric G. Neilson, MD, vice president for Medical Affairs and Lewis Landsberg Dean. "I am excited to see the course he will chart for the MSTP and certain he will build upon an outstanding foundation that helps the program to a new era of success."
Hauser, also a professor of Medicine in the Division of Infectious Diseases, graduated from the University of Minnesota's MSTP in 1992, completing an internal medicine residency at the University of Minnesota Medical Center in 1994, a fellowship in infectious disease at the University of California San Francisco Medical Center in 1996 and a postdoctoral fellowship in bacterial pathogenesis at the University of California San Francisco in 1999.
"The Medical Scientist Training Program at Northwestern University has a long history of training outstanding physician-scientists. I'm grateful to have the opportunity to work with the faculty and staff of Northwestern to continue this tradition and to train the next generation of leaders in biomedical research," Hauser said.
Hauser's laboratory investigates the pathogenesis of multidrug resistant bacteria, including Pseudomonas aeruginosa, Acinetobacter baumannii, and Klebsiella pneumoniae, focusing on virulence factor and genomic approaches for the identification of novel virulence determinants, and the development of new approaches to treat bacterial infections.
Hauser has been an author on more than 125 journal articles, including publications in Nature, Proceedings of the National Academy of Sciences, Journal of Clinical Investigation and Journal of Clinical Microbiology. He has been on the editorial board of the Journal Infection and Immunity since 2005 and was a section editor for PLOS Pathogens from 2015 to 2021. He is an elected fellow of the American Academy of Microbiology.
He is also a dedicated educator and mentor: Hauser won the Teaching Pin Award for quality teaching of medical students from the Department of Medicine five separate times and has been the recipient of the Dean's Award for Teaching Excellence, and the Division of Infectious Diseases Educator of the Year Award from the Department of Medicine.
Feinberg's MSTP enrolls up to 18 students each year in a combined MD-PhD program. The medical school has graduated more than 300 joint MD-PhD students since 1928 and was one of the three initial MSTP programs funded by the NIH in 1964.
Hossein Ardehali, MD, PhD, director of Feinberg's MSTP since 2017, will transition as the Thomas D. Spies Professor of Cardiac Metabolism and director of the Center for Molecular Cardiology at the Feinberg Cardiovascular and Renal Research Institute.
"I want to thank Hossein for all the many things he accomplished as the director of the MSTP during his tenure, particularly for his leadership during COVID. He helped expand our program, providing a guiding hand and expert direction," Neilson said. "Our MSTP students have benefited from his considerable knowledge and expertise as he navigated the program through a period of prosperous change. We are all grateful for his service."