California native Samuel Reyes is currently a second-year medical student at Feinberg, but moving to the Midwest for medical school hadn't been his plan. It wasn't until he learned more about Feinberg and the support that Feinberg's Office of Diversity and Inclusion (ODI) affords to underrepresented students in medicine that he chose Northwestern.  
Last year, Reyes had the opportunity to give a podium presentation at the Cervical Spine Research Society's 50th anniversary meeting in San Diego titled, "Unemployment and Education Level Are Important Drivers of 90-day Readmission Rates after PCDF (Posterior Cervical Discectomy and Fusion)."
Read a Q&A with Reyes below.
Why did you choose Feinberg?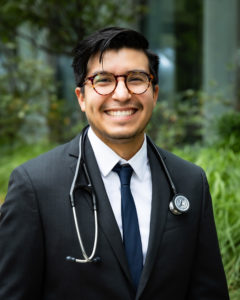 The major reason is because the support that Feinberg gives for students interested in research, advocacy and clubs and things of that nature. Originally when I was applying to this school, I was immediately given so much support from prominent members within the Office of Diversity and Inclusion — Dean Yancy, Dean Franklin, Dr. Moreira. Other opportunities included clubs such as the Latino Medical Student Association, as well as a club that I started, Surgical Society for Underrepresented in Medicine Students. Another major thing was research. I really enjoy research and I think Feinberg has a lot of opportunities to get involved, not only with faculty that have a lot of resources and opportunity, but also the amount of scholarships or grants that are available for students.
What are your clinical and research interests? 
My clinical and research interests mostly revolve around orthopedic spine surgery. I had already been a part of research regarding those two fields. My main interests involve three fields: machine learning, social determinants of health and spine surgery. Part of our curriculum here is we get to learn certain aspects of social determinants of health, and with that I brought up the question of "how does that impact patient care and patient outcomes?" Machine learning is another hot topic that occurs in a lot of different fields, with it being able to take large data sets and compress them to give a clear finding. I was able to combine those three into a research question of how social determinants of health impact patient outcomes through the lens of machine learning. Luckily, with my PI as Dr. Srikanth Divi, I was able to achieve that research goal.
You recently presented at the Cervical Spine Research Society's annual meeting. What was your presentation about?  
In my recent presentation, the main outcomes we were looking at were how education and unemployment are important drivers of 90-day readmission rates in patients undergoing PCDF. What was amazing was to take a large amount of data and explain what was going on in terms of what were the major predictive factors of 90-day remission rates, and that turned out to be education and unemployment.
We compared that with many other factors that people normally analyze, including previous surgical history, private medical history and different surgical complications, and we found that social determinants of health were amongst the top 10 predictors of a 90-day readmission rates. So, when you compare studies that don't even include social determinants of health or related factors, we're finding that these are as important, if not more important, than the regular predictive variables.
What are your plans for after graduation?
My plans for after graduation is to hopefully match, that's a big one, but I also want to keep on going with social determinants of health as well as Latinx-based advocacy in the future. I really want to get involved with administrative work; I really love talking with underrepresented students and how they can get into medical school. It's something close to my heart because I didn't really have a great academic mentor growing up, and I feel like the only way is to become that person. Someone's out there with the same type of challenges or problems and they need someone to help them along and I want to be that person.
What advice would you give to prospective medical students, or anyone interested in pursuing medicine? 
I think some advice I would give is to truly sit down and say, "why do I want to do this?" The path to medicine is definitely difficult, it's not easy. But I think what's important to think about is that you're in the care of others. Not only that, but if this is something you really want to do, it'll happen. I think one of the best pieces of advice I heard from one of my teachers growing up is not to say, "I want to become a doctor," but rather, "I will become a doctor." Put into your mind that you will take the steps to get where you need to go.