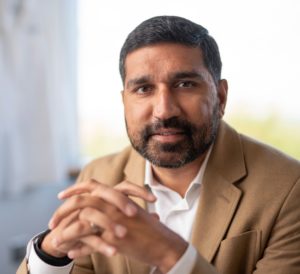 Feinberg has established the Center for Psychiatric Neuroscience, a collaborative hub created to unite interdisciplinary scientists to understand neural mechanisms underlying mental illness, elucidate mechanisms of psychotropic drug action and develop novel therapeutics.
Sachin Patel, MD, PhD, chair of the Department of Psychiatry and Behavioral Sciences, and the Lizzie Gilman Professor of Psychiatry and Behavioral Sciences, will serve as director of the center.
"Cultivating a Department of Psychiatry integrated with robust translational neuroscience research is extremely important for the future of our field," Patel said. "This is a unique opportunity to synergize with the existing neuroscience infrastructure including the Departments of Neuroscience, Pharmacology, Neurobiology and other areas to establish a center that's really at the intersection between mental health and neuroscience."
In addition to serving as a platform for recruiting new faculty to Feinberg, the center will be a focal point for current Northwestern faculty with an interest in utilizing neuroscience approaches to better understand pathophysiological mechanisms of mental illness.
While center investigators are focused broadly in mental health neuroscience, recently recruited faculty will be especially focused on understanding stress-related psychiatric disorders and their comorbidity with substance use disorders and the neural basis of trauma memory formation and expression important for understanding disorders such as PTSD, Patel said.
"So far, we've focused on understanding important environmental risk factors, such as stress, which is a major risk factor for pretty much all psychiatric disorders and is ubiquitous in our society," Patel said. "We want to understand how that environmental pressure interacts with the brain to lead to increases in susceptibility to developing psychiatric disorders. Ultimately by uncovering those mechanisms, we hope to potentially reveal mechanisms for intervention and mitigate some of the effects of stress on psychiatric illnesses."
Listen to an episode of the Breakthroughs Podcast on this topic:
The center will also host educational events and provide technological resources and support for scientists studying translational neuroscience and psychiatry, he said.
Patel's own research has focused on the body's endogenous endocannabinoid system, as well as understanding how cannabis affects neurobehavioral processes and the pharmacology of cannabis as it relates to pathophysiology and mental health treatment.
Information about the center can be found at the Center for Psychiatric Neuroscience web site and Northwestern faculty or trainees can apply to become a member through the center's membership application.