Doglio steps down, Markoulaki named new director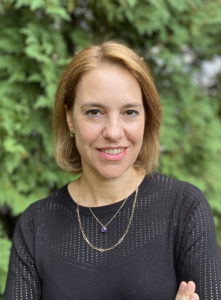 After 28 years of distinguished leadership, Lynn Doglio, PhD, research associate professor of Pharmacology, is stepping down as director of the Transgenic and Targeted Mutagenesis Laboratory (TTML), a core facility, and part of the Center for Genetic Medicine. Doglio, who led the TTML from its inception, plans to retire.
"We have seen such enormous growth in targeted mutation technology, especially in the last decade with gene editing, and under Lynn's guidance and leadership, the TTML has been able to adapt and optimize all of these trends," said Elizabeth McNally, MD, PhD, the Elizabeth J. Ward Professor of Genetic Medicine and director of the Center for Genetic Medicine.
Doglio is succeeded by Styliani (Stella) Markoulaki, PhD, who joins Northwestern as research professor of Cell and Developmental Biology from the Whitehead Institute of Biomedical Research at Massachusetts Institute of Technology (MIT), effective September 1.
"I am very honored and excited to join Northwestern University's TTML and Cell and Developmental Biology department," Markoulaki said. "I am stepping into big shoes with a hope to continue the important work that TTML's founding director, Dr. Lynn Doglio, started and spearheaded."
Markoulaki will serve in the core facility's mission to produce genetically engineered mouse models, giving Northwestern investigators access to cutting-edge techniques such as CRISPR gene editing – all with the broader aim of advancing our understanding of fundamental mechanisms as well as genetics and the biology of human diseases.
In this next chapter, Markoulaki looks forward to addressing the emerging needs of scientists at Northwestern and beyond by adapting genome editing technology and by developing and establishing new tools and databases to track progress and resources.
"We have tremendous expertise in the TTML," McNally said. "Stella will work with the great scientists who are already part of TTML and bring the approaches she has learned in her time at MIT."
Markoulaki, who previously established and developed the Whitehead Institute's Genetically Engineered Models Center, is a leader in embryo and stem cell genetic engineering, transgenic and assisted reproductive technologies and somatic cell nuclear transfer. A collaborative scientist, her work has resulted in several innovative publications that have advanced the field of mouse genetics and epigenetics.
She earned her doctorate in cell and developmental biology from Tufts University School of Medicine, focusing on mammalian egg activation research, and completed her postdoctoral fellowship at the Whitehead Institute.
"I was lucky to be part of challenging and exciting research that always fueled my curious and problem-solving nature," Markoulaki said. "I can't wait to team up with scientists who can benefit from my passion for this work."