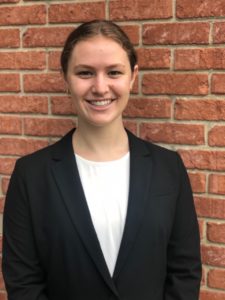 Abigail Stepnitz is a second-year student in Feinberg's Master of Prosthetics-Orthotics (P&O) program. Originally from Ann Arbor, Mich., Stepnitz attended the University of Southern California (USC) in Los Angeles where she majored in biomedical engineering. She will begin her P&O residency this fall at Gillette Children's Specialty Healthcare in St. Paul, Minn.
Recently, Stepnitz presented her capstone project, "Comorbidities and Demographic Factors Associated with Ipsilateral Re-Amputation in Individuals with Diabetes," at the American Academy of Orthotists and Prosthetists 48th Annual Meeting, where she was honored with the academy's Women in O&P Research Award for her work.
Read a Q&A with Stepnitz below.
Why did you choose Feinberg?
I was definitely drawn to Northwestern. I knew as such a well-respected institution that it would have the ability to pull in really amazing faculty members. Additionally, being situated in Chicago gives the program access to a larger pool of people in the community who are willing to come in and work with us as patient models.
A big thing that stood out to me was hearing from the faculty members the number of projects we would get to do with actual patient models. Especially for prosthetics, you can't learn how to make a prosthesis unless someone with an amputation is willing to work with you.
When did you first become interested in prosthetics and orthotics?
My high school offered a program during our senior year where if you were interested in a career in healthcare, you could shadow at different clinics around the community. The University of Michigan has a really wonderful P&O clinic, so I got to do a couple of shadowing days there and that's how I was introduced to the field.
I also worked in a biomechanics research lab at USC and got to collaborate with a wonderful P&O clinic out therethrough the lab. Through these various exposures I found that it was the perfect balance of engineering and patient care. I enjoyed getting to see how what you are making in the back in the lab is addressing problems for individuals in an immediate fashion.
Tell me more about your capstone project.
For our program, we are required to do a capstone project where we do a semi-structured literature review. I decided to look into factors that would influence re-amputation in people with diabetes. I think a lot of people in the community don't realize that diabetes is such a huge contributor to amputation. Unfortunately, a lot of people, especially with diabetes, need to undergo subsequently higher-level amputations. I saw there were highly reported rates in the literature about the occurrence of re-amputation, but not so much looking into who was vulnerable.
I conducted a semi-structured literature review and the three factors that came up most frequently as being associated with re-amputation were renal disease, poor vascular patency and low socioeconomic status.
There definitely needs to be more consistent research to strengthen the conclusions that we can make about this. Current literature reports on fairly disparate information drawn from patient chart reviews, which makes synthesizing the results challenging. Greater consistency would be helpful in allowing for stronger assertions about what truly increases one's risk of re-amputation.
What does it mean to be honored with the American Academy of Orthotists & Prosthetists' Women in O&P Research Award for your work?
I feel very honored to have been recognized. Being at the conference, I was wowed by all of the research presented. I feel like I'm entering the field with a good foot in the door and to be able to be in an association with so many people in the field that I respect is exciting.
What do you hope to do after your residency?
I hope to be working as a certified prosthetist-orthotist. I'm doing a pediatric residency, so it's my intention to remain in a pediatric role. Clinical care is certainly my primary career objective, but I would also love to keep my toes in the research pool. Our field is in need of a greater volume clinically relevant research, and I hope to participate in that. During my time at Northwestern, I have also been fortunate to participate in opportunities like Sustained Dialogue. I definitely see room and excitement for growth in terms of diversity within our field and hope to support those efforts as well.