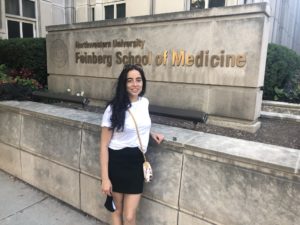 During her medical school career, third-year student Skylar Nahi has taken advantage of the mentorship and research opportunities available to Feinberg students. In addition to her studies, she is also working alongside Feinberg faculty from various disciplines on several research projects.
Recently, Nahi was the first author of a study published in PLOS One, which found that severe COVID-19 infection negatively impacted long-term kidney function in kidney transplant recipients, and was associated with a higher risk of acute kidney injury and a greater decline in kidney failure. In June, she had the opportunity to present these findings in a poster presentation and oral presentation at this year's American Transplant Congress.
Read a Q&A with Nahi below.
Why did you choose Feinberg?
The decision really came after my revisit days and meeting the class, as we were shown a glimpse of what our years at Feinberg would look like. I think so much of the learning you do is mediated by people you're surrounded with, whether you're sitting together at lunch talking about morning lectures or rounding on clerkships and prepping your presentations with your co-student. I just fell in love with my class, and I continue to be so infatuated with my class, the classes above us that act as our mentors, and the classes below us that we get to support and practice our leadership skills with. So, really the people were the most moving piece of my decision.
I also think the resources that were available to us were so impressive. It was just so incredible, from the technology, practicing ultrasound technology in our first week to the study resources prepared by AWOME and previous students. More recently, I've learned that mentorship was the final piece of the puzzle for me because the mentorship here is just unbelievable. From our ECMH mentors, our clerkship mentors, and even the residents we see each day at our clerkships that I'm beginning to experience now in my third year.
What are your current research interests?
My research right now is a little broad, as I still am in the process of identifying what specialty I want to go into. My closest mentor is Dr. Joseph Leventhal, an inspiring and dedicated advisor who I've worked with in transplant research to write this paper, the presentations for 2021 American Transplant Congress, and with whom I'm working on other projects including a book chapter. Dr. Leventhal has high expectations and supports me every step of the way: together tackling our setbacks and celebrating our victories. I work with a trauma surgeon, Dr. Joseph Posluszny, who runs the surgery clerkship, and helped developed a training model to teach third- and fourth-year medical students laparoscopic camera navigation. Dr. Poslusnzy continues to teach me how to balance clinical work and research in 3rd and 4th year, and how to rely on your team and support them in turn.
I work with a vascular surgeon, Dr. Mathew Chia, and we're in the final steps of preparing our IRB for a study looking at temporal artery biopsy and imaging for giant cell arteritis.
I have done some work with some dermatology mentors including Dr. Ahmad Amin who welcomed me into the space of dermatology and would take me on coffee walks and give me the best career advice. We have published one paper together with another one on the way.
I also do work in OB/GYN with a brilliant maternal-fetal medicine specialist, Dr. Ashish Premkumar, who I met on my clerkship at Stroger Hospital, with a project on twin-twin transfusion syndrome and one on intimate partner violence (IPV) screening in pregnancy counseling visits (spearheaded by a rockstar M2!)
I'm spread a little bit thin, but it all comes down to all these mentors I am so grateful for, who included me so enthusiastically, supported my efforts, entrusted me with leading projects, and taught and guided me in both research and my career. I can't imagine a different setting where I would have these opportunities.
Can you explain the main findings from your recent publication?
This is one of the projects that I really was most proud of because I had a lot of autonomy and was able to lead the project. It is also really a testament to the AOSC program because it was thanks to the AOSC program that I began my work with Dr. Leventhal and was supported throughout (including funding support for working a summer).
In the paper, we look at kidney transplant recipients and how they were impacted by COVID-19, specifically looking at kidney transplant recipients at Northwestern Memorial Hospital during the first six months of the pandemic. This is a relevant patient cohort because we know that COVID disease significantly impacts the kidneys, and these are individuals who were starting at a baseline of likely impaired renal function. We found clinically severe SARS-CoV-2 infection was associated with greater risk of acute kidney injury and greater decline in renal allograft function at 90 days post infection, compared to mild disease. Additionally, we found no evidence of enhanced immunosuppression worsening clinical outcomes, a question heavily debated at the onset of the pandemic.
What did you present at this year's American Transplant Congress?
I had two abstracts that were accepted: one poster I presented and one oral presentation, which was a bit of an exhilarating experience with such a large audience. One looked at the characteristics of these patients, proteinuria and immunosuppression, and specifically what does immune suppression mean to patients in their susceptibility to disease or their course of disease. The other abstract focused on measuring and comparing kidney function from baseline to peak disease to 90 days post infection.
What advice would you give to prospective medical students?
This advice my parents have given me, my mentors have given me and my friends have given me: practice resilience. There's no way you're going to go through medical school and not have failures. The first journal that I chose to submit my paper to rejected it within a week. Some tests won't go as well as you wanted or prepared for, in some clinical settings you may perform an exam maneuver wrong, or you may present a patient and omit all the key features — so many experiences that feel like failures. But dwelling and letting yourself stay in that space is only counterproductive to your success. Practicing your resilience in each one of those settings will make you that much more capable and every failure will become an asset that you take with you to your next encounter.