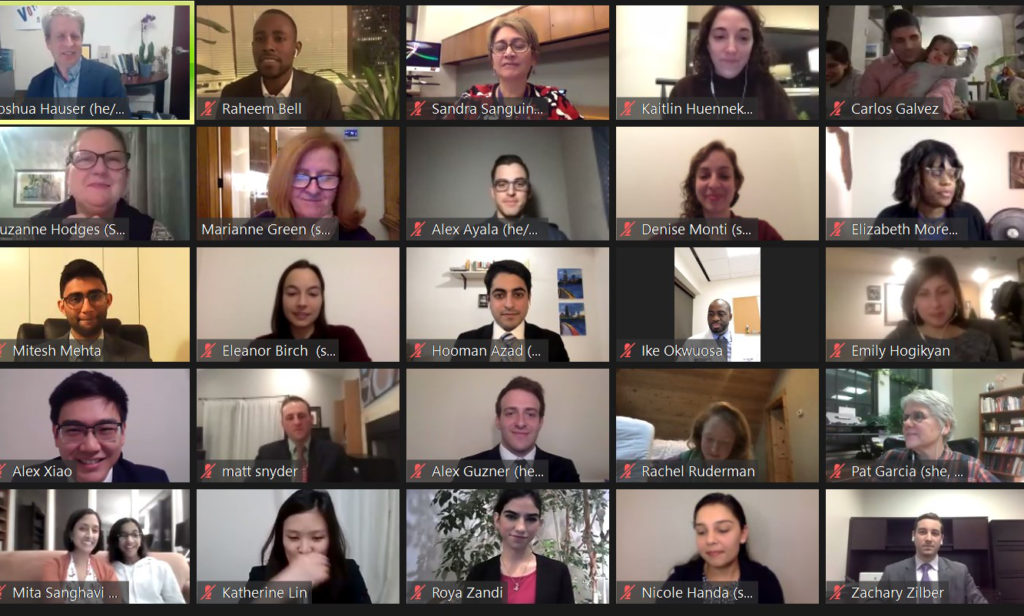 Celebrating medical students, residents and physician educators who excel at delivering humanism in patient care was the focus of a Feinberg School of Medicine event, held virtually December 9.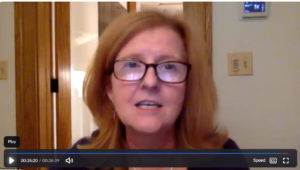 During the event, students, residents and faculty were inducted into the Gold Humanism Honor Society and recognized as exemplars of compassionate patient care who serve as role models, mentors and leaders in medicine. The society is one of many programs sponsored by the Arnold P. Gold Foundation, an organization devoted to elevating the principles of humanism in medicine.
"Being a member of the Gold Humanism Honor Society means that I am now a part of group of people who are also passionate about addressing health equity, the social determinants of health, and structural racism within the care they provide," said fourth-year medical student Denise Monti. "My peers will continue to inspire me and to serve as a resource as we all work to make medicine a more equitable and inclusive space for all patients."
Joshua Hauser, MD, associate professor of Medicine in the Division of Hospital Medicine and of Medical Education and the advisor for the Gold Humanism Honor Society chapter at Feinberg, provided opening remarks at the event.
"The focus of our chapter, and many Gold Humanism Honor Society chapters, will be on community engagement and community service, which are core competencies of medical humanism," Hauser said. "The health of the community of this city and beyond is of critical importance for all of us. We hope that this chapter will offer a setting to connect students, trainees and faculty who are already doing things to improve the health of these communities."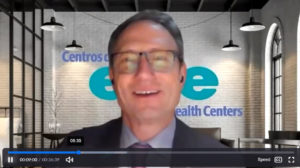 The more than 80 attendees — including several school deans — heard an inspiring presentation, "Humanism as a Personal Journey," delivered by Lee Francis, MD, MPH, clinical associate professor of Medicine in the Division of General Internal Medicine and Geriatrics, and president and CEO of Erie Family Health Centers.
Erie Family Health Centers is a 63-year-old federally qualified health center that delivers integrated and affordable medical, dental and behavioral healthcare for patients, regardless of insurance status, immigration status or the ability to pay.
"My journey taught me that humanism includes community," Francis said. "Humanism includes access to healthcare. Humanism includes a commitment to healthcare quality and humanism in medicine includes a commitment to healthcare justice, or justice in healthcare."
Francis congratulated all of the inductees, and shared his own personal journey that included getting introduced to community health centers early in his career. He discussed topics such as access to healthcare as a human right and geographic disparities in health.
"I learned as an intern and as a resident to be resourceful and to listen to stories from my patients who came from communities and walks of lives and experiences that I wasn't familiar with. I learned to become familiar with those experiences and I think it made me a better physician in the long run," Francis said.
Marianne Green, MD, vice dean for education and Raymond H. Curry, MD, Professor of Medical Education, also congratulated the new inductees.
"I am grateful to be working at an institution that has leaders, like Dr. Francis, delivering care and thinking about the importance of all of the aspects of health for our patients," Green said.  "And I really do believe that this is the most important award that Feinberg School of Medicine bestows on its students residents and faculty."
Fourth-year medical student Hooman Azad said it was an honor to be inducted into the Gold Humanism Honor Society alongside friends, family and mentors.
"Hearing Dr. Francis discuss his journey toward providing humanistic care at Erie was inspiring, and it reinforced the importance of person-centered care that is intentionally designed and delivered to be equitable," Azad said.
Fourth-year student Natalie Colaneri said she thinks the Gold Humanism Honor Society serves as a reminder of the responsibility of medical professionals to put patients first and to understand the context in which they present for care.
"I think the Gold Humanism Honor Society is important because it is symbolic of what should always come first in medicine, which is our patients," Colaneri said. "It is easy to get caught up in focusing on a disease process, or the appropriate treatment, or even documentation, but at the end of the day, we also need to prioritize understanding our individual patients and building trust in order to provide adequate care."
Sandra Sanguino, '93 MD, '96 '99 GME, MPH, senior associate dean for medical education, and associate professor of Pediatrics in the Division of Advanced General Pediatrics and Primary Care and of Medical Education, announced the 24 new medical student inductees.
Azad, Colaneri and Monti were inducted along with their peers Ruba Akel, Alexander Evans Ayala, Raheem D. Bell, Eleanor Birch, Jordan Coleman, Elsy Compres, Christopher David Gordon, Alex Guzner, Nicole Handa, Kaitlin Huennekens, Isaac Lam, Katherine Amy Lin, Mitesh Paresh Mehta, Akash Paresh Patel, Jacob Bailey Pierce, Nikita Umaseetha Saladi, Faith Svigos, Nicholas Volpe, Jr., Alexander Hua Xiao, Roya Zandi and Zachary Zilber.
The following residents and faculty were also inducted into the Gold Humanism Honor Society:
Carlos Galvez, MD, fellow, in hematology-oncology; Emily Hogikyan, MD, resident in pediatrics; Emma Lantos, MD, resident in obstetrics and gynecology; Rachel Ruderman, MD, MPH, resident in obstetrics and gynecology; Matthew Snyder, MD, MS, resident in surgery.
Jen Brown, MPH, lecturer of Preventive Medicine, in the Division of Public Health Practice, Mita Goel, MD, MPH, associate professor of Medicine in the Division of General Internal Medicine and Geriatrics, Ike Okwuosa, MD, assistant dean of Medical Education and assistant professor of Medicine in the Division of Cardiology and Sara Tranchina, MD, lecturer of Medical Education.