In the past decade, synthetic biology — the reengineering of organisms and their genetic information so they can produce a new substance or gain a new ability — has rapidly emerged to the forefront of modern-day science. Northwestern's Center for Synthetic Biology has been leading the way.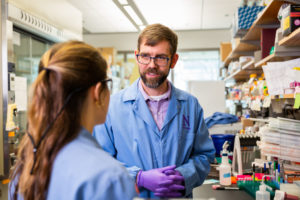 "At Northwestern, we thrive on interdisciplinary excellence, and we've been on the leading edge of defining the first wave of synthetic biology activities — in large part because of the center," says Michael Jewett, PhD, center director and the Walter P. Murphy Professor of Chemical and Biological Engineering at McCormick.
The center was established in 2016 to enable scientists from Feinberg, the McCormick School of Engineering and the Weinberg College of Arts and Sciences to engage in collaborative research involving the emerging field.
This past fall, the center was relocated from Evanston to its new home on the 11th floor of the Simpson Querrey Biomedical Research Center. This move, says Jewett, has provided an opportunity for even more collaborations.
"One of the amazing things about the people here is that they're not only pushing paradigms on their own, but they all realize that some of the most exciting discoveries happen at the intersection between multiple disciplines," Jewett said. "We're all happy to play in that same sandbox and we recognize that by working together and trying to identify those areas of intersection, we're creating better science."
Defining the Field
"The idea that you can move beyond programming DNA information toward this space of building and controlling atoms and living matter is really what synthetic biology is all about," says Jewett. "It's exciting, and over the past decade, I think experts in the field have really made remarkable advances in being able to create, control and reprogram cellular behavior to do new things."
The quickly evolving field of synthetic biology is also starting to become a research priority on both a national and international level. Earlier this year, the U.S. Senate introduced the Industries of the Future Act of 2020, which would provide support for research and development initiatives in synthetic biology, along with other emerging industries in science and technology. According to Jewett, synthetic biology is well positioned to permanently transform society.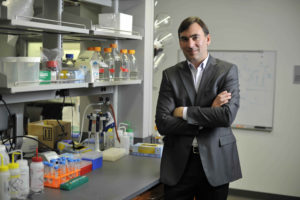 "If a university isn't focusing on synthetic biology within the next five years, they're going to miss it, and I think we at Northwestern have hit the sweet spot," says Jewett.
Jewett's laboratory at the center focuses on cell-free synthetic biology, which involves the extraction and repurposing of different parts of a cell to reprogram DNA and enable portable, on-demand biomanufacturing, as well as diagnostic and educational platforms. Currently, he and fellow investigators are using cell-free synthetic biology in order to accelerate drug development for COVID-19.
Specifically, these efforts have involved producing a promising molecule called valinomycin in a cell-free system. The method successfully increased production yield by more than 5,000 times in just a few rapid design cycles, resulting in higher concentrations of the molecule than previously achieved.
Additionally, Jewett's laboratory has pioneered the use of cell-free systems as easy-to-use, point-of-need diagnostics for infectious diseases, including COVID-19.
Recently, members of the center received funding from the National Science Foundation to develop a single-step test for COVID-19 and other infectious diseases, both in humans and the environment. The project is co-led by Jewett and center faculty member Julius B. Lucks, PhD, associate professor of Chemical and Biological Engineering, and was also devised with Josh Leonard, PhD, associate professor of Chemical and Biological Engineering, and Niall Mangan, PhD, assistant professor of Engineering Sciences and Applied Mathematics.
In collaboration with Jewett's laboratory, the laboratory of Milan Mrksich, PhD, founding director (with Jewett) of the center and vice president for Research at Northwestern, has been able to achieve accelerated measuring of biochemical reactions using cell-free synthetic biology and self-assembled monolayers for desorption ionization (SAMDI), mass spectrometry, which was developed by Mrksich's laboratory. The high throughput method has enabled his laboratory to perform tens of thousands of reactions each day, making transformative advances in the design and synthesis of glycosylated protein medicines.
Mrksich, who has held multiple leadership roles at the center and Northwestern, says the ability to make proteins with cell-free synthesis and then test their activities with SAMDI mass spectrometry, as well as machine learning, has been a game changer in the field.
"Rapid protein synthesis, rapid protein testing and machine learning — when you put those together, it gives the capability to develop enzymes that can catalyze reactions that are important. We can do that at levels that a decade ago were just unimaginable," Mrksich said.
Collaboration at its Core
In an effort to expand the center's mission and increase collaborative research efforts, over the last few years synthetic biology faculty members have been recruited specifically for the center through a partnership with Feinberg. This growing network of synthetic biology faculty are addressing important societal medical challenges through partnerships across the entire university.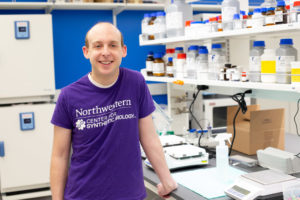 Gabriel Rocklin, PhD, assistant professor of Pharmacology, joined the center in March 2019. His laboratory focuses on computational protein design — both designing new protein structures and improving the tools used by protein designers around the world. With the help of large-scale DNA synthesis, Rockiln's laboratory has been computationally designing and testing tens of thousands of proteins to study protein folding stability and how proteins bind therapeutic targets.
In the future, Rocklin hopes to collaborate with Jewett's laboratory and use cell-free synthetic biology technology to enhance the process and enable experiments to be conducted faster. He has also begun to collaborate with Leonard, to combine protein engineering with cell engineering. In addition to having a designated space to conduct synthetic biology research, the center has also given Rocklin ample opportunities for mentorship and collaboration.
"Having come here a year ago, the faculty at the center have definitely been the most valuable in terms of expanding my own vision of what our laboratory can do and contribute to, in helping ideas materialize and connecting with other people," he says.
Similarly, Arthur Prindle, PhD, assistant professor of Biochemistry and Molecular Genetics and at the McCormick School of Engineering, has been a faculty member of the center for almost two years. Prindle's laboratory is focused on understanding and engineering collective behaviors in bacterial communities, as well as using synthetic biology to re-engineer these bacteria in an effort to overcome antibiotic resistance and figure out new ways to leverage the bacteria's microbiome to detect and treat disease.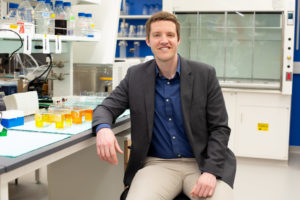 "We may not have found our way to a medical center as new faculty if it wasn't for the Center for Synthetic Biology, so the hope of the center is that this is going to be a way to apply bioengineering to these biomedical challenges," Prindle said.
As the field of synthetic biology continues to evolve and expand, Jewett envisions the same for the center. In the next five years, he hopes to see the number of synthetic biology faculty increase and the center continue to act as a hub for those interested in using synthetic biology research to break new ground in their own respective disciplines and in the field of synthetic biology itself.
"The center is a place where, when you look around, every single person, you're proud to be their colleague because they're defining where the field is going," Jewett said. "I want people who are going to define the future of synthetic biology because we're going to transform how it contributes to the bio-economy, impacting our society and changing the way we interact with the living world."