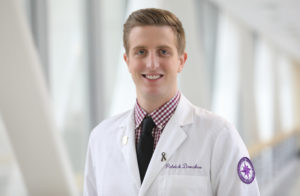 A novel genetic toolkit developed by Northwestern Medicine scientists may support the development of customized therapeutic interventions for a breadth of diseases, according to a recent study published in Nature Communications.
The toolkit, called the COmposable Mammalian Elements of Transcription, or "COMET", is a specialized group of promoters and transcription factors — proteins that bind to DNA and control the expression of a cell's genes — which enables the design and construction of customizable genetic programming in mammalian cells.
One purpose of COMET is to help scientists develop customized cell-based therapies to treat a number of diseases, including cancer, according to Patrick Donahue, a seventh-year student in the Medical Scientist Training Program (MSTP) and first author of the study.
"We set out to build new, sophisticated cell-based therapies and realized that the tools we needed to accomplish some of our goals didn't exist. We then developed a new toolkit to address this need and named it COMET," Donahue said.
For the current study, the authors characterized how COMET controls gene expression in cells and developed a mathematical model to describe the toolkit's performance.  This model will ultimately let scientists apply COMET to their work more readily, according to Donahue.
COMET works by transcription factor proteins binding to DNA promoters upstream of scientist-specified genes, such as a therapeutic gene. They do so through a piece of the protein called a zinc finger motif, which specifies to each transcription factor which exact DNA sequence to bind to.
For example, in the case of cancer, the scientists are currently working to insert biosensors into therapeutic cells to help them recognize whether they are in a tumor or a healthy part of the body.
With the help of COMET, the signals from the biosensor are then processed by the cell. This tells the cells to produce a therapy only when the cell is in a tumor, which spares healthy tissue, according to Donahue. This strategy ultimately aims to decrease the side effects of very potent therapies by producing them directly in the tumors.
"One strategy for achieving the goal of building cell-based therapies that recognize and respond to their environment and diseases in the body is to build custom genetic programs into the cells. We are using COMET for this purpose and envision it enhancing the sensitivity and specificity of our new therapies" Donahue said.
Plasmids encoding the COMET toolkit and other technologies from the lab of Joshua Leonard, PhD, associate professor of Chemical and Biological Engineering at the McCormick School of Engineering, are being made available online for the scientific community to use for research applications in therapeutics and basic biology.
As for the future of COMET, Donahue said they are translating the toolkit to use in real-world, pre-clinical therapeutic applications.
"COMET is enabling some major breakthroughs in our pursuits of novel, cell-based therapies and we are looking forward to sharing these in the future," Donahue said.
Leonard is also member of the Robert H. Lurie Comprehensive Cancer Center of Northwestern University.
This work was supported by a Ruth L. Kirschstein Predoctoral Fellowship from the National Cancer Institute (NCI) of the National Institutes of Health (NIH); NCI award F30CA203325; the National Institute of Biomedical Imaging and Bioengineering of the NIH award 1R01EB026510; the Northwestern University Flow Cytometry Core supported by the Lurie Cancer Center's Cancer Center Support Grant (NCI 5P30CA060553); the NUSeq Core of Northwestern's Center for Genetic Medicine and a seed grant from the Northwestern Institute for Cellular Engineering Technologies (iCET).