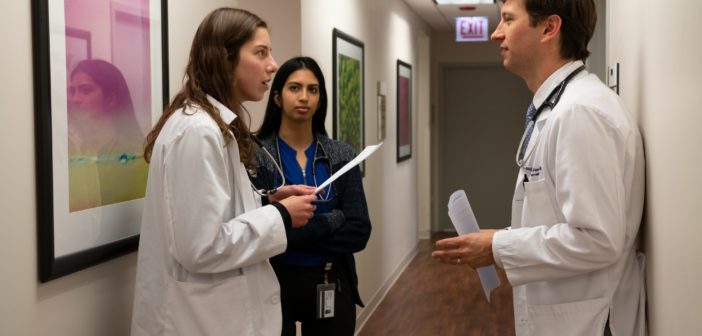 Students who participated in the Education Centered Medical Home (ECMH) program — a four-year, team based clerkship that provides care to underserved populations — experienced superior primary care training compared to a traditional clerkship model, according to a study recently published in Academic Medicine.
Led by Daniel Evans, '00 MD, '03 GME, assistant professor of Medical Education and of Medicine in the Division of General Internal Medicine and Geriatrics, the study suggests that graduating ECMH students are more prepared to practice in team-based, collaborative and patient-centered health care settings than students who do not.
"ECMH is generating more interest in community, in taking care of vulnerable patients, and I think we're going to generate better quality primary care docs or specialists who have more understanding of what high quality primary care looks like," Evans said. "I think they're going to be more patient-centered because they're actually seeing what happens to some of these patients that fall through the cracks and they're going to be better teachers because they've had a lot of experience doing peer teaching and mentoring."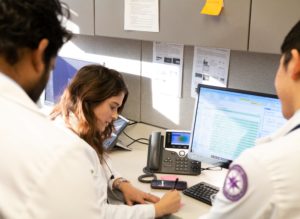 Unsatisfied with the lack of longitudinal care offered in traditional clinical rotational programs, Evans established the ECMH program as a pilot project in 2011. The goal of ECMH is two-fold: to provide continuous, primary care to underserved and diverse patient populations, and to help students better understand chronic conditions in a variety of clinical settings.
The program began with just 56 students (14 volunteers from each class) at four clinical sites. The program has now expanded to include all 600 plus Feinberg students who work at a total of 36 ECMH sites across Chicago. Feinberg's ECMHs are located throughout downtown, including Northwestern's own academic medical campus, and expand to the city's north, west and south sides neighborhoods like Austin, Albany Park and Bronzeville. Half of students participating in ECMH are assigned to clinics located in primary care shortage communities and it's estimated that two-thirds of all ECMH patients are either underserved, underinsured or medically vulnerable.
An ECMH clinic consists of roughly 16 students and one faculty physician throughout all four years of medical school. During each clinical session, three junior students are paired with three senior students to provide primary care, lifestyle counseling and assistance to patients navigating the healthcare system. Senior students serve as the clinic educator, while other students serve as care coordinators, arranging visits and tracking patient outcomes, including follow-up.
In the study, 329 students were randomized into the ECMH program or a mentored Individual Preceptorship (IP) for two years followed by a traditional four-week primary care clerkship. Over the course of the program, 96 percent of students participated in surveys at the beginning of their medical school careers and then at the end of their first, second and third years.
Results showed that about 70 percent of ECMH students would recommend the program to incoming students and students reported a more positive learning environment, better patient relationships and other positive results.
Co-author Jennifer Bierman, MD, previous clerkship director of primary care and current director of ECMH, noted that peer-to-peer teaching and mentoring between senior students and first- and second-year students proved to make ECMH clinics welcoming and encouraging learning environments.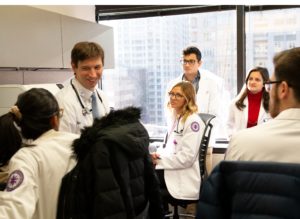 "ECMH clinics are very safe places for the students to be and I think that interaction between the upperclassmen and the first and second years helps the newer students get through the program, which can be grueling," said Bierman, who is also an associate professor of Medical Education and Medicine in the Division of General Internal Medicine and Geriatrics.
In addition, the positive experience students receive from the ECMH program may help inspire more students to continue to work in underserved areas, which may in turn improve the retention of high-quality physicians at community clinics.
"I think taking care of patients with unmet social needs or who live in under-resourced communities presents its own unique set of challenges, in getting the patients the care they need and also adapting your own recommendations as a physician to what might meet their lifestyles while recognizing the factors that are both in and beyond your control that can influence their health," said Bruce Henschen, '12 MD, '12 MPH, ECMH's clerkship director for internal medicine and co-author of the study.
Henschen was a fourth-year medical student at Feinberg who was involved in the first pilot group for ECMH. When he began his residency Northwestern's McGaw Medical Center in 2015, he joined ECMH's research team to study the impact of the program on both students and patients.
"I think ECMH is incredible opportunity not only to learn about continuity of care, but also drive home the importance of social determinants of health, team-based care, chronic disease management, and to make sure that it aligns with the rest of the Feinberg curriculum and that we're teaching our students these concepts in the best way that we can," said Henschen, who is also assistant professor of Medical Education and of Medicine in the Division of General Internal Medicine and Geriatrics.
Particularly, Henschen was pleasantly surprised from the study that students reported a greater sense of professional efficacy.
"In medical school, I think achieving a greater sense of professional efficacy is really tough because you're in training and are expected to practice, but you're also heavily supervised. It's easy to feel like what you're doing is just simply following along and for medical students to experience that they're making a difference is a phenomenal outcome and a positive thing about ECMH," Henschen said.