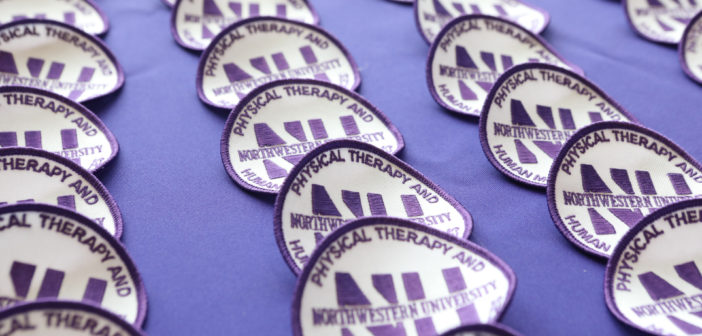 On June 17, the Department of Physical Therapy and Human Movement Sciences recognized 91 first-year Doctor of Physical Therapy (DPT) students as they transitioned from academic coursework to their first full-time clinical experience at the 13th annual Clinical Practice Ceremony.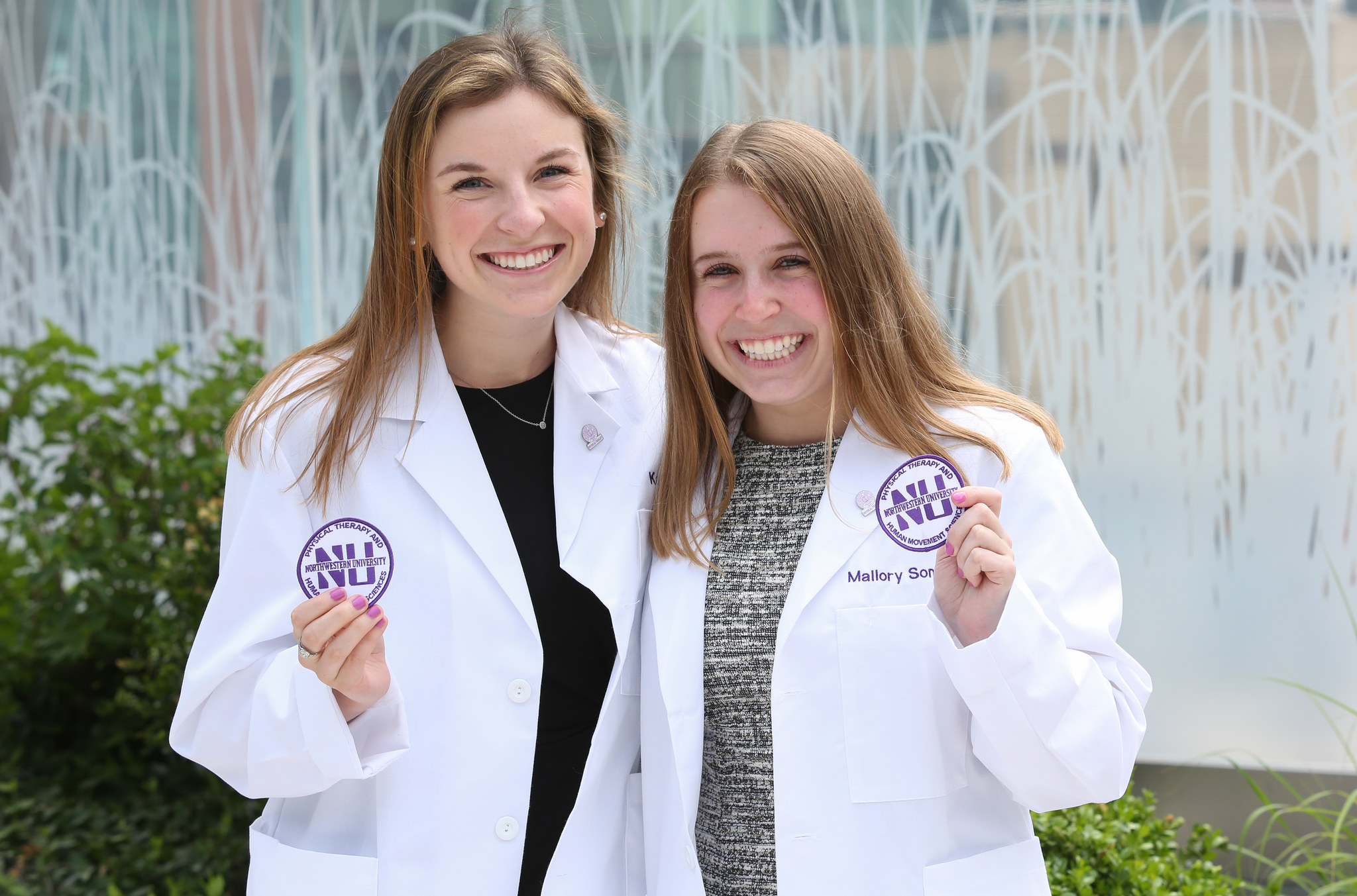 Julius Dewald, PT, PhD, chair of Physical Therapy and Human Movement Sciences, provided welcoming remarks at the ceremony.
"You will have the chance to use the basic and clinical science information you've mastered over the past year and start putting it into practice. You will also serve as an ambassador for our department and for Northwestern University Feinberg School of Medicine," Dewald said.
Dewald introduced Diane B. Wayne, '91 MD, vice dean for Education and the Dr. John Sherman Appleman Professor of Medical Education, who spoke about the importance of putting the needs of patients above practioners', remaining up-to-date in the field and valuing service to others.
Krista Van Der Laan, PT, DPT, assistant chair of clinical education in the Department of Physical Therapy and Human Movement Sciences (PTHMS), expressed enthusiasm for the first-year students to begin their clinical experiences and for the second-year students to continue their rotations.
"When you are in the clinic, your nerves can push you to grow by forcing you to learn more and work harder in the service of your patients," Van Der Laan said.  "It is often through discomfort that we are able to change the most. We know this as it relates to our patients. In order to improve the function of their cardiopulmonary, neurological, musculoskeletal and integumentary systems, there must be adequate stress on those systems. The same holds true for learning."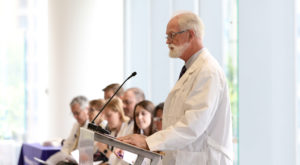 Northwestern Physical Therapy alumnus Paul Bissler, '09 PT, and Allison Davis, both site coordinators for clinical education at Loyola University Medical Center, were presented with the Outstanding Clinical Partner Award, which recognizes their long-standing relationship with Northwestern and their support and commitment to clinical education.
Second-year student Elizabeth Pedi spoke to her classmates about her first clinical experience and shared some words of advice.
"We often hear about the impact physical therapists have on a patient's recovery. However, this never stuck with me until I worked with patients and their families who were depending on us to help them stand, walk or even just sit at the edge of the bed. It was these little movements that gave them some sense of normalcy during an, oftentimes, life-changing experience," Pedi said.
Before leading the oath for physical therapists, Jennifer Kahn, PT, DPT, assistant professor of PTHMS, introduced Tyler Masterson, a patient care representative. Masterson spoke about his experience as a patient after a spinal cord injury and the physical therapy he received.  He reminded students that through their efforts to understand and listen to patients, they can develop patient-centered goals that restore quality of life for patients.
Van Der Laan closed the ceremony by reminding students that they may feel a mixture of emotions at this crossroads. "Know that your nerves are no indication of your preparation. You possess the skills and knowledge to successfully work with patients, addressing their physical impairments and acknowledging their humanity," she said.
Following her remarks, students received physical therapy patches for their white coats and celebrated at a reception at the Shirley Ryan AbilityLab.