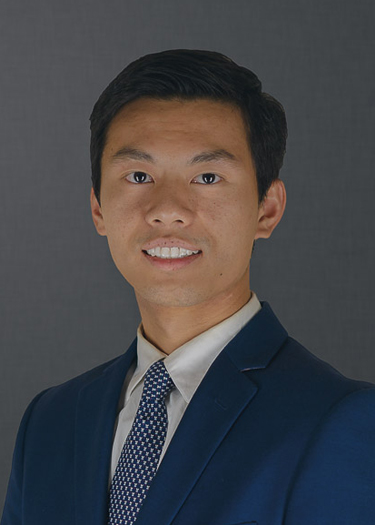 In 2017, the American College of Cardiology and the American Heart Association (ACC/AHA) lowered the clinical definition for hypertension, in an effort to treat high blood pressure earlier and better prevent cardiovascular disease.
In a recent study published in JAMA Cardiology, fourth-year medical student Vincent Chen used the new thresholds to provide updated estimates of lifetime risk for hypertension in a large cohort of African-American and white participants.
Estimates of lifetime risks for hypertension can be used to identify groups who may benefit from more aggressive lifestyle changes, screening and therapies, Chen explained.
The research, led by John Wilkins, MD, '11 MS, '12 GME, assistant professor of Medicine in the Division of Cardiology and of Preventive Medicine, demonstrated substantial lifetime risks for hypertension in the population — with more than three-quarters of African-American men and women and white men likely to develop hypertension in their lifetimes. Wilkins is a member of the Center for Epidemiology and Population Health.
Chen, who is entering into an internal medicine residency at the McGaw Medical Center of Northwestern University, intends to continue conducting research as a resident.
"Participating in research allows you to learn both what literature exists and also how that literature got there," Chen said. "This is particularly important in cardiology, where technology changes rapidly and new trials provide new ways to tailor existing clinical recommendations to the patient seated in front of us."
Why did you choose Feinberg?
I graduated from Northwestern with a bachelor's degree in 2013. Having gone through college with professors like Tom Meade, PhD, and Richard Silverman, PhD, I knew this institution was dedicated to research and innovation. I wanted a school that could develop the foundations of being a clinician, an educator and an investigator. I had no doubts that Feinberg would provide.
Prior to medical school, I was in the Teach for America program in Milwaukee. During my final year of teaching, after I submitted medical school applications, I started dating a girl who was a student at Marquette University. It also happened that of all the schools I applied to, Feinberg was the closest to Milwaukee. When Feinberg offered me a spot, I withdrew all of my other applications. That girl became my wife this year. 
How did you become interested in this area of research?
My interest in community health grew after my time in Teach for America. During my first year of medical school, I became involved with Keep Your Heart Healthy, a medical student group that sends volunteers to community events to promote heart-healthy lifestyle changes.
Given that my undergraduate major was statistics, epidemiology felt like a natural extension of my interests and skills. I had long been interested in either cardiology or oncology, so when Dr. Wilkins gave a talk at a Keep Your Heart Healthy orientation about cardiovascular epidemiology, I began to see how I could blend my statistical and clinical backgrounds in the future.
Dr. Wilkins and his colleagues had recently compiled the Lifetime Risk Pooling Project database, and our conversations about potential research questions led to estimating lifetime hypertension risks under the new thresholds. 
What did you discover?
Using data from three prospective cohort studies, we found that lifetime risks for hypertension were 84 percent and 85 percent for white and African-American men, and 69 percent and 86 percent for white and African-American women. Even among young men aged 20 to 30, rates of hypertension are quite high, at 23 percent in African-Americans and 31 percent in white men.
Interestingly, the increase in lifetime hypertension risk under the new blood pressure threshold is more notable for white men than for African-American men — suggesting that the population of African-American men may have more severe elevations in blood pressure than white men. This may contribute to racial disparities observed in hypertension-related illnesses, despite both groups having similar lifetime hypertension risks under the ACC/AHA 2017 hypertension threshold.
Why are these findings important?
The results from our study suggest that not only do a large proportion of individuals develop hypertension, but that suboptimal blood pressures are already developing in young adults.
Even young adults should be aware of their blood pressure, and heart-healthy lifestyle habits should be promoted earlier in life to reduce the rates of incident hypertension. 
Why did you choose Northwestern for residency?
I have a lot of purple pride. This is a phenomenal program with phenomenal people. Self-driven learners can thrive because rigor marries flexibility in our internal medicine program. My goal in residency is to be molded into a compassionate, disciplined and competent physician who can serve his patients well. Those are the types of physicians I see at Northwestern, so I have faith that this program will help me grow in the ways that I need.