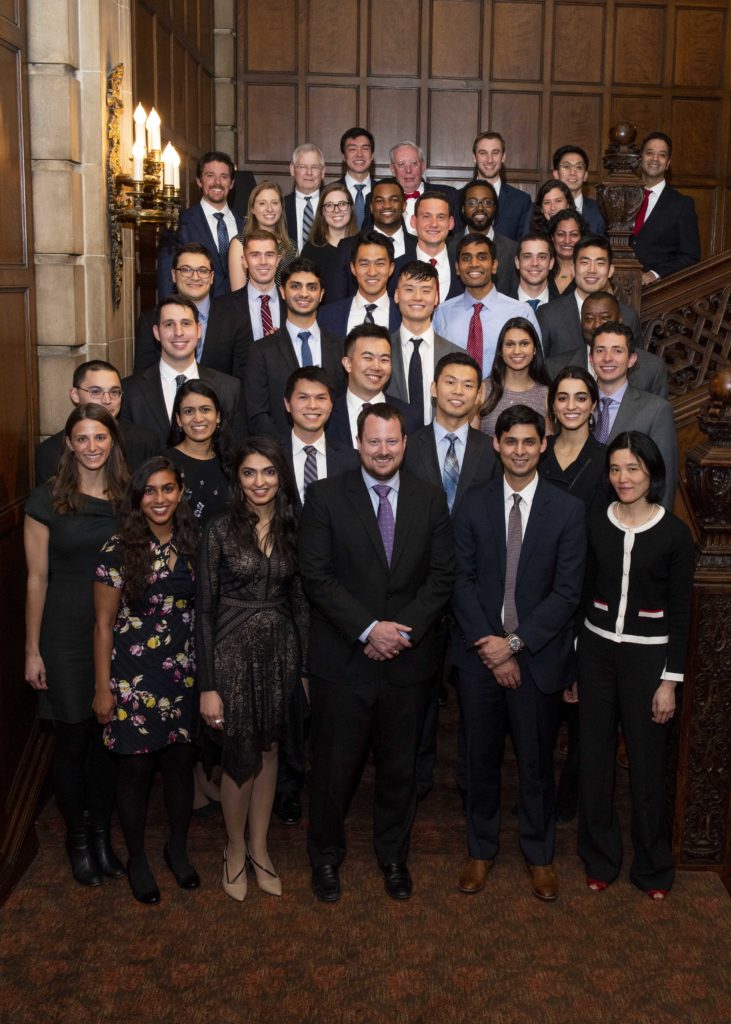 The Alpha Omega Alpha (AOA) medical honor society welcomed 40 new members into the Northwestern chapter during an induction ceremony for students, trainees and faculty on March 12. Election to the AOA signifies a lasting commitment to professionalism, leadership, scholarship, research and service.
"It was a very inspiring event, and I'm so honored to be recognized amongst a group of such dedicated and humble peers," said fourth-year medical student Avni Bavishi, who matched in internal medicine. "I can't wait for the next stages of our training and following the amazing things our class accomplishes."
Before the ceremony, a keynote lecture was delivered by David Johnson, MD, professor and chairman of the Department of Internal Medicine at UT Southwestern School of Medicine. In his lecture, Johnson discussed both the advantages and challenges of practicing medicine in the 21st century.
"I think this is by far the most exciting time to be a physician, ever. We have this wonderful profession we're in — it's truly stimulating, our work is life-saving, and we are, for the most part, a respected, trusted profession," Johnson said. "I would argue, however, that there has also never been a more challenging time to be a physician."
Johnson encouraged students and trainees to lead the way in addressing some of these challenges, in particular, the ballooning cost of healthcare.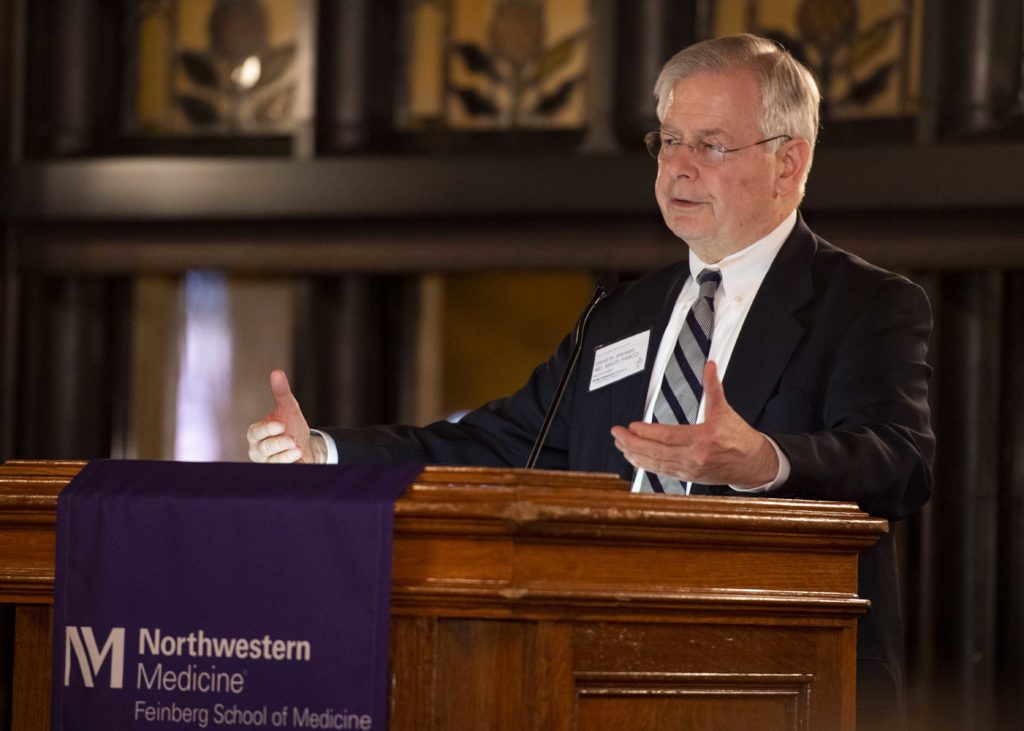 "Every time we save money, it opens the door for us to treat more people," Johnson said. "I believe what we need are innovators in medicine — clinicians who can think outside the box and create new models of healthcare delivery that can expand our capacity and reduce our costs at the same time. And each one of you in this room is capable of innovation."
At the induction ceremony at the University Club of Chicago, Shilajit Kundu, MD, '07 GME, councilor of the AOA Illinois Gamma Chapter and chief of Urologic Oncology in the Department of Urology, welcomed attendees to the event and congratulated the newest members of AOA.
Sandra Sanguino, '93 MD, '96 '99 GME, MPH, associate dean for student affairs, announced the 29 new medical student inductees.
"It feels very special to be surrounded by so many of my classmates who are such smart, impressive soon-to-be physicians and people. It's a real honor to be included in a group with all of them," said Andrea Henricks, a fourth-year medical student who is pursuing a residency in obstetrics and gynecology.
Bavishi and Henricks were inducted along with their peers Kathryn Barth, Andrew Bi, Jacob Burns, Vincent Chen, Philip Dinh, Marie Donaldson, Kyle Fahey, Sneha Goswami, Samuel Ho, Sean Jenvay, Jonathon Judkins, Eric Li, Kyle Lyman, Shayli Merlo, Alex Onishi, Cecil Qiu, Victor Quan, Supriya Rastogi, Alexander Rodriguez, Jordan Rook, Elliott Russell, Jes McDaniel Sanders, Sameer Singh, Javier Suarez, Krish Suresh, Alison Szabo and Arianna Yanes.
"I'd like to offer congratulations to the talented Feinberg students who were inducted into AOA," said Diane B. Wayne, '91 MD, vice dean for Education and the Dr. John Sherman Appleman Professor of Medical Education. "It's a very exciting week, and we're expecting big things from all of you. This is not the end — this is just the beginning."
Wayne presented the five housestaff and two alumni inductees to AOA, and Marianne Green, MD, senior associate dean for Medical Education, announced the four faculty inductees.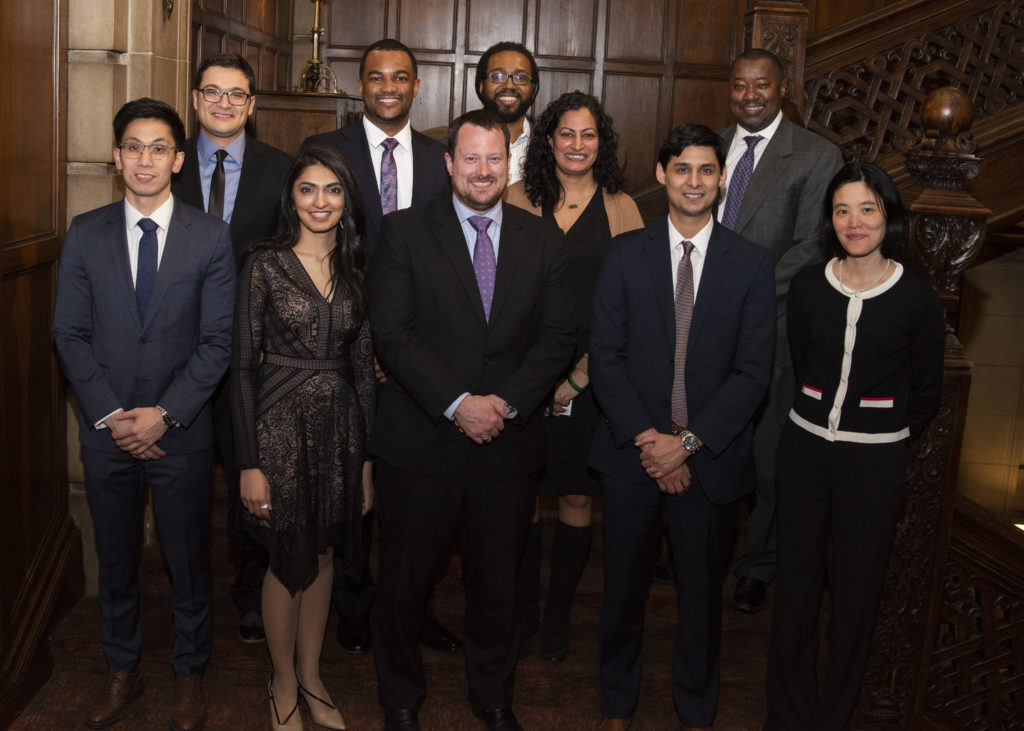 Housestaff inductees included Elnur Babayev, MD, MSc, resident in obstetrics and gynecology; Lajja Desai, MD, fellow in pediatrics; Ramiro Fernandez, MD, resident in general surgery; Yu-Kai Su, MD, resident in diagnostic radiology; and Quentin Youmans, '15 MD, chief resident in internal medicine and instructor of Medicine in the Division of General Internal Medicine and Geriatrics.
The faculty inductees were James Chandler, MD, '96 GME, the Lavin/Fates Professor of Neurological Surgery and co-director of the Northwestern Medicine Lou and Jean Malnati Brain Tumor Institute of the Robert H. Lurie Comprehensive Cancer Center of Northwestern University at Northwestern Memorial Hospital; Aarati Didwania, MD, associate professor of Medicine in the Division of General Internal Medicine and Geriatrics, and director of the Honors Program in Medical Education; Karen Ho, MD, associate professor of Surgery in the Division of Vascular Surgery; and David Odell, MD, MMSc, assistant professor of Surgery in the Division of Thoracic Surgery.
Alumni Edwin McDonald, IV, '08 MD, '11 GME, and Mary Ann Frable, '59 MD, '64 GME, were also inducted into the society.
In his closing remarks, Johnson shared the impact that AOA membership has had on his own medical career, and delivered an address on the obligations of being an academic physician.
"Being a competent physician is merely a starting point. It's necessary, but not sufficient to deliver high-quality care. The core condition for excellence and for meeting one's ethical responsibilities as a physician is collaboration and teamwork," Johnson said.
His words resonated with the newest members of the AOA.
"I'm both honored and humbled to be recognized. However, I am more excited for the opportunity to be part of an influential community to help change medicine for the better," said Javier Suarez, a fourth-year medical student who is planning a career in neurology. "We could impact patients, students and physicians alike if we identify problems and organize to solve them. With all these amazing people, we can create a world that's unrecognizable from the one we trained in."