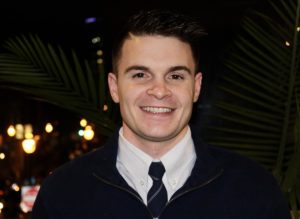 Liam Kane describes his elective orthopaedic surgery rotation at Feinberg as one of the most rewarding experiences of medical school so far.
"I'm sure most of my classmates can identify with the feeling of relief from finding a home in a medical field," said Kane, a fourth-year medical student. "Thanks to my interactions with patients and working with the residents, I found each day rewarding, and I always left looking forward to the next."
Kane's experience during his rotation also inspired him to pursue further research in the field; he is now completing an orthopaedic surgery research fellowship at the Rothman Institute in Philadelphia, before returning for his final year of medical school in the fall.
Throughout his time at Feinberg, Kane has also been active in global health, several research projects, and in the student consulting group Second Opinions.
In his free time, Kane enjoys staying physically active by participating in Feinberg intramural and pick-up sports, including soccer, volleyball and basketball, and playing golf. He also enjoys exploring Chicago's neighborhoods, discovering new restaurants and traveling to new cities and countries.
Why did you choose Feinberg?
There are several reasons why I felt Feinberg would be a great fit: its national reputation, elite resources, promising curriculum and bustling metropolitan area. But I'll focus on one area in particular that I believed (and still do) sets Feinberg apart from other schools. In making my decision, I placed an extremely high premium on each school's commitment to diversity.
I believe that diversity — particularly diversity of talents, thoughts and experience — stands as a cornerstone of higher education. For me, this type of diversity within the community is the critical source of new experiences that I felt would allow me to become the best person and physician I could be.
Feinberg demonstrated in multiple ways its firm commitment to seeking students with unique backgrounds and embracing people who are different. This was clear to me early on from my one-on-one discussions on interview day, where my interviewers and I spoke very little about medicine. Rather, we spoke primarily about international conflicts and the barriers to peace, which were areas of academic focus for me as an undergraduate. I could see that Feinberg was interested in learning what I could offer their community that was different, perhaps to see how a student with a background in global perspectives might be a valuable resource to the community. I decided I wanted to learn with, and from, 160 other students who brought a similar value with them.
Now that I have gotten to know my classmates quite well, it is clear that Feinberg recruits students with unique perspectives and skills so that we can share these with one another. Take, for example, how Feinberg offers comedically skilled students an evening to satirize their experience, gives talented singers the spotlight to showcase their vocals and provides former consultants the platform to utilize their business acumen. There is no shortage of opportunities to admire the talent among our classmates.
Furthermore, within our curriculum, we rely on each other's perspectives as our own resources. Our coordinators call for frequent healthy debates in medical ethics and ask us to lean on our past experiences to fuel discussions on professionalism. The opportunity to engage with and learn from my classmates in these different environments has been one of the greatest returns on my investment in Feinberg, and it has certainly affirmed my choice in a medical school.
What are your research interests?
I actually began my research at Feinberg in the field of radiation oncology. I assisted the investigators by collecting data of patients diagnosed with glioblastoma as part of a multi-institutional effort to validate a clinically useful prognostic nomogram, which eventually earned publication in the Journal of Neuro-Oncology. I then assisted the departmental residents with a follow-up project analyzing the efficacy of stereotactic radiosurgery in controlling brain metastases from primary gastrointestinal cancers, which was recently accepted for publication in The Journal of Radiosurgery and SBRT.
I decided to focus my AOSC on thoracic surgery due to a growing interest in pursuing the surgical fields. For this project, I evaluated the role of surgery as a supplement to PET-CT imaging in projecting disease response to chemotherapy in patients with mediastinal lymphoma. We found that minimally invasive surgical techniques were serving a safe, valuable role in determining patients' response to treatment if they had inconclusive scans following chemotherapy. I presented my research as a podium talk at the Central Surgical Association meeting in Columbus last spring, and my manuscript was published in the journal Surgery.
Currently, I'm taking a gap year to complete an orthopaedic surgery research fellowship at the Rothman Institute in Philadelphia. I'm working on several projects evaluating outcomes and trends of shoulder and elbow surgery.
Tell us about your interest in global health.
I've identified with the movement towards global health equity since I was an undergraduate at the University of Notre Dame. I was president of our GlobeMed chapter and traveled to Laos to learn from our organizational partners whom we supported through their community health education programs.
Once at Feinberg, I joined our Student Committee on Global Health to continue my part in this movement, even if it meant in a more limited role as I simultaneously focus on preparing to become a physician. Our global health committee serves as an educational resource to our classmates and visiting students, organizing various lectures and events to cultivate mindfulness of global health systems and our role within them.
Personally, I love being involved in global health because of the relationship-building, particularly in meeting people with like-minded goals from new communities and experiencing new cultures. I also believe that every individual is entitled to healthcare regardless of where they are born — so finding a role to push the world closer to that reality will continue be part of my life for a long time to come.
What inspired you to join Second Opinions?
I decided to join Second Opinions after watching my roommate, Cecil Qiu (one of the co-founders), present Second Opinion's first project working with one of Chicago's community health organizations. I was extremely impressed with the magnitude of service and value they had provided for their client, so much so that it reminded me of the relationship I had with our GlobeMed partners in Laos. I knew working with Second Opinions would be a great opportunity for me to meaningfully impact Chicago's population health and also develop a new set of skills by learning from classmates with a consulting background, something I myself did not have.
Working on projects with them has been a great experience that far exceeded my expectations. I can say from working with Second Opinions that we've provided our clients with tangible, evidence-based resources and recommendations that have positively benefited Chicago's healthcare system. I am very proud of my roommate for starting this student-led organization and am very glad to be a part of it.