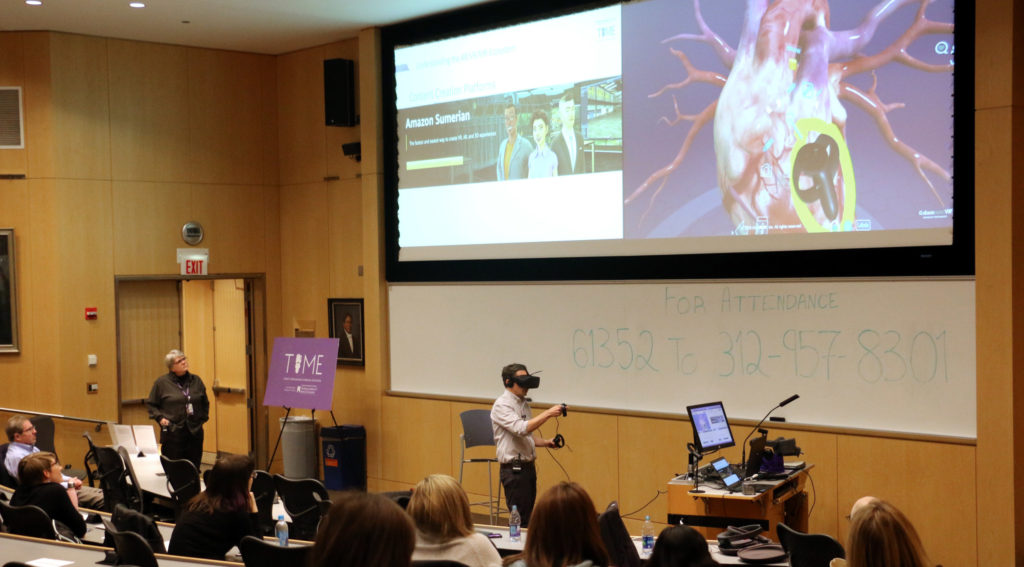 "Are we ready to learn in three dimensions?" posed Patricia Garcia, MD, MPH, '91 GME, associate dean for curriculum, during a recent lecture that explored the budding use of augmented, virtual and mixed-reality media in medical education.
The Today's Innovations in Medical Education (TIME) lecture, held November 20, was attended by Feinberg faculty, students and staff. TIME, sponsored by the Feinberg Academy of Medical Educators (FAME), is a monthly lecture series dedicated to highlighting technological advances, new pedagogy and best practices in health professions education.
During her lecture, Garcia clarified the differences between augmented (AR), virtual (VR) and mixed (MR) realities, shared examples of current tools and their potential applications in medical education, and suggested the need for an ongoing discussion about the use of such technology at Feinberg.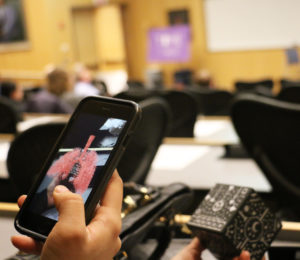 "We're not at all saying that we should definitely do this. But the question I pose to everybody here is, what can you imagine doing with the technology if it were available to use?" said Garcia, also a professor of Medical Education and of Obstetrics and Gynecology in the Division of Maternal-Fetal Medicine. "We want you to begin to think about whether or not there's an application of this technology in the learning environments that you create."
Garcia was introduced by Walter Eppich, MD, MEd, director of FAME and associate professor of Pediatrics in the Division of Emergency Medicine and of Medical Education.
Joining Garcia was Rick Salisbury, associate director of educational technologies at the Kellogg School of Management, who helped demonstrate a number of new tools for the audience. Using the Microsoft HoloLens — an augmented reality headset — and an app called "Insight Heart," Salisbury conjured a beating heart into the lecture hall space.
Garcia demonstrated the use of the inexpensive MERGE Cube, a holographic appliance that can work with anatomy apps on a smartphone to produce virtual images, such as a brain or the lymphatic system.
Garcia also shared the first application of AR/VR technology at Feinberg: a neurosurgery virtual reality program created by Michael Walsh, MD, a health system clinician in Neurological Surgery. Inspired by his children's love of VR games, Walsh created a "flythrough" of the base of the skull using CT scans. He now uses the program to help teach skull-based anatomy to residents and fellows.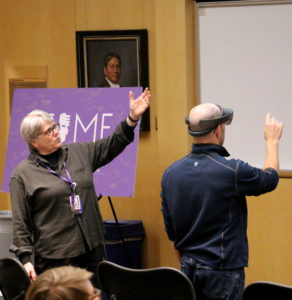 "It's not just anatomy that virtual reality is affecting," said Garcia, who led the development and implementation of Feinberg's new curriculum in 2012. "The possibilities are really extraordinary."
During the lecture, Garcia also provided preliminary data on learning outcomes from a few uses of VR in medical education at other institutions.
"We need to better understand the impact of this. We need to engage in more scholarly activity before deploying this just for the sake of deploying it," Garcia said. "But we've got to start somewhere — it's clearly the wave of education in the future."