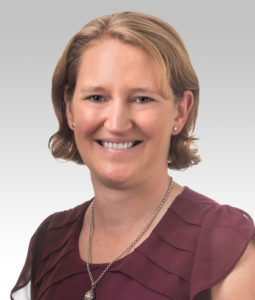 Gemma Carvill, PhD, assistant professor of Neurology in the Division of Neurophysiology/Epilepsy, has been named a recipient of a New Innovator Award from the National Institutes of Health (NIH).
The prestigious award, part of the NIH Common Fund's High-Risk, High-Reward Research program, supports early career investigators to pursue innovative research that while high-risk, has the potential to transform their field.
The Carvill laboratory will receive a $1.5 million, five-year grant for a project that seeks to identify the genetic variants that can cause epilepsy.
"I am very grateful and beyond excited that the NIH has decided to fund this risky, but potentially transformative research," said Carvill, also an assistant professor of Pharmacology and Pediatrics. "This grant mechanism allows us to really 'go for it' and throw every idea that we have at this problem."
Epilepsy, one of the most common neurodevelopmental disorders, often has a genetic basis. Finding the genetic and epigenetic variations that cause epilepsy is a fundamental first step to identifying new therapies — and, ultimately, achieving personalized medicine for epilepsy, where treatment can be tailored to the genetic variants present in a patient.
A subset of people with epilepsy are thought to carry a somatic mutation (a genetic variant that is present in only a subset of cells) that causes cellular changes resulting in epilepsy. However, because it is not possible to biopsy the affected tissue in the brain, identifying disease-causing genetic variants has remained challenging.
Carvill's project, "Cell-free DNA sequencing approaches to define the genetic etiology of unexplained epilepsy," aims to determine whether cell-free DNA in cerebrospinal fluid and plasma can be used to identify neuronal-specific disease-associated variants in patients with epilepsy. Cell-free DNA (cfDNA) consist of short fragments of DNA that are released into various body fluids after cell death, which can be induced by seizures.
"cfDNA has already revolutionized the fields of non-invasive prenatal diagnosis and cancer. Here, we want to see if we can use these DNA fragments in epilepsy diagnosis and as a biomarker," Carvill explained. "If we can prove that cfDNA in the blood originates from the brain in patients with epilepsy, there's a myriad of potential applications, including not only identifying the causative genetic variant, but also as a biomarker to predict seizure evolution or monitor drug response."
In the future, cfDNA could also be applied to the study of other neurological disorders, such as Parkinson's and Alzheimer's disease.
"This award recognizes Dr. Carvill's innovative research in the area of genetics of epilepsies, and is a testimony to her great potential as a junior investigator," said Dimitri Krainc, MD, PhD, the Aaron Montgomery Ward Professor and chair of The Ken and Ruth Davee Department of Neurology. "Emerging evidence suggests that genetic and epigenetic factors play an important role in the etiology of epilepsy and Dr. Carvill has already made important contributions in this area.​"
The NIH Director's New Innovator Awards, established in 2007, support unusually innovative research from investigators who are within 10 years of their final degree or clinical residency and have not yet received a research project grant or equivalent NIH grant.
Carvill is one of just 58 investigators in the country who received a New Innovator Award in 2018.
"I have an excellent lab team of young postdoctoral fellows, graduate and undergraduate students and technicians all fired up to improve the lives of patients with epilepsy, as well as massive support and collaborative efforts with my colleagues in Neurology and Pharmacology. Moreover, this work wouldn't be possible without the contributions of our fantastic clinicians, including Dr. Gerard and all my colleagues at the Comprehensive Epilepsy Center at Northwestern Memorial Hospital and the pediatrics precision medicine team, including Dr. Laux, Dr. Millichap and Dr. Gertler at Lurie Children's Hospital," Carvill said. "Finally, personally, I love teaching, mentoring and inspiring the next generation of investigators to do great science and impact the lives of patients; this award really gives me the freedom to do that."