View a gallery of pictures from the 2018 Match Day festivities.
Taylor Sutcliffe, a fourth-year medical student, waited anxiously with white envelope in hand, surrounded by her peers in the class of 2018.
Together, at precisely the same moment, Sutcliffe and 160 of her Feinberg classmates tore open their envelopes and erupted into cheers as they discovered where they will be spending the next phase of their medical careers.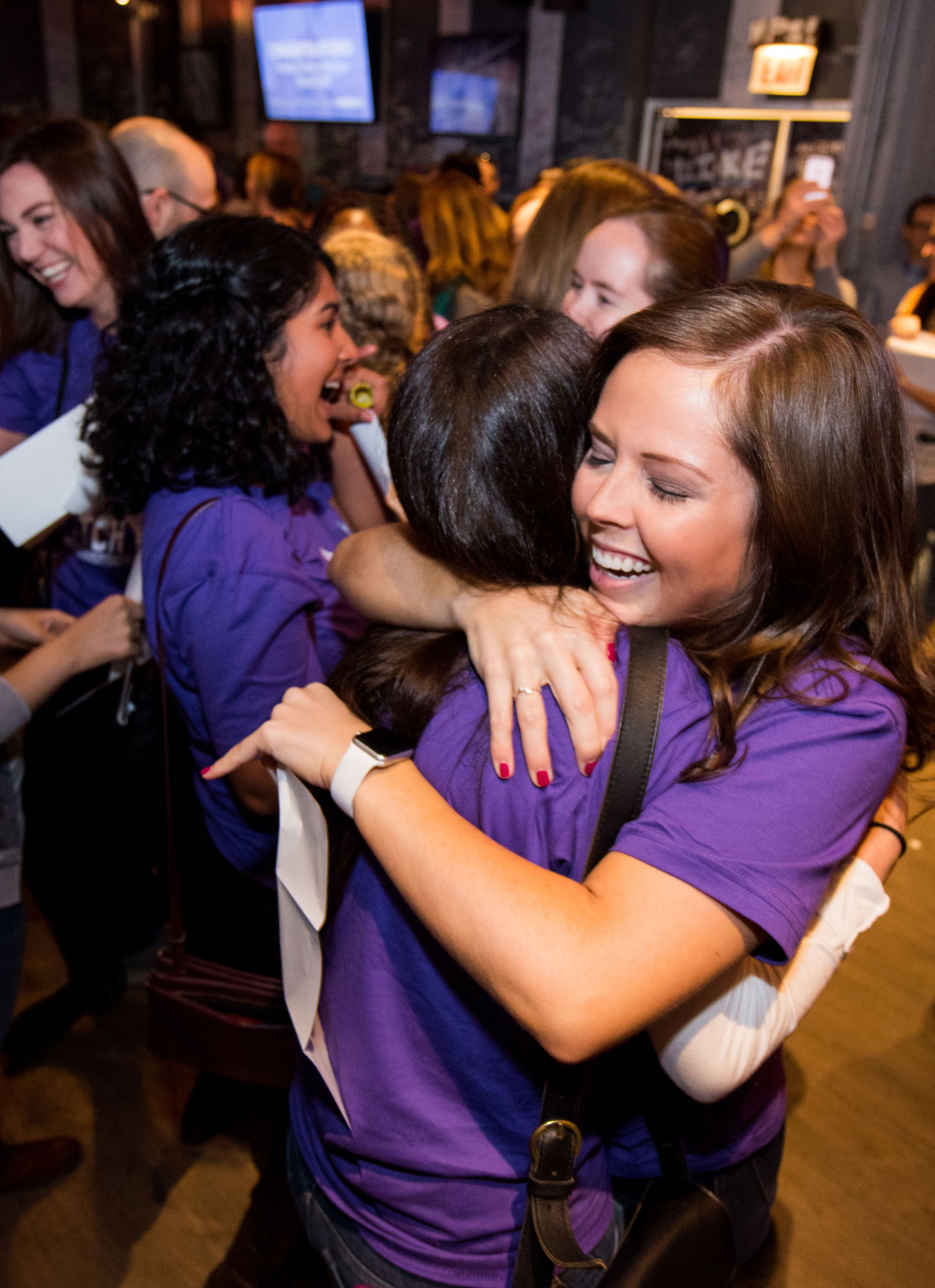 "There's nothing like being surrounded by your closest friends and seeing the look on their faces as their dreams of becoming a doctor come true," said Sutcliffe, who learned she matched into general surgery at Vanderbilt University Medical Center. "This has been a life-changing experience. I've wanted to become a surgeon ever since I was a little girl, and I can't believe that now, I actually will be."
On Match Day, held this year on Friday, March 16, medical students across the country learn at exactly the same time where they will train as residents for the next three to seven years. Feinberg's celebration, held at Gino's East in Chicago, is a beloved annual tradition.
For Sara Fossum, it was eight years in the making. "I've been waiting for this day for so long," said Fossum, who is also earning her PhD through the Medical Scientist Training Program (MSTP). "It was so fun being here with my other MD/PhD classmates and all celebrating our success together."
Fossum, who studies genetics of the lung epithelium, matched into dermatology at the University of Michigan Medical Center, where she plans to continue to conduct research as a resident.
Residency matches are made by the National Resident Matching Program (NRMP), which uses a computerized algorithm to pair graduating medical students with available training positions at U.S. teaching hospitals. The model takes into account the top choices of both the students and the residency programs.
This year's match, the largest in NRMP history, included more than 44,000 registered applicants and more than 33,000 residency positions offered.
"I'm very proud to be a member of the class of 2018. We've all done so well in the match this year, and I'm so excited to see what my classmates accomplish," said Beverly Aiyanyor, who matched into pediatrics at Boston Children's Hospital. "When I was young and I told my parents I wanted to go into medicine, they put all their financial resources, thoughts and prayers into ensuring that I reach this goal. Now they are finally seeing their daughter become the person she's always wanted to be."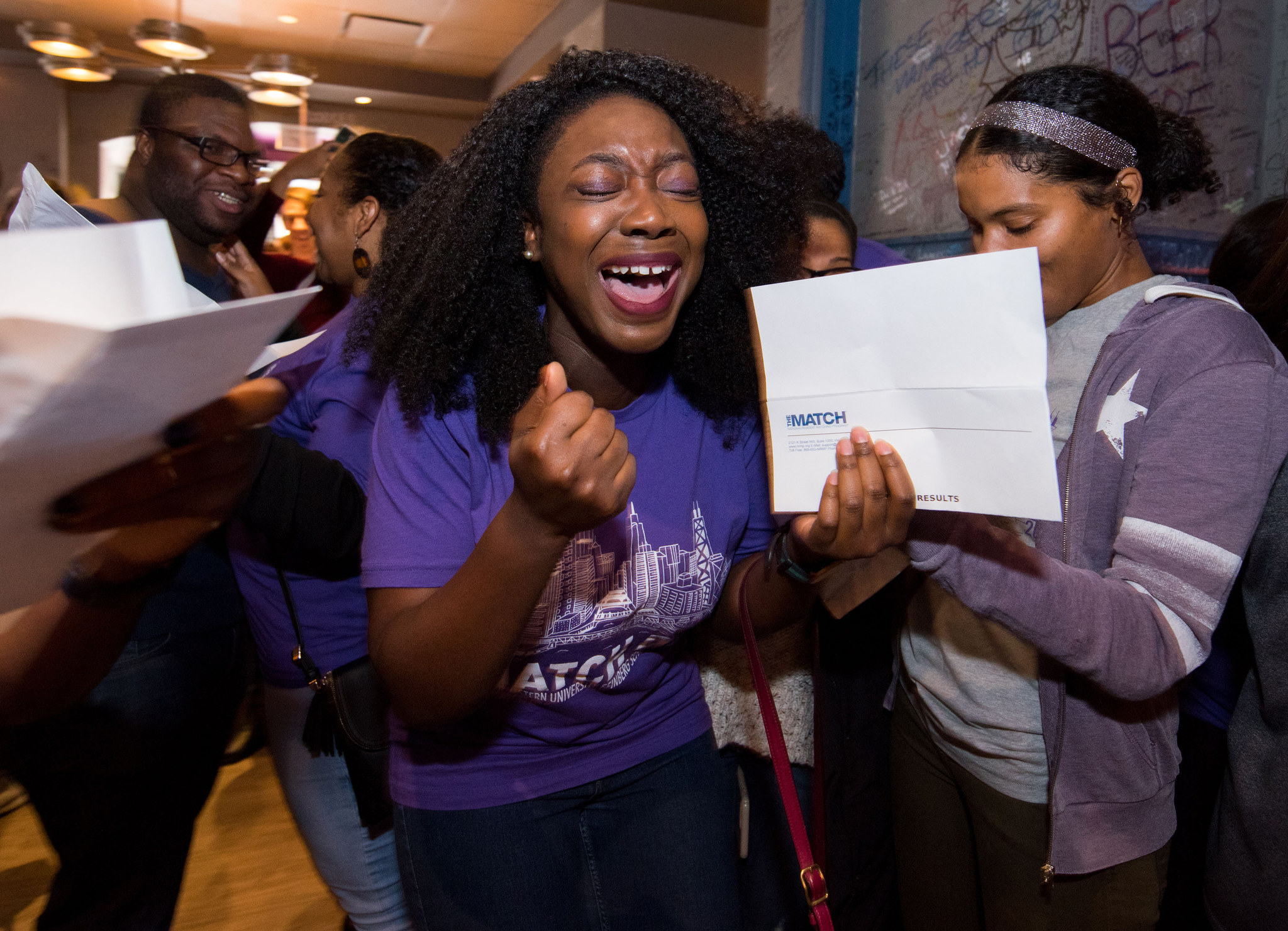 For students, Match Day was not only the moment that marked the beginning of their first few years as physicians, but also a celebration of their time at Feinberg.
"I am ecstatic right now," said Joshua Stein, who matched into emergency medicine at Stanford University Medical Center. "I'm really excited to be able to put into practice what I learned at Feinberg, and I truly couldn't be happier about where I'm going and the field that I chose."
Stein continued, "Without the community here at Feinberg — both the students and the faculty — I feel I wouldn't have been so prepared to do well in the residency match process. I'm just really grateful that they got me to where I am today."
View a full list of 2018 match results.