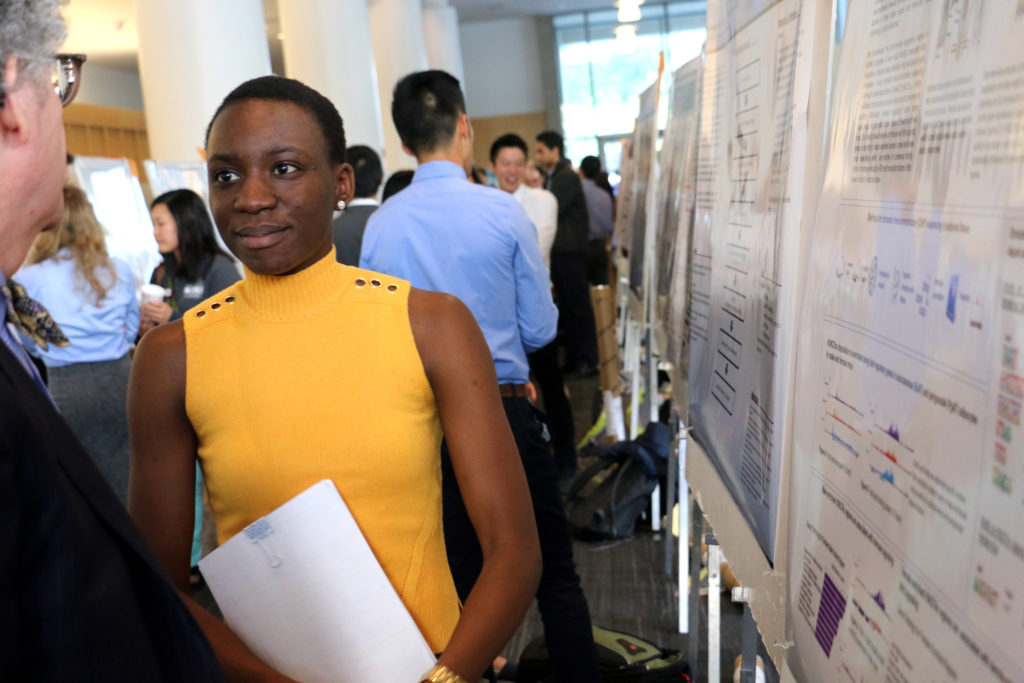 Eseohi Ehimiaghe, a second-year medical student who is studying how excess body fat contributes to metabolic diseases on a genetic level, showcased her research at the Area of Scholarly Concentration (AOSC) poster session on Friday, October 13.
Ehimiaghe was one of more than 100 second-year medical students who presented ongoing results from their AOSC — a four-year longitudinal research project that culminates with the writing of a thesis — to Feinberg faculty, mentors and fellow students.
"We know that excess fat has a lot of negative implications in the long term, but it's not really understood what changes are happening on a genetic level. So we're interested in how specific histone modifications cause these downstream effects," explained Ehimiaghe, who is working under the mentorship of Grant Barish, MD, assistant professor of Medicine in the Division of Endocrinology, Metabolism and Molecular Medicine. "If we can understand what's happening on a genetic level, we could perhaps design drugs that would stop the downstream effects of turning on certain genes."
In the current stage of her project, Ehimiaghe and her collaborators used chromatin immunoprecipitation sequencing (ChIP-seq) of acetylated histone 3 lysine 27 (H3K27ac), a histone modification that localizes to active enhancers and promoters, to identify differentially marked regulatory regions across both subcutaneous and visceral fat tissues in a mouse model.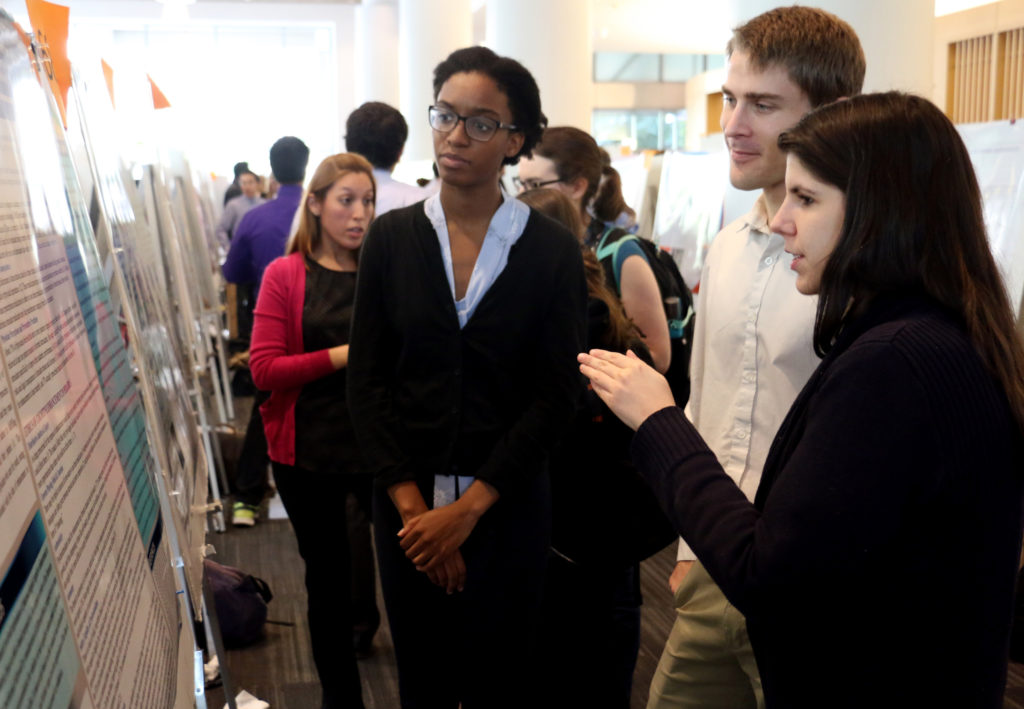 "My PI is incredibly supportive and it's amazing that he has let me do this project. This is truly my work, which is something I'm really proud of," Ehimiaghe said. "I'm excited to see where we go from here."
The AOSC poster session included a broad range of research topics, from basic science like Ehimiaghe's, to clinical investigation, public health and medical social science.
"This has been a really positive process to understand what goes into taking research from ideation to an actual project," said Nicholas Volpe Jr., who is studying immunologic features of cancer metastases to the brain, under the mentorship of Jeffrey Sosman, MD, professor of Medicine in the Division of Hematology and Oncology. "It's exciting to be a part of something that could potentially shed light on this really devastating component of a cancer diagnosis."
Robert Riestenberg and Andrew Furman both chose to work on analyses of the same clinical dataset, the HIV Electronic Comprehensive Cohort of CVD Complications, for their AOSC projects.
Furman is investigating differences in coronary artery stenosis between people living with HIV and uninfected controls, while Riestenberg is studying the relationship between HIV status and statin prescription practices. Both are working under the mentorship of Matthew Feinstein, '11 MD, assistant professor of Medicine in the Division of Cardiology and of Preventive Medicine, and Donald Lloyd-Jones, MD, ScM, senior associate dean for clinical and translational research and chair of Preventive Medicine.
"Researching cardiovascular complications in patients with HIV is a pretty new field, and so there are a lot of different questions that haven't been asked yet, which is exciting," Riestenberg said.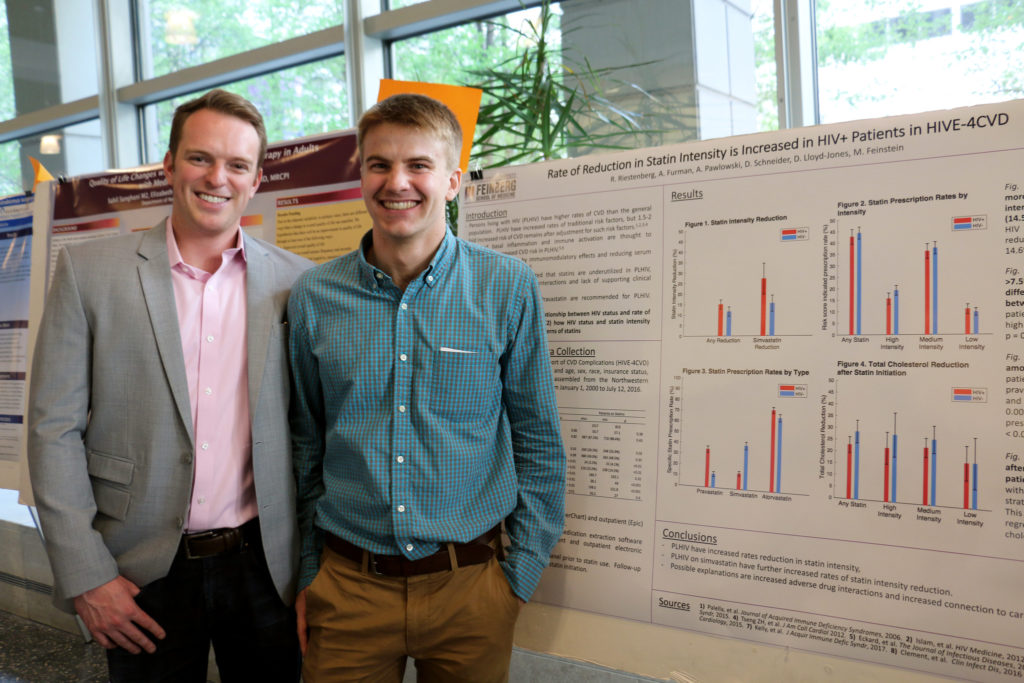 Past research has indicated that people with HIV have a higher rate of cardiovascular disease, for which the usual prevention is statins. "But there is a lot of uncertainly about how to apply statin therapy to these patients, who already tend to be on a lot of medication," Riestenberg explained.
His investigation, among other findings, discovered that there are higher rates of reduction in statin intensity in patients with HIV. "We also found that HIV patients were more likely to be prescribed statins which aren't metabolized by major liver enzymes, which suggests that providers do seem to have a good sense of which statins are at a lower risk for drug interactions," Riestenberg said.
Monica Mehta is conducting her AOSC project under the mentorship of Roopal Kundu, '01 MD, '02 GME, associate professor of Dermatology and associate dean for Admissions. She is currently investigating racial differences in the perception and treatment preferences of acne vulagris, which might influence clinical care.
For example, Mehta's cross-sectional study revealed that white patients were significantly more likely than patients of all other races to visit healthcare providers and prefer prescription treatments for acne. Furthermore, East Asians, compared to other races, were more likely to receive information about acne from the internet.
"I'm applying to conferences with my abstract and people have started to respond positively to it," Mehta said. "It's shown me that the outside world really cares about what I'm doing at Northwestern, which is really meaningful to me. I didn't expect it to, but research has been something that has added a lot of meaning to my medical school experience and has made me feel really good about being here."