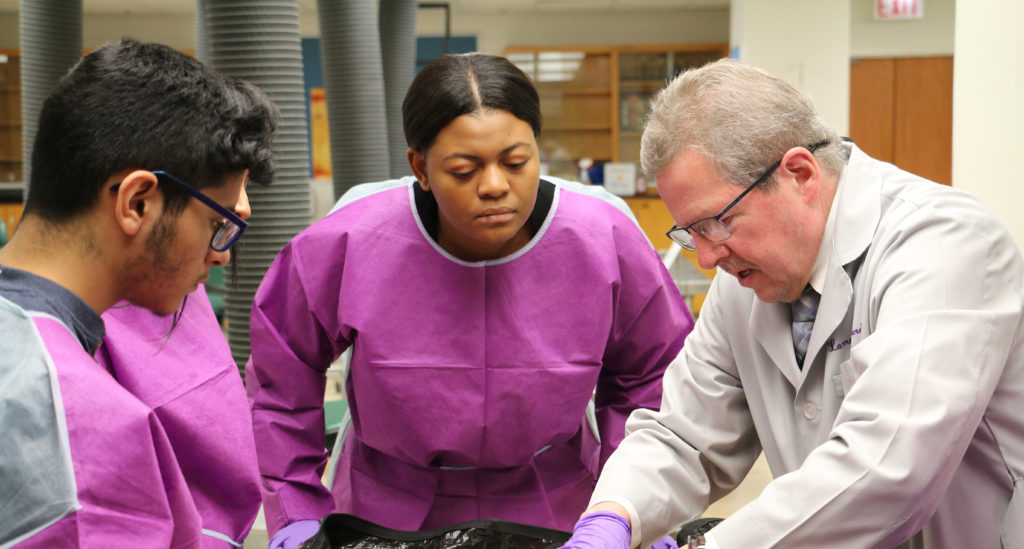 Luis Ortiz Juarez, a 17-year-old high school senior, has been hooked on medical and science-based TV shows, like House and The X-Files, ever since he came to the U.S. from Mexico in middle school. But while he has always held a passion for science, he wasn't sure a career in medicine was for him — until his freshman-year guidance counselor encouraged him to apply for the Northwestern Medicine Scholars Program.
"Although I had considered the field of medicine before, I didn't know if I was going to be able to carry through my studies, and I was really nervous about the pressure," Juarez said. "This program not only expanded my scientific knowledge, but really helped my confidence as well."
Northwestern Medicine Scholars — a partnership between George Westinghouse College Prep, Feinberg School of Medicine and Northwestern Memorial Hospital — was designed to inspire outstanding students from underrepresented populations to explore future careers as physicians or biomedical scientists. Founded in 2011 by Erica Marsh, MD, '08 MSCI, '08 GME, adjunct associate professor of Obstetrics and Gynecology, the longitudinal program offers a select group of high-schoolers at Westinghouse the opportunity to attend intensive summer lectures and learning activities, receive one-on-one mentoring from Feinberg faculty, and experience first-hand what it's really like to enter the medical profession.
Juarez's first summer in the program was focused on the field of neurology and neurosurgery, and led by the late Andrew Parsa, MD, PhD, the previous chair of Neurological Surgery. "That's when I realized what I wanted to go into — and I never would have felt that way if I didn't have the exposure I got in this program," said Juarez, whose current mentor is Jason Ong, PhD, associate professor of Neurology. "I love medicine and now I can't imagine my life without it."
Juarez, who plans to major in neuroscience, is headed to the University of Pennsylvania in the fall on a full scholarship.
Inspiring Future Physicians and Scientists
Juarez is just one of 18 exceptional students at Westinghouse — a diverse, selective enrollment public high school in Chicago's East Garfield Park neighborhood — who are currently enrolled in the Northwestern Medicine Scholars Program.
"Our student Northwestern Medicine Scholars are amazing," said Clyde Yancy, MD, MSc, vice dean for Diversity and Inclusion, Magerstadt Professor and chief of Cardiology in the Department of Medicine. Yancy directs the Northwestern Medicine Scholars Program. "These young men and women from Westinghouse hold our hope for the future. They will be our future healthcare providers, future investigators, future health policy leaders and hospital executives."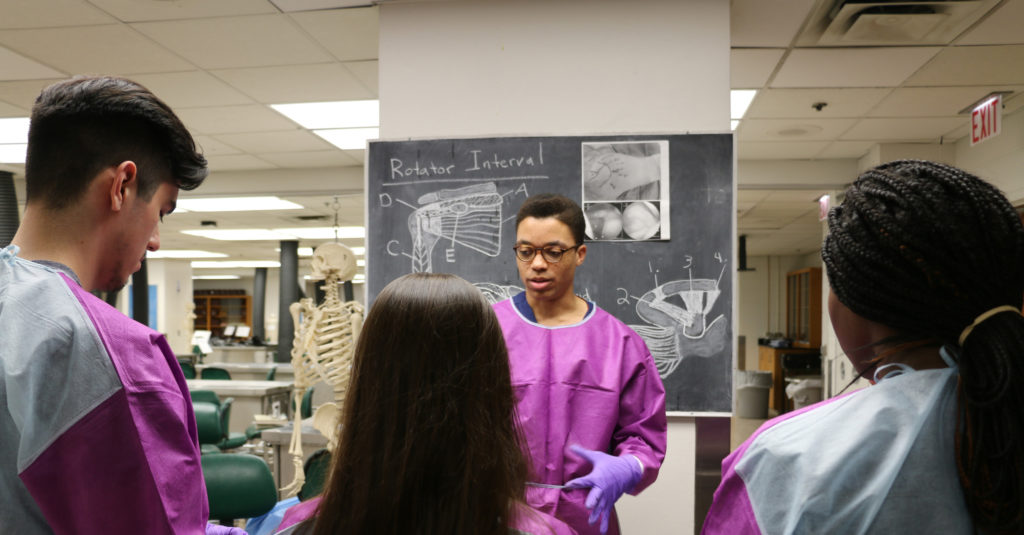 The program is one of a variety of such initiatives at Feinberg that aim to bring bright, underrepresented students into the biomedical pipeline, including the Health Professions Recruitment & Exposure Program (HPREP), which helps students from Chicago high schools discover careers as health professionals; a summer research program hosted by the Robert H. Lurie Comprehensive Cancer Center; and a massive open online course (MOOC) that helps students explore health careers, developed by Melissa Simon, MD, '06 GME, the George H. Gardner Professor of Clinical Gynecology.
Teresa Woodruff, PhD, chief of Reproductive Science in Medicine in the Department of Obstetrics and Gynecology also heads the Women's Health Science Program, which provides science education programs to young women from underserved communities, as well as the Oncofertility Saturday Academy for high school students.
A Holistic Approach to Success
Students in the Northwestern Medicine Scholars Program apply during their freshman year and continue with their cohort for the next three years. "The program takes high school students from college-naïve families, who are growing up in challenging socioeconomic circumstances but are clearly focused on excellence, and introduces them to role models, educational resources and mentors that will prepare them for success at the college level and beyond," Yancy said. "This is how Northwestern Medicine intends to fuel the pipeline that will enable health equity."
At their most recent NM Scholars event, the students joined Yancy on a visit to Feinberg's Anatomy Lab. Led by lab director Larry Cochard, PhD, associate professor of Medical Education and Cell and Molecular Biology, the students spent the afternoon huddled around dissection lab tanks in small groups, exploring basic human anatomy and learning about the medical school experience from three first-year medical students, Christopher Chung, Ian Hollyer and Marcus Byrd, who assisted with the event.
"I love programs like these, because it's really important for students on the medical track to have mentors every step of the way," said Byrd, who also volunteered with NM Scholars during the summer intensive. "One thing that I feel minority students often lack is social capital, or not having a family member who works in medicine. So it's really great when you can point to someone who looks like you who has done this, and who can help get you on track to where you need to go."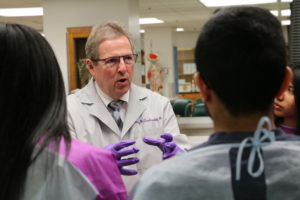 Since its inaugural graduating class in 2014, NM Scholars has seen a 100 percent college matriculation rate. "Our ultimate goal is to have students see themselves as future physicians and biomedical scientists, to go to college, and to persist — and they have been," said Janet Rocha, PhD, a postdoctoral fellow at Feinberg who helps coordinate the program and is currently conducting a study to track the program's alumni.
To set the students up for success, NM Scholars takes a holistic approach, aiming not only to inspire future medical careers through hands-on learning activities, but also to give students and their families the tools and training they need to navigate the higher educational system, through professional development, college-readiness classes and ACT prep sessions.
Mentoring is also a crucial component of the program. Victoria Cruz, a high school junior in NM Scholars, cites her faculty mentor Mercedes Carnethon, PhD, associate professor of Preventive Medicine in the Division of Epidemiology, as key to helping her understand the range of opportunities in science and medicine.
"She has been really influential to me. I used to think that you had to be a physician to be in the field, but she showed me another side of medicine that I had never thought about," Cruz said. "This whole program has really broadened my perspective to try out other fields in medicine and to challenge myself. I'm taking more AP classes now, and I actually feel really prepared to go to college and start the application process."
For more information about NM Scholars, please contact postdoctoral fellow Janet Rocha, PhD, at janet.rocha@northwestern.edu.