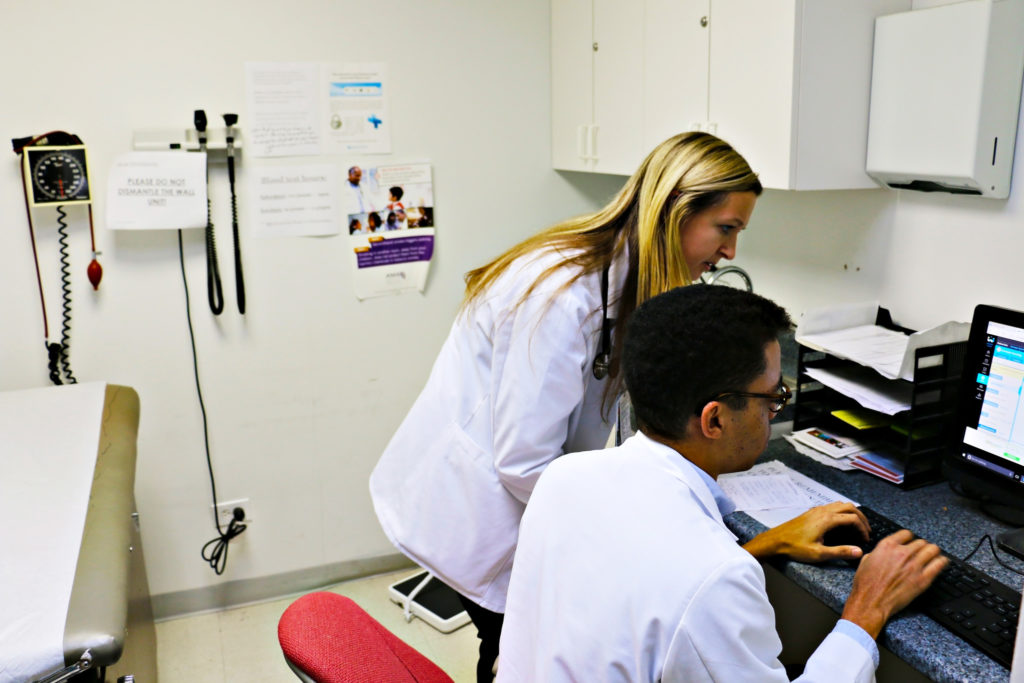 Even in the midst of a busy schedule of basic science lectures, exams and clinical training, first-year medical student Marcus Byrd puts a priority on volunteering in health clinics around Chicago. "One of the reasons I chose to attend Northwestern was because of its prestigious education, and I thought it would be a disservice not to share that education with patients who are, on average, disadvantaged," he said. "I try to make time for volunteering as often as I can."
On one snowy Sunday morning in late January, Byrd joined a group of six Feinberg medical students and traveled north to Rogers Park, a multicultural neighborhood on Chicago's Far North Side. There, at the Indian American Medical Association of Illinois Charitable Foundation Clinic (IAMACF) on Peterson Avenue, the students spent their day caring for the area's underserved patients.
The IAMACF is one of seven community clinics staffed by Feinberg student volunteers throughout the city, from Chinatown to the West Side. At these "student-run clinics," medical students provide free health care to diverse patient populations and practice their clinical skills while under the guidance of a volunteer attending physician.
At the IAMACF, the volunteer students and physicians come largely from Feinberg and Northwestern Medicine hospitals, but are also drawn from other local medical centers. Together, the students and physicians provide free primary care services, medications and lab tests to the clinic's uninsured, predominantly South Asian patients. In a nod to the patient population, the clinic is more commonly referred to as "the Devon Clinic," after the nearby street stocked with South Asian restaurants and businesses.
Medical students are core to the clinic's ability to provide care. Every Sunday from 10 a.m. until 2 p.m., the students meet privately with patients in six different exam rooms, taking detailed medical and social histories, measuring vital signs, performing physical examinations, updating medical records, documenting medication regimens and offering nutrition counseling for chronic conditions like diabetes, hypertension and hyperlipidemia. After meeting with patients, the students present case summaries and their recommendations to an attending physician, who provides input and prescribes medications and lab tests, if necessary.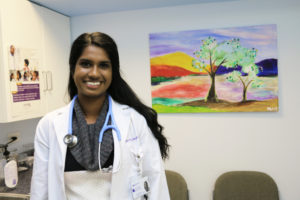 "This clinic would simply not run without medical students," explained Rajan Shah, MD, health system clinician in the Department of Medicine, Division of General Internal Medicine and Geriatrics, who volunteers at the clinic with his wife, a physician at Rush University Medical Center. "As attending physicians, we are the consulting entity and we sign off on everything. But the medical students are the foundation of care. They are creating a big change in people's lives, even as trainees."
Feinberg students also serve as coordinators, helping to manage the clinic, recruit other medical students and physicians, and orient new volunteers.
Avni Bavishi, now a second-year student, served as a coordinator for the clinic last year. "I got involved with the Devon Clinic because I was excited about the opportunity to help an underserved population. As a coordinator, I also had the chance to see what goes on behind the scenes in a free clinic and got a deeper understanding of how vital it is that organizations like this exist," Bavishi said. "The experience gave me great exposure to managing chronic disease in a primary care setting and practice with skills I'll need for the rest of my life."
For many students, their Sunday at the clinic is also a time to connect with fellow classmates and share what they've learned with students from other medical schools, who experience a different curriculum, explained Ankita Devareddy, a first-year student and one of four current co-coordinators at the clinic. The sense of comradery continues even after the last patient leaves: when the clinic closes at 2 p.m., the students and physicians share a team lunch of take-out from Udupi Palace, an Indian restaurant on Devon Avenue.
"You do see some hard cases, and sometimes it can be stressful, but I love it here," said Devareddy, who volunteered at IAMACF while an undergraduate student at Northwestern, interpreting for patients who spoke Hindi and Telugu. "This clinic reminds me of why I wanted to go into medicine in the first place."
It's a sentiment shared not only by students, but by the Feinberg faculty who volunteer at IAMACF as well.
"I feel so grateful to be able to do this," Shah said. "Burnout can be a problem for some physicians, but I feel that the fulfillment we receive from even just one day here at the clinic is exponential — because we're doing what we went into medicine for, and providing care for people who would be turned away elsewhere. It's really a win-win that makes the whole community better off."