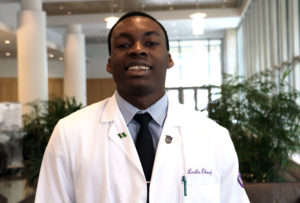 Opioid prescription practices vary for children discharged after a sickle cell disease pain episode, and standardized guidelines are needed, according to a recent Northwestern Medicine study.
Fourth-year medical student Leslie Okorji was the first author of the paper, published in the journal Pediatric Blood & Cancer. He conducted the research under senior author Robert Liem, '97 MD, '01 GME, associate professor of Pediatrics in the Division of Hematology, Oncology and Stem Cell Transplantation.
Sickle cell disease (SCD) is an inherited blood disorder, most prevalent in people of African descent, in which abnormal hemoglobin distorts red blood cells into a crescent shape. These "sickle cells" can clog blood vessels and interfere with the delivery of oxygen, resulting in organ damage and periods of intense pain.
These acute pain episodes are one of the most common reasons children with SCD are hospitalized or visit the emergency department (ED). But there are currently no evidence-based guidelines for how to manage pain in these patients following discharge.
"We need to understand these patients better, especially because the literature suggests that the typical patient with sickle cell disease is under-prescribed pain medication," Okorji said. "But we know these patients have a real, physiological reason for pain and live with pain at home."
In the study, the investigators sought to determine what impact different prescription practices had on return visits for persistent pain. They hypothesized that scheduled opioid prescriptions at discharge — compared to as-needed prescriptions or no opioids at all — would be associated with fewer return visits to the ED or hospital within 30 days.
They performed a five-year retrospective study, analyzing electronic medical records of children with SCD who were hospitalized or discharged from the ED at Ann & Robert H. Lurie Children's Hospital of Chicago.
The data, surprisingly, showed there was no association between frequency of opioid prescription and return to care within 30 days.
However, patients who were discharged from the ED had an increased likelihood of returning within that time frame, compared to those who were admitted to the hospital.
The study also found that, of patients who were seen in the ED and then released, those who received nonsteroidal anti-inflammatory drugs at discharge were more likely to return to the ED within 30 days, compared to those who were given an opioid prescription.
"This suggests that perhaps future guidelines should make sure these patients who come to the ED with mild-to-moderate pain and then are released get some kind of opioid coverage," Okorji explained. "That way, they don't have to come back to the ED for something that could be managed at home."
He also stressed the importance of continued research. "This study opened up the discussion, but was limited by the retrospective nature of the analysis," Okorji said. "The overall message is that we need more prospective studies in order to get complete evidence-based guidelines."
In December 2015, Okorji presented preliminary results of the study at the 57th American Society of Hematology Annual Meeting in Orlando, Florida.
Okorji, who was born and raised in Nigeria, plans to enter into a urology residency after graduation. Encouraged by his mentor, Robert Brannigan, MD, professor of Urology, Okorji has also published two papers this year in the journal Urology Case Reports. "That's one of the things I've really appreciated about being here," he said. "If you want to do research, it's easy to do at Feinberg."