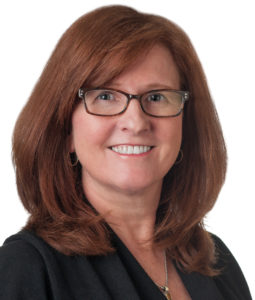 Marianne Green, MD, has been named senior associate dean for Medical Education, effective September 1, succeeding John X. Thomas, PhD, professor of Physiology and Medical Education.
"I'm very honored and excited to have the opportunity to foster continued innovation in our undergraduate medical education program," said Green, also an associate professor of Medicine in the Division of General Internal Medicine and Geriatrics and of Medical Education. "I view this as a shared responsibility with our outstanding faculty, students and staff and am eager to grow this educational community for the benefit of our graduates."
Green started at Feinberg in 1997 as an instructor in Medicine and since then has served in many leadership roles including associate program director of the McGaw Medical Center Internal Medicine Residency Program and director of the Primary Care Clerkship. She has been director of the Honors Program in Medical Education, the combined baccalaureate-MD program, since 2005. Green most recently served as associate dean for Medical Education & Competency Achievement.
"Dr. Green has displayed dedicated and expert leadership of the Honors Program in Medical Education," said Diane B. Wayne, '91 MD, vice dean for Education and Dr. John Sherman Appleman Professor of Medicine and Medical Education. "Her concern for students, expertise in assessment and excellent interpersonal skills demonstrate that she is the right choice to lead our education programs. Dr. Green holds the respect of students, staff and faculty for her professionalism and consistent support of student achievement. I look forward to the many innovations Dr. Green will bring to our medical school curriculum in the years to come."
Green has received numerous Feinberg teaching awards, including the Excellence in Teaching award for outstanding teaching of primary care students from the Department of Medicine and the George H. Joost Outstanding Teacher Award, nominated by first-year medical students. She completed her medical degree at the University of Illinois at Chicago School of Medicine and her residency in internal medicine at Beth Israel Hospital at Harvard Medical School.
"I am thrilled that Marianne Green has been chosen for this position," Thomas said. "Marianne is a thoughtful, dynamic leader in medical education. She has led the development of the competency framework and student portfolio system, which has put Feinberg well ahead of most medical schools. She has the trust and respect of the faculty, our students and staff. Like many, I have learned much from her over the years. She is a stellar choice for this leadership role and will continue to enhance our educational program in the coming years."
Thomas served 12 years as senior associate dean of Medical Education and played a fundamental role in the redesign of the new medical school curriculum as co-chair of the Curriculum Renewal Steering Committee. He joined Feinberg in 1999 as associate dean for educational programs. He received his PhD in Physiology from the University of Mississippi Medical Center and completed a postdoctoral fellowship at Loyola University Stritch School of Medicine.
"I have always viewed my roles here as a privilege. I will always treasure this part of my career because of the people I have been able to work with and learn from," Thomas said. "I have nothing but respect and gratitude for all of the people who work hard to insure that our students have the best education and advice to help them reach their potential. I look forward to continuing to participate in the education programs and offer my expertise whenever it is needed."
Thomas will continue his position at Feinberg as a faculty member in the departments of Physiology and Medical Education.
"Dr. Thomas has done a remarkable job as senior associate dean for Medical Education and served as a pillar of strength and stability even in turbulent times," Wayne said. "He is simply an amazing advocate for students. His steadfast leadership and commitment to educational excellence is consistent and remarkable. He is constantly thinking of ways to improve undergraduate medical education at Feinberg. His unwavering devotion to our students' education was highlighted by the successful roll-out of the innovative and integrated medical school curriculum in 2012. His many years of service to Northwestern leave a legacy that few can match."