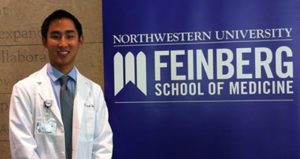 In recent research, rising fourth-year medical student Derek Hsu studied the incidence and outcomes of two rare skin disorders in order to develop predictors of mortality, information that could someday help clinicians prevent and treat the conditions.
Working with his mentor Jonathan I. Silverberg, MD, PhD, MPH, assistant professor of Dermatology, Medical Social Sciences and Preventive Medicine, Hsu analyzed data pertaining to adults and children with Stevens-Johnson Syndrome and Toxic Epidermal Necrolysis. Patients with these two rare skin disorders develop painful rashes on their skin, gums and eyes, often as an adverse reaction to medications.
"Little is known about the epidemiology of these diseases," Hsu said. "We performed the first-ever nationwide study of these diseases to describe incidence, comorbid health conditions and inpatient burden in terms of cost, length of care and mortality."
The team identified several conditions that increase mortality when co-occurring with Stevens-Johnson Syndrome or Toxic Epidermal Necrolysis, including kidney failure, certain infections and cancer. The amount of body surface area affected by the skin disorders was also a factor.
"We hope to develop an algorithm that clinicians can use to predict outcomes for patients with these disorders based on these co-occurring conditions," Hsu said. "This will hopefully be important in improving outcomes and perhaps saving lives."
Hsu published the results of his work focused on adults in the Journal of Investigative Dermatology and presented the results of a similar project focused on children during the 12th Annual Lewis Landsberg Research Day, where he was recognized as a finalist in the event's poster competition.
"I'm interested in the burden and comorbid health conditions of other dermatological disorders as well," said Hsu, who took a fellowship year to conduct this research. "We've performed similar studies for other dermatologic diseases such as pemphigus, eczema herpeticum and psoriasis, and I hope to continue with this research in the future."