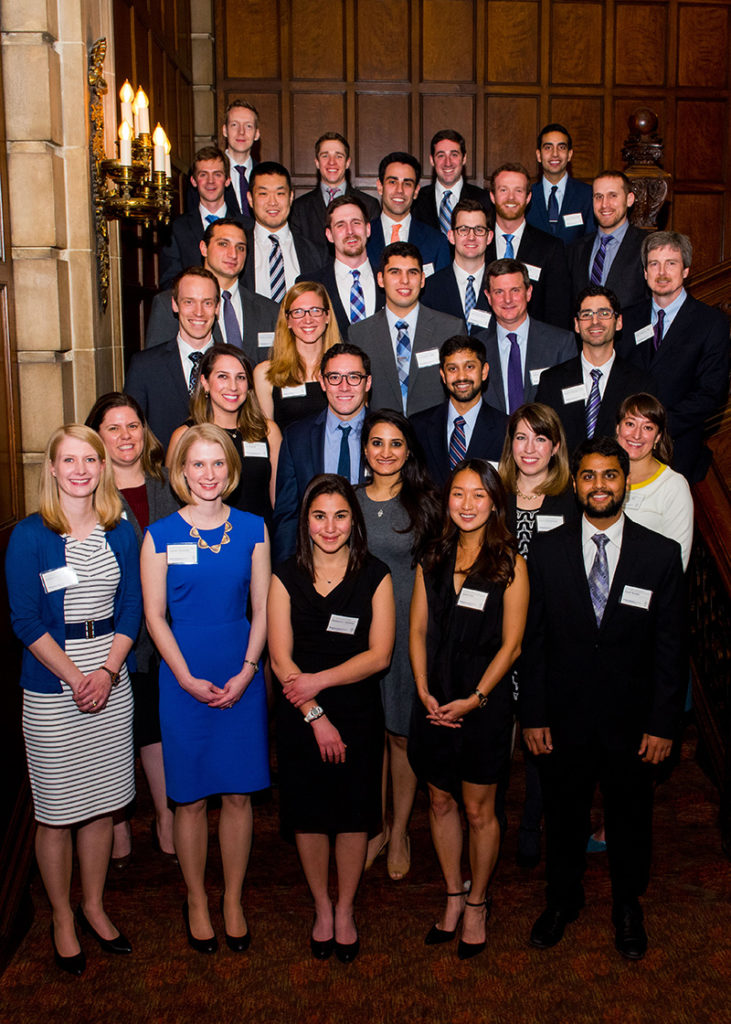 During his first few weeks as a medical student, Brian Poole wrote down his goal as a future doctor: to help others. Now a fourth-year medical student, Poole has joined 32 other new Feinberg inductees in the Alpha Omega Alpha (AOA) medical honor society, which signifies a lasting commitment to scholarship, leadership, professionalism and service.
"We came to medical school to help people and serve others. It's a great honor to be a part of a society that represents that, and it feels good to be able to fulfill that goal to help others," Poole said at the AOA induction ceremony on March 14. He is planning to match in internal medicine.
Before the induction ceremony, Kenneth Ludmerer, MD, professor of Medicine and 
Mabel Dorn Reeder Distinguished Professor of the History of Medicine at 
Washington University School of Medicine, delivered a keynote address, entitled "Residency Training in the United States: 
Past, Present, Future."
Dr. Ludmerer described the evolution of the residency system, explained current challenges facing residency programs and offered some proposed solutions.
Through his extensive knowledge on the history of medical education and his profession as a physician, Dr. Ludmerer offered the observation that educators have a unique ability to shape the residency system for the future.
"I believe if the current trajectory continues for the next couple of decades – the current trajectory towards more and more commercialization of healthcare – that does not bode well for medical education or patient care."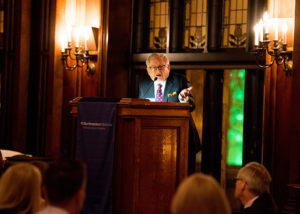 Dr. Ludmerer called upon medical educators to create "a system that is more respectful of genuine and professional values – patient-oriented values – and care."
Following the lecture, guests attended the induction ceremony, where John Flaherty, MD, councilor of the AOA Illinois Gamma Chapter and professor of Medicine in the Division of Infectious Diseases, congratulated inductees and welcomed family and faculty members in attendance.
John Thomas Jr., PhD, senior associate dean for Medical Education and Sandra Sanguino, '93 MD, associate dean for Student Affairs welcomed the 25 new medical student members into the society.
"It is a tremendous honor to be inducted into the AOA society and to be recognized among other distinguished students and faculty," said Lily Sadaat, fourth-year medical student who plans to match in general surgery. "The mission of this prestigious society aligns with my passion for service and education, and I hope to continue to be true to those values in my future career."
Other medical students inducted included: Shirin Bajaj, Michael Breen, Anish Butala, Ian Chow, Peter Dorschner, Douglas Gilchrist-Scott, Lauren Hammer, Madeleine Heldman, Alex Ireland, Nima Khavanin, Balint Laczay, Adrienne Long, Francis Lovecchio, Viraj Raygor, Daniel Reinhardt, Anna Romanova, Ellen Ryan, Ji Yeon Seo, Jared Alexander Spitz, Benjamin Strauss, Alexander Taylor, Christopher Valle and Maggie Wright.
"It's a huge honor. I'm a first-generation college student and my parents taught me the value of hard work and education," Ireland said. "I'm thrilled to be completing my education and starting a residency in emergency medicine."
New housestaff and faculty members of the association were announced by Marianne Green, MD, associate dean for Medical Education and Competency Achievement. They were honored for ongoing leadership in their field, active participation in teaching and community service.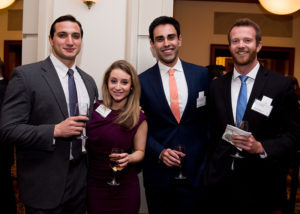 Residents and fellow inductees included Christopher Benavente, MD, resident in the Department of Family and Community Medicine; Abra Fant, MD, '09 MS, fellow in the Department of Emergency Medicine; Eva Seligman, MD, resident in the Department of Pediatrics; Erin Unger, '12 MD, chief medical resident in the Department of Medicine; and Ajay Yadlapati, MD, cardiology fellow in the Department of Medicine.
"I'm really excited and pleased to be inducted as a fellow and couldn't be happier," Dr. Fant said. "It's an acknowledgement of your success from your peers."
Dr. Unger added, "It's a society dedicated to lifelong learning and excellence and I'm honored to be a part of it."
Faculty members included Erica Marsh, MD, '08 MSCI, '08 GME, assistant professor of Obstetrics and Gynecology, and Jeffrey Wayne, MD, FACS, professor of Surgery and Dermatology.
"I think this is a privilege to be inducted with great students, residents and faculty," Dr. Wayne said. "I'm honored to be included."
Andrew Bunta, '67 MD, past president of the Medical Alumni Association, announced alumnus inductee David Salzman, '05 MD, '09 GME, MEd, assistant professor of Emergency Medicine and Medical Education.
"It is a great honor to be recognized as an alumni inductee into AOA along with the students, residents, fellows and faculty this year," Dr. Salzman said. "I am incredibly grateful for the opportunity to be involved and make an impact on the development and implementation of the new curriculum through the integration of simulation-based medical education. It is a great privilege to be able to contribute to the educational mission and teach students at my alma mater, and I am incredibly grateful for this recognition."