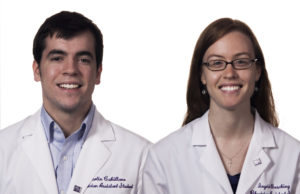 Ingrid Busching, a second-year physician assistant student, says that treating incarcerated men and women at the Cook County Jail during a four-week elective clinical rotation left a lasting impact on her.
"Taking care of the detainees made a difference to me, because after the rotation, I felt better equipped to care for people who have experienced things like homelessness or addiction," said Busching.
The correctional medicine experience is one of four elective rotations students can complete in the Physician Assistant program.
Busching said she decided to complete this rotation because she has an interest in primary care delivered to vulnerable populations.
"The jail represents a medically underserved population," she said. "I really wanted to expand my ability to care for people that are incarcerated or have been incarcerated."
Martin Cahillane, another second-year PA program student, said he was also interested in underserved populations in medicine, having enjoyed his previous psychiatry rotation. He said the correctional medicine rotation was an opportunity to deepen what he learned previously, while working with detainees with mental illness.
While at Cook County Jail, Cahillane and Busching spent most of their time taking medical histories and performing exams, but they also had the chance to deliver counseling on substance use and shadow health professionals in different specialty units. They even spent a day assisting with the jail's art therapy program, part of the psychiatric unit, singing, drawing and writing poetry with detainees.
"I was able to gain more experience treating patients who struggle with addiction," Cahillane said. "It's a unique opportunity, because maybe a person has been there for nine months and they've been off drugs for the first time in 10 years. I could talk to them about methods to stay off drugs once they get out of jail."
Busching said, "Seeing patients in jail has a different feel than your standard outpatient clinic because the patients live there are in a stressful environment."
The students also learned about other aspects of correctional medicine, like considering what resources are available to a patient when selecting treatment for them.
"We had to adjust treatment plans based on a lot of things, like they eat the same food at the same time every day, and they also have limited opportunities for exercise," Cahillane said. "A lot of them are in danger of violence or the threat of violence everyday."
As Cahillane and Busching continue their clinical rotations, they both said they would encourage their peers to choose a correctional medicine rotation.
"Besides the unique social environment, this rotation was a good review of everything, and we saw a lot more advanced disease states, such as manifestations of diabetes that has gone unmanaged for many years," Cahillane said.
Busching added, "It was like applying what we learned in all our different rotations to a specific population."