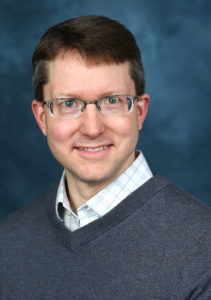 Christopher Payne, PhD, assistant professor of Pediatrics in the Division of Human Molecular Genetics, is part of a collaborative team that has discovered new insights into male germline development, which may help scientists better understand how external factors such as diet and smoking might have an effect on the germ cells of offspring in the future.
"The purpose of the study was to look at changes in gene expression and epigenetic signatures at key developmental stages of mouse male germ cells as they develop from stem cell precursors to mature sperm," Payne said, also an assistant professor of Obstetrics and Gynecology and a member of the Stanley Manne Children's Research Institute at the Ann and Robert H. Lurie Children's Hospital of Chicago.
In a recently published paper in Genes and Development, the scientists identified several subtypes of male germline stem cells.
The different epigenetic profiles – heritable modifications that influence gene expression – and transcription profiles of the male germline stem cell subtypes suggest that the cells have different biological properties. Collectively, this information should help scientists learn why some germ cells are destined to remain a stem cell, while others eventually differentiate.
"These data shed light on the mechanisms behind those properties and raise the possibility that there are similar dynamics in gene expression and epigenetic modifications in human germline stem cells," Payne said. "That might have implications in terms of the plasticity of the germ cells and how epigenetics contribute to the phenotype of the offspring."
Payne, a co-author on the study, contributed transgenic mice and germ cells collected through fluorescence-activated cell sorting, in addition to data analysis. Payne's lab studies how transcription and epigenetic mechanisms regulate male germline stem cell fate – whether it self-renews or differentiates.
Payne is currently working on ongoing studies with his collaborators to further examine the properties of the different stem cell subtypes and to optimize cell culture techniques to enhance their propagation.
The research was funded by the Biomedical Research Council of A*STAR (Agency for Science, Technology, and Research, Singapore) and Joint Council A*STAR grant 1234c00017, the University of Utah School of Medicine Department of Urology, the Howard Hughes Medical Institute, Huntsman Cancer Institute core facilities grant CA24014 and the Helen Hay Whitney Foundation.