Over the summer, most medical students spent four weeks conducting research for the Area of Scholarly Concentration, a four-year longitudinal project that culminates with a thesis.
During their first year of medical school, students chose mentors and developed projects, with topics including clinical investigation, translational research, family and community medicine and global health. Throughout their second year, the students will continue working on their individual projects for a minimum of three hours per week. They will present their ongoing work at a poster presentation in the fall.
Below are profiles of three medical students and their Area of Scholarly Concentration projects.
Identifying Metabolites in Mothers with Gestational Diabetes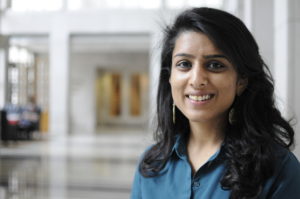 This summer, Saya Jacob, a second-year medical student, combed through patient records to learn if there are metabolites common among women of different ethnicities who have gestational diabetes and how the effects of gestational diabetes are linked to fetal outcomes.
"The babies are usually born bigger and have a higher chance of developing diabetes, so I'm trying to figure out what those metabolites are, why they are causing these outcomes in offspring and how we may be able to prevent it from happening in the future," Jacob said.
Jacob is working under the mentorship of William Lowe, Jr, MD, vice dean of Academic Affairs and professor of Endocrinology in the Department of Medicine. She will continue to analyze data this fall.
Investigating the Burden of Chronic Stress and Inflammation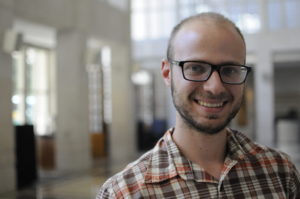 Pursuing his interest in public health, Eric Stulberg, a second-year medical student, studied the relationship between the chronic burden of stress and inflammation.
Stulberg reviewed literature in this area of research and used the Coronary Artery Risk Development in Young Adults (CARDIA) database to acquire data for his research this summer. Working with Kiarri Kershaw, PhD, MPH, '12 GME, assistant professor of Epidemiology in the Department of Preventive Medicine, Stulberg looked at self-reported stress levels as well as C-reactive protein levels and interleukin-6, markers of inflammation, over the course of 10 and 5 years, respectively.
While the team did not find a significant link between chronic burden of stress and change in inflammation, Stulberg said it was still worthwhile.
"It's been a good experience going through the research process from beginning to end, and in learning that sometimes the data doesn't work out how you thought it would," he said.
Stulberg is currently writing a paper on their results and hopes to continue working with Kershaw on her projects related to the effects of residential segregation on various chronic disease outcomes.
Examining the Use of CT Scans in Acute Appendicitis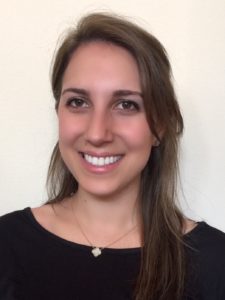 Lily Saadat, a fourth-year medical student, spent the summer investigating the use of CT scans in the diagnosis of acute appendicitis in the emergency department and whether it is more beneficial to administer the scans' contrast agent, a type of dye, orally or intravenously.
"As an incoming medical student, I knew I was interested in surgery, and I wanted to be on a project where I could meet faculty in the department," Saadat said. "I did a lot of basic science in undergraduate, and I was interested in breaking into clinical research."
Under the mentorship of David Mahvi, MD, professor of Surgical Oncology in the Department of Surgery, and Anne-Marie Boller, MD, assistant professor of Gastrointestinal and Endocrine Surgery in the Department of Surgery, Saadat queried the Northwestern Medicine Enterprise Data Warehouse (NMEDW) for data on appendicitis cases. She found that the use of CT scans and oral contrast was associated with increased time for the patient to move from the emergency department into the operating room and found a trend towards increased pulmonary complications.
"Initially, our question was about the CT scan, and we had to pivot our focus more on oral versus intravenous contrasts," Saadat said. "The beauty of doing research is learning that you have to be able to adapt your clinical questions."
Saadat is currently writing a manuscript of their results for publication.