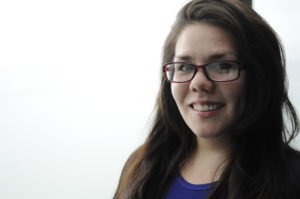 More than 50 percent of women will have a urinary tract infection (UTI) in their lifetime, with many women having recurrent infections.
Interested in this problem, Lizzie Aguiniga, a fifth-year graduate student in the Walter S. and Lucienne Driskill Graduate Program in Life Sciences (DGP), studies how UTI bacteria interact with the host and can alter immune responses.
Aguiniga works in a Feinberg Urology and Microbiology-Immunology laboratory examining the structure of lipopolysaccharides (LPS), or molecules that are found on the outer membrane of UTI bacteria. She shows that by mutating the structure of LPS in mouse models of UTI, the immune response could be modulated. In her research, she uses the LPS mutants to make the host less susceptible to reinfection and found the distinct regions of the LPS structure affect the immune and pain responses in mice.
Aguiniga also studies the role of lipids in the pain response to UTIs and in other bladder dysfunctions. Using mouse models, Aguiniga will investigate an acyl transferase, a type of enzyme, which may alter lipids to produce a stress response hormone. This hormone sends signals to the Barrington's nucleus, an area in the brain that regulates bladder function, and can cause bladder dysfunction and possibly pelvic pain. She is also working to characterize the genetics behind the regulation and expression of this stress response.
"I'm hoping to learn what some of the key lipid metabolites are and how those metabolites are causing changes in the stress response and causing bladder dysfunction and pelvic pain," she said.
Aguiniga enjoys working on research that has clinical application.
"I think bladder infections and pelvic pain are an important topic and I can't imagine what it would be like to have chronic pain," Aguiniga said. "I like the idea that I can work on something that is clinically relevant and I feel I can relate to."