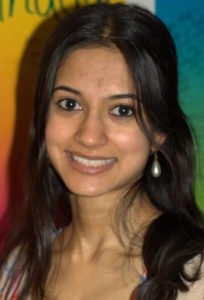 Prarthana Dalal, a first-year medical student, received a 2015 Carolyn L. Kuckein Student Research Fellowship, awarded by the Alpha Omega Alpha medical honor society, for her research on a protein called IQ-domain GTPase-activating protein 1 (IQGAP1), and its role in inflammation.
The award supports a medical student designed and initiated research project over the summer with an academic mentor.
"I am very honored to receive this award and it will help me develop my summer project and the work that I want to do," Dalal said. "I've been interested in basic science work for a long time: I really like being able to solve problems and trying to put together how it fits into the grander scheme of biology or science."
In the lab of William A. Muller, MD, PhD, chair of Pathology, Dalal will investigate how IQGAP1 helps white blood cells pass through endothelial cell monolayers, closely packed layers of cells. This migration of white blood cells is often a reaction to tissue injury and characteristic of many inflammatory diseases.
"We want to try to understand what part of the protein is really critical to getting white blood cells through endothelial cell monolayers," she said.
Dalal will use cloning techniques and design different constructs for the protein, in addition to conducting transmigration assays for microscopy to visualize white blood cell movement.
In previous research, she has shown that the IQGAP1 protein is critical for white blood cell movement across endothelial cells and created a model to further explore cell signaling and interactions that lead to white blood cell migration.
Dalal's research project is a part of the Area of Scholarly Concentration, a four-year longitudinal project that culminates with a thesis.